The National Museum was honoured to host Professor John Maynard and 1967 referendum and Aboriginal rights activists Ray Peckham and Joyce Clague and their families for the launch of the exhibition, A Change is Gonna Come.
Slideshow
Special guests (from left) Professor John Maynard, Wiradjuri elder Ray Peckham and Bundjalung and Gumbaynggirr elder Joyce Clague MBE
Bundjalung and Gumbaynggirr elder Joyce Clague MBE and her daughter, Evette Clague
Ngunnawal representative Jude Barlow welcomes guests to Country at the opening
A Change is Gonna Come focuses on the ongoing struggle for Aboriginal and Torres Strait Islander rights in Australia. Lifelong activists Uncle Ray and Aunty Joyce shared memories of their time campaigning for Indigenous rights during the 1960s and years that followed, as well as their thoughts on what the 1967 referendum had – and had not achieved.
Working together for change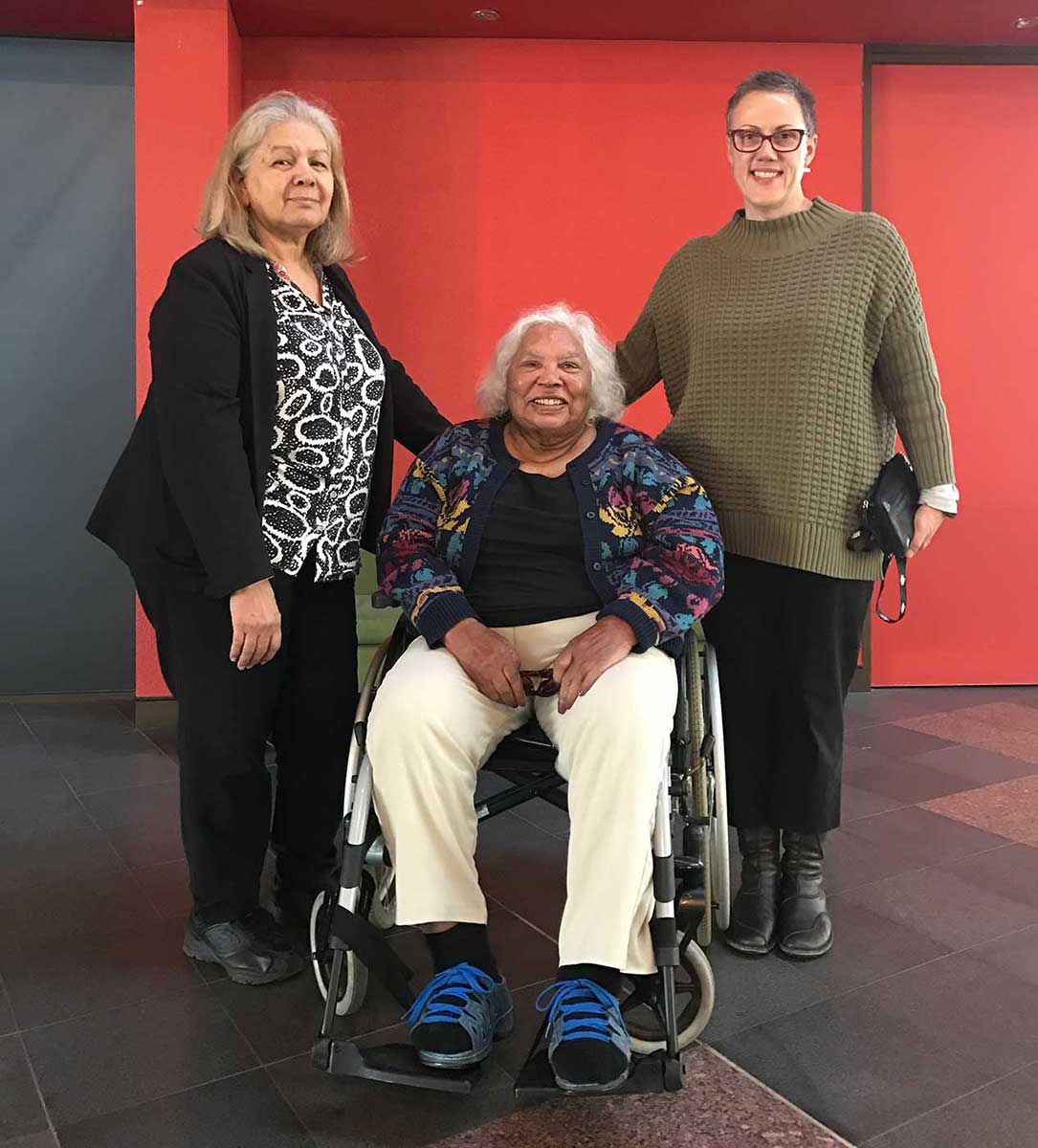 Uncle Ray, a Wiradjuri elder, took us back to his experiences as a trade unionist in the 1950s. He spoke about the power of Indigenous and non-Indigenous activists working together through trade unions, churches and student groups to bring about change.
Solidarity was a theme that Uncle Ray returned to later in the day when he participated in a panel discussion on the 1967 referendum as part of the Defining Moments in Australian History series organised by the National Museum and ABC Radio National.
For Aunty Joyce, a Bundjalung and Gumbaynggirr elder, the fight for Indigenous social justice has been a way of life that did not begin or end with the referendum.
Speaking on her mother's behalf, her daughter Evette told us that Aunty Joyce was never one to sit around waiting for change to come. Instead, she was 'brave enough and cheeky enough to give change a nudge here and a big fat shove there' as this is the only way to bring about change in the face of oppression, disadvantage and discrimination.
Defining Moments 1967 referendum panel discussion
Fifty years after the landmark 1967 referendum, has change truly come for Aboriginal and Torres Strait Islander peoples, or is it coming still?
In the year of the 50th anniversary of the 1967 referendum and the 25th anniversary of the 1992 Mabo decision, we reflect on the question 'has change come, or is it coming still?' Both Uncle Ray and Aunty Joyce agree that while change has come, we still have a long way to go. In the meantime, we pay tribute to those past and present who have spent their lives nudging and shoving change along.
Return to

Top