Some of Australia's most magnificent artworks are created at Lockhart River, on the eastern side of Cape York, 800 kilometres north of Cairns in Far North Queensland. We were delighted when community members recently visited the National Museum in Canberra to view cultural materials in the Museum's collection.
Enoch Perazim and his son Elijah and artists Patrick Butcher and Silas Hobson, who are both represented in the Museum's collection, were accompanied by Martin Wardrop, who represents Lockhart River Arts.
Museum curator Andy Greenslade led a tour of the Lockhart River display in our Gallery of First Australians.
Pride in expression of culture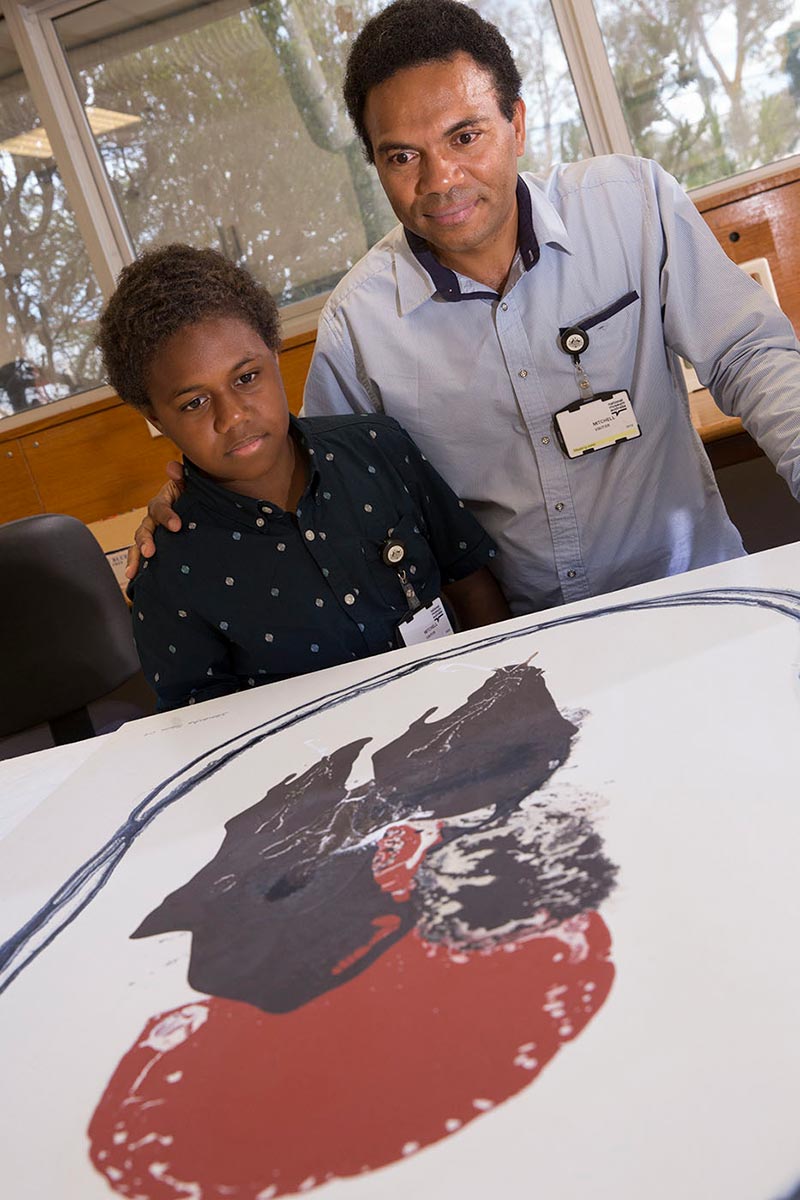 There was a lot of interest and pride expressed in seeing this display of Lockhart River culture.
In addition, there was something special for Patrick – his grandfather helped build the dugout canoe on loan from the University of Queensland Anthropology Museum, that is a central feature of the display.
We also visited Open Collections, a massed display of objects from all over Australia, to see items from far north Queensland.
The visit also included a tour of our Mitchell repository where most of the Aboriginal and Torres Strait Islander collections are housed.
One of the works that we looked at was Patrick's 2008 print Ngaaminyu.
Patrick explained the different elements of this amazing artwork, providing Museum staff with deeper insights into the work.
Patrick has written out the story for Ngaaminyu in his native Umpila language and in English, and will send us a copy to be kept with the print.
Lockhart River collection
The National Museum holds a number of important collections made at Lockhart River in the past 60 years. Two were made by anthropologists – La Mont West and Athol Chase. West's collection, made in the early 1960s, is a mix of weapons, utensils and sacred objects and includes the names of the people who made many of these items.
Chase collected weapons, tools, utensils and children's drawings, all gifts to him, between 1971 and 1976. He also recorded the names of people who produced various items. In recent times, National Museum staff have acquired mainly artworks from the community.
Lockhart River Art, currently managed by Enoch Perazim, is a place where local cultural practices take pride of place. Lockhart River started as an Anglican mission in 1924. The church handed over the mission to the Queensland Government in 1964 and after six years residents were forcibly removed to a new location nearby.
In 1985 the community elected an autonomous Lockhart River Aboriginal Council and two years later the council area was transferred to their trusteeship. On 1 January 2005 Lockhart River Aboriginal Council became the Lockhart River Aboriginal Shire Council, which now administers 354,000 hectares of country.
The Museum's Aboriginal and Torres Strait Islander program welcomes visitors. Before a collection visit, we research relevant material and provide illustrated lists of collection items. Afterwards we send copies of photographs taken during the visit. Email curator@nma.gov.au if you would like to arrange a visit.
Information about collections can also be accessed through our online Collection Explorer. More objects are added to this database weekly, though it does not yet include all public Indigenous collection items.
Return to

Top