About the art and the artists
In the 1970s and early 1980s Central and Western Desert artists at Papunya, in Australia's Northern Territory, created a body of work that transformed understandings of Aboriginal art. On large canvases and suitcase-sized boards they experimented with colour and style to tell their Dreaming stories linked to land, history and culture.
Honey Ant Hunt by artist Tim Leura Tjapaltjarri relates to one of the Dreaming stories you can explore in Papunya Painting. Tim Leura created this work in 1975 using synthetic polymer paint on canvas. It measures 1.9 x 1.7 metres.
The three hills at Papunya form an important Dreaming site, representing the body of a huge ancestral Honey Ant. It was here the Honey Ants returned to the ground after travelling during the Dreaming. Tjapaltjarri's painting gives a soft symmetry to the Honey Ant chambers and passages.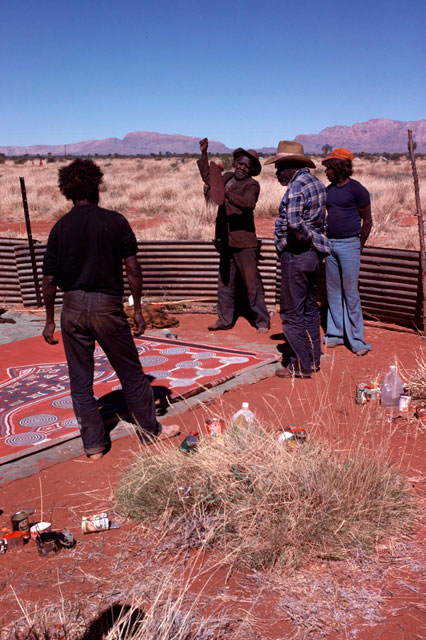 Many of the works in this exhibition were collected by the Aboriginal Arts Board of the Australia Council during the 1970s and have never been exhibited publicly in Australia.
The Aboriginal Arts Board was created in 1973, with members who were all Indigenous Australians.
It fostered Aboriginal arts, literature, theatre, dance, music, painting and craft, and also provided grants for Aboriginal communities to employ managers and to help preserve and sustain Aboriginal culture, arts and crafts.
Some of the Papunya paintings bought by the Aboriginal Arts Board were lent or given to Australian embassies around the world.
Others were donated to public museums and galleries in Australia and overseas. These gifts helped to raise the profile of Aboriginal art in the commercial art market.
The Aboriginal Arts Board also purchased paintings for display in travelling exhibitions, which toured Africa, Canada, Indonesia, Japan, New Zealand, the United Kingdom and the United States between 1973 and 1981.
In the 1980s the Board wound up its exhibition program and, in 1990, the historic collection of Papunya paintings was transferred to the National Museum of Australia.
Location
Papunya lies close to the Tropic of Capricorn, in the far southwest corner of Australia's Northern Territory. The settlement is 240 kilometres northwest of Alice Springs. This map shows sites of significance in the area.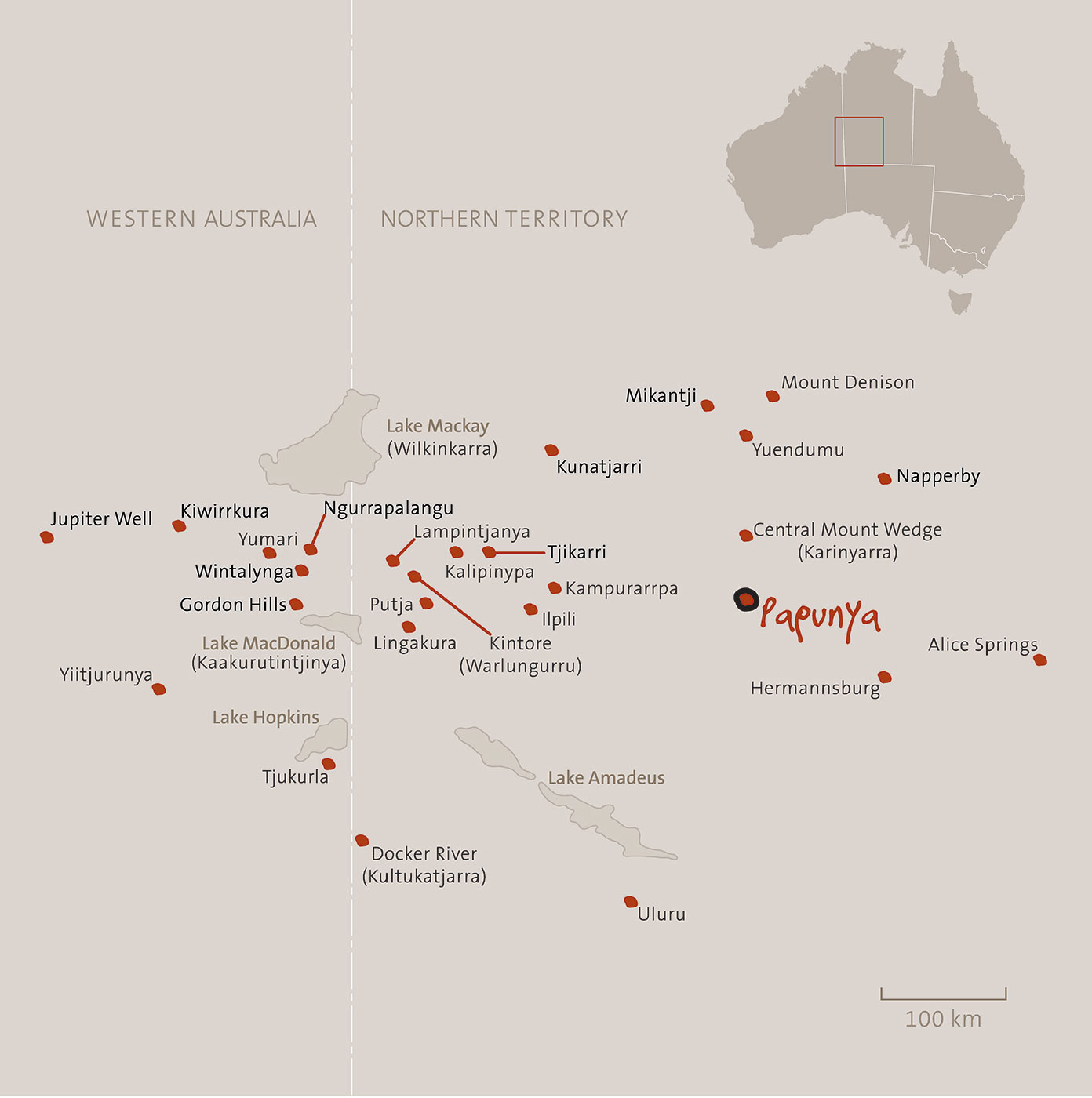 EXPLORE MORE ON PAPUNYA PAINTING
Return to

Top