Bringing it into the present
Lauren Jarrett, Bundjalung, 2014:
We realised there was a style that was unique to Bundjalung.
Objects from the past have the power to ignite the making of new things in the present. Bundjalung weavers have been inspired by baskets woven by Bundjalung women in the Richmond River district more than 130 years ago. By studying these ancient baskets, the women have created new forms and designs.
Behind the historical objects is a story about the relationship between collector Mary Bundock and the Bundjalung people on the Bundock family's Wyangarie station, on the Richmond River, near Kyogle, New South Wales.
Lauren Jarrett, Bundjalung, 2014:
Our ancestors would have been like that ... just sitting round the fire, chatting and making things that they need or as gifts ... They must have done that with Mary Bundock, all the Indigenous women. They must have all become friends in their day and shared ... It was a lovely collaboration ... So I was grateful that Mary Bundock saved these bags for the Bundjalung women.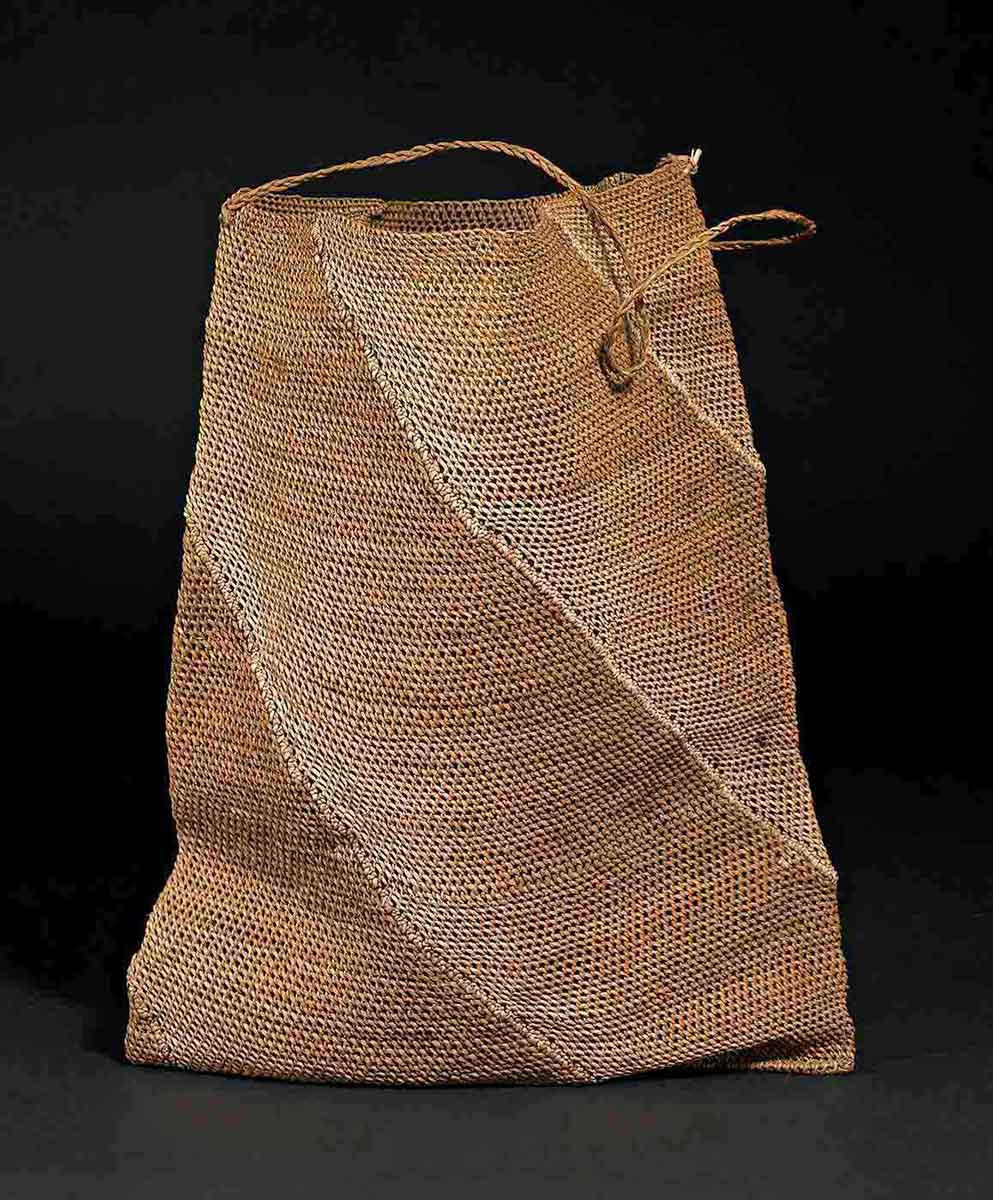 Professor Archibald Liversidge, who was an influential figure in the development of Australian science, bequeathed this dulloom (dillybag), among other items, to the Natural History Museum, London, in 1928. The Aboriginal material was then transferred to the Department of Ethnography at the British Museum.
We think that Mary Bundock had sent this dillybag to Liversidge, at Sydney University, in the 1870s.
Bundock collected and displayed extensive collections of Bundjalong objects in Australia and overseas in the late 19th century.
Kylie Caldwell, Bundjalung, 2014:
I think what's so special about weaving is that it's a connection back to country, it's a direct link back to the land, it's a direct link to learn about plants, to learn about the environment. It's a privilege to work with the aunties to create these outfits. To spend the time with them, listening to their stories as we make things together. I feel the role of responsibility to share these stories with the next generation. The Casino High School girls do weaving with the aunties once a fortnight and that's special.
Aunty Gwen Hickling, Bundjalung elder, 2014:
Our landscape is such a big part of who we are. Walking it, using material gathered in it, connects us to it and our ancestors ... It's important to know how our people did it back then ... But that knowledge shouldn't stifle today's creativity.
Uncle Sonny Simms, Wandi Wandian elder, 2014:
It's important that museums display these shields so that people can learn about us.
Return to

Top