17 September 2020
Largest ever purchase brings most important Australian historical and decorative arts collection to Canberra
Treasures from an internationally recognised Australian historical and decorative arts collection are coming to the National Museum of Australia in Canberra, after the institution announced a ground-breaking acquisition of key objects from the renowned Trevor Kennedy collection.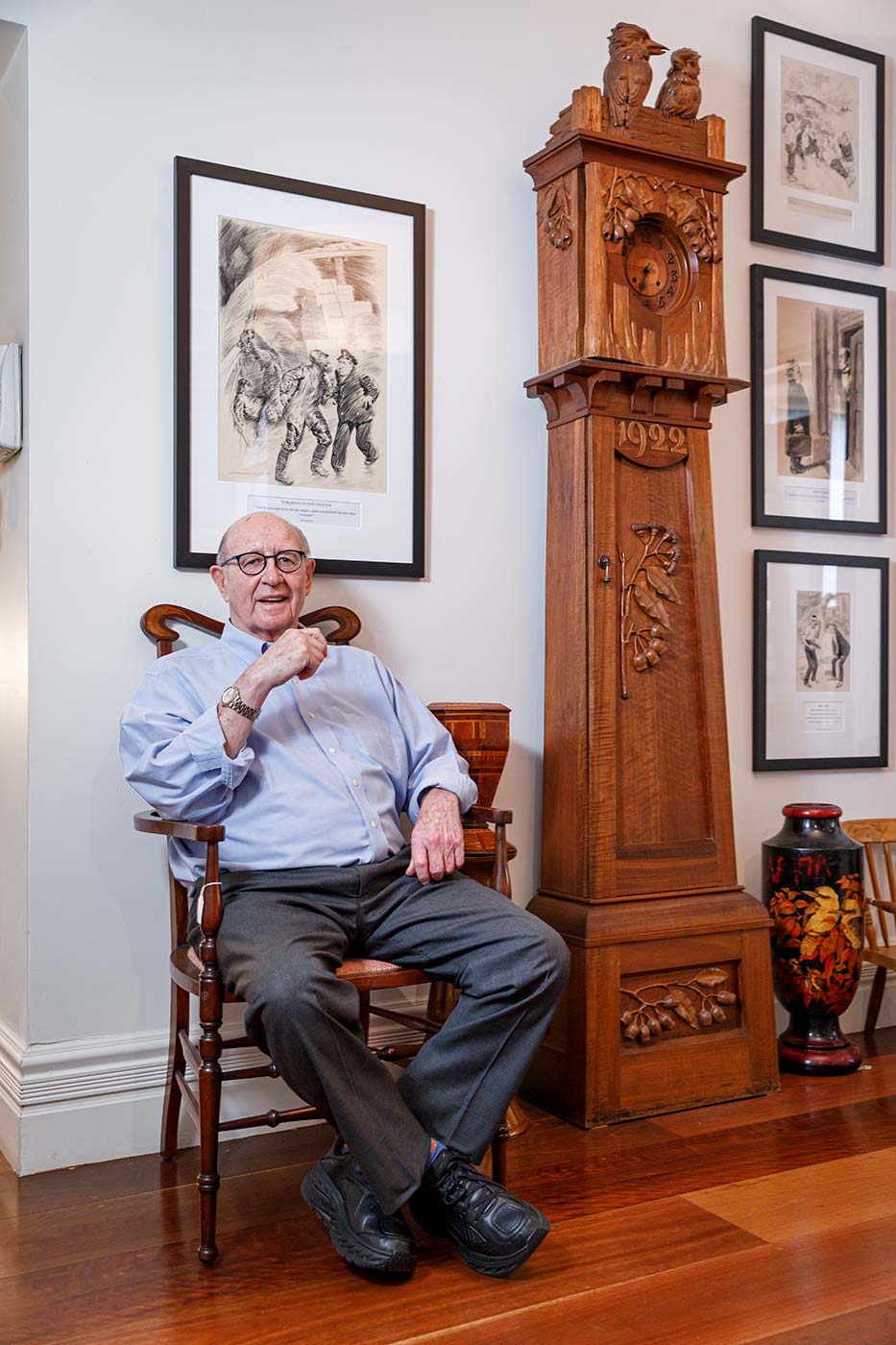 In its largest and most significant purchase, valued at over $8 million, the National Museum has acquired objects including artworks, furniture, jewellery and ceramics, which explore Australia's history, culture and identity. These items will become a part of the National Historical Collection for all Australians to enjoy.
Subsequent to the purchase Mr Kennedy has also donated thousands of additional items of historical and cultural significance valued at some $7 million, which will also go into the National Historical Collection.
An exhibition of key objects from the collection will be displayed in the Museum's Studio gallery from March 2021.
The collection of some 5000 objects features items of rare significance including a magnificent collection of pre-1820 Australian-made furniture; unique objects relating to Federation; art from some of Australia's most historically and culturally significant colonial artists; a diamond and platinum brooch given by Charles Kingsford Smith to his wife to commemorate his flight across the Pacific; and distinctive pottery and folk art objects beloved by generations of Australians.
Minister for Communications, Cyber Safety and the Arts, the Hon Paul Fletcher MP welcomed the acquisition of the Trevor Kennedy collection by the National Museum of Australia.
'This is a collection of national significance and includes a range of items from the late 18th century onwards which Australians will be able to explore and learn from, both in person and online,' Minister Fletcher said.
'This vast collection provides a wonderful insight into our past, with examples including the printing proofs for invitations to the opening of Australia's first Parliament in 1901 and more recently, Lionel Rose's World Champion Bantam Weight Boxing Trophy, awarded in 1968'.
National Museum director Dr Mathew Trinca said the purchase is one of the most significant in the institution's history.
'The breadth and scope of the collection is extraordinary. This unique collection has been brought together by a passionate and avid Australian collector and we are delighted to be able to share it with the nation,' said Dr Trinca.
'The decision by Mr Kennedy to also donate such a substantial part of his collection is remarkable. It is a donation of an unprecedented scale and one that will transform the Museum's collection forever.
'The combination of this acquisition and donation made by Mr Kennedy will become a cornerstone of the National Historical Collection and a rich new resource for Australians to explore and interpret our nation's history'.
Trevor Kennedy has spent his working life as a journalist, editor and media executive. Throughout his career, and particularly his years spent as editor of The Bulletin, Mr Kennedy maintained a deep interest in the history of Australia and dedicated himself to creating a collection of material that reflected his passion. Over a period of 40 years Mr Kennedy has amassed a unique collection of Australiana. In 2005 the collection was considerably strengthened when Mr Kennedy purchased the Ruth Simon collection of Australian decorative arts.
Mr Kennedy said he was delighted.
'I'm thrilled that my collection has found a new home at the National Museum of Australia and that such a large portion of my collection can largely stay together, retaining its character and integrity. My hope is that these treasures will be seen and appreciated by generations of Australians across the country, giving them the opportunity to explore and better understand our nation's remarkable history, the quality and traditions of Australian craftsmanship and design and through this the character unique to this nation,' said Mr Kennedy.
Museum Curator Dr Sophie Jensen was instrumental in working with Mr Kennedy over a period of two years to identify items to purchase from his unique collection.
'Mr Kennedy's passion and energy as a collector of Australiana brought these objects together to create an eclectic and magnificent collection of Australian material culture, history, decorative arts and design. This purchase and donation will enrich the stories we explore through the Museum's existing collection. The National Museum team will research, document and digitise the collection in order to have it available online as soon as possible, for Australians to discover and enjoy,' said Dr Jensen.
In total, the National Museum has acquired some 5000 objects including the most historically significant items in Mr Kennedy's collection.
The estimated value of the purchased objects is based on valuations conducted by independent experts engaged by the Museum for this purpose.
The purchase will be funded from the Museum's Collection Development and Acquisitions budget and will be paid over a period of three years (2020–2023).
Collection highlights
Australian Federation
Scale model of the Lucinda, the Queensland Government steam yacht. It was on board the Lucinda in March 1891 that the Constitution of the proposed Commonwealth of Australia was debated and edited. Another version of this model was supplied by Denny & Sons to the purchaser, the Queensland Government. This is now the collection of the Queensland Museum.
Extensive album of printer's proofs for invitations, press passes, and other printed ephemera produced to mark the celebrations and events associated with the opening of the First Parliament of the Commonwealth in 1901.
A beautiful diamond and gold enamel bangle gifted to the wife of the Governor of Western Australia during the visit of the Duke and Duchess of York to Perth in July 1901.
Furniture
A unique group of pre-1820 Australian made furniture from the Sydney Lumber Yard or the workshop of Lawrence Butler, Sydney.
A writing desk made by HW Broughton of Melbourne in 1851. The writing desk was exhibited at the Victorian Industrial Society's exhibition at which it received a silver medal. The desk incorporates 18 different colonial timbers.
Two magnificent occasional tables thought to have been made for naturalist John Gould (1804–1881) as a wedding present to Margaret Amhurst, 1856.
A grand longcase clock by James Oatley. Oatley was transported to Australia in 1815. He was employed as the keeper of the Town Clock. Pardoned in 1821 he established his business in George Street. All of this clock's parts would appear to have been made in the colony, about1827.
A rare longcase clock by Robert Prenzel (1866–1941) — one of only two known Prenzel longcase clocks in existence and a remarkable example of his distinctive style, 1922.
Artworks
The Kennedy collection contains work by some of Australia's most historically and culturally significant colonial artists.
A miniature portrait of John White — Surgeon-General to the First Fleet and Colony of New South Wales by the convict artist Thomas Watling.
Three portraits associated with the Johnston family of Annandale. The portrait of Lieutenant-Colonel George Johnston by Richard Read, a portrait of his wife, Esther Abraham and a watercolour miniature of Rosanna Nichols (nee Abrahams) by Richard Read Senior.
Three works by Conrad Martens including one of his most significant works, the painting Funeral of Rear-Admiral Phillip Parker King.
A group of eight Samuel Thomas Gill colonial interiors, life and buildings — a rare theme for Gill.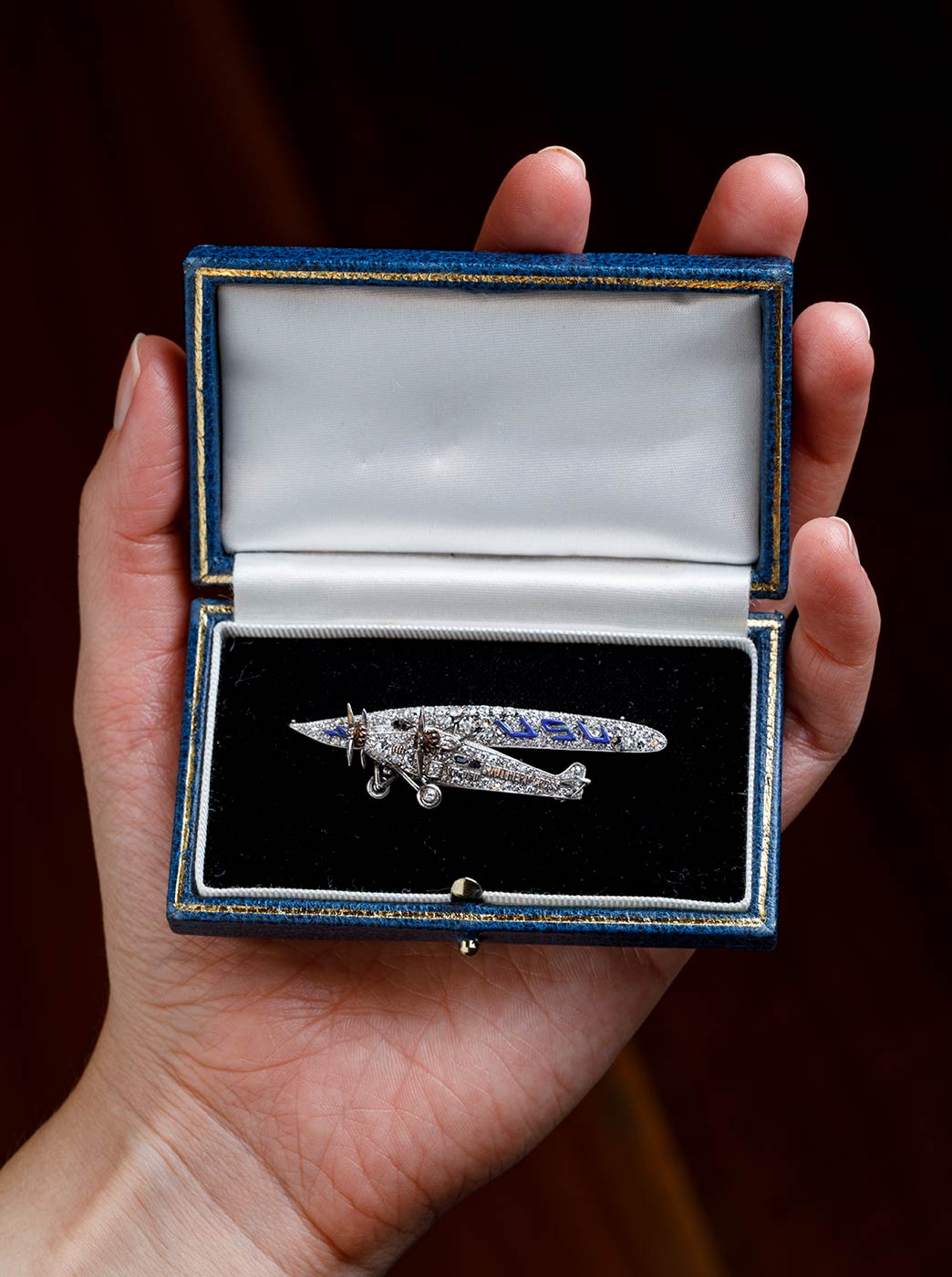 Jewellery
Historical diamond and platinum brooch given by Charles Kingsford Smith to his wife in 1932 to commemorate his flight across the Pacific.
A magnificent Priora Brother's brooch, oval gold set with a plaque of boulder opal depicting a lake fishing scene. Made in Sydney, circa 1900.
Silver and mounted eggs
A silver dog collar by Alexander Dick. The collar was made for a publican Michael Farrell and presented to his dog 'Tiger' for killing 20 rats in 2 minutes and 2 seconds, Sydney, 1834.
Silver centrepiece designed by Henry Steiner, displayed at the Melbourne International Exhibition, 1880.
Claret jug bearing the arms of Bathurst, Sydney, Newcastle and Albury — made by Hippolyte Delarue and exhibited at the Intercolonial Exhibition in 1870 and then the Sydney International Exhibition in 1879.
'The Sydney Cup' — a mounted emu egg made by William Kerr in 1885 and presented by the Sydney Bicycle Club to the Surrey Bicycle Club, England. The Kennedy collection contains more than 50 mounted eggs of various descriptions.
Ceramics
Extensive collection of Royal Worcester porcelain decorated with designs by well-known Australian botanical artist Ellis Rowan.
Ceramics from Royal Doulton, Moorcroft, Meissen, Grimwades and Staffordshire with designs featuring Australian flora and fauna.
Work by significant art potters such as Grace Seccombe, Marguerite Mahood and a large collection of the work of the Boyd family of Murrumbeena.
Items of historical interest
Lionel Rose's World Championship Bantam Weight Boxing Trophy awarded on 27 February 1968 in Tokyo after Rose defeated Maschito 'Fighting' Harada over 15 rounds.
An inscribed ceremonial 9-carat gold trowel used by Prime Minister Andrew Fisher at the ceremony laying one of the foundation stones of Canberra on 12 March 1913.
A group of gold cups including the Sydney Cup of 1869 by CL Quist, won by one of Australia's greatest racehorses, The Barb.
A remarkable collection of scrimshaw, taxidermy and other items of natural history interest.
Media contact: Diane Morris 0436 030 741 | media@nma.gov.au (video and images available)
Return to

Top