Guo Degang takes Australian history and culture to China
Nationally acclaimed performer and advocate for traditional Chinese culture, Guo Degang has announced he will serve as a cultural ambassador in China for Canberra's National Museum of Australia.
As the National Museum prepares to take Old Masters — a major exhibition of bark paintings — on tour in China, Mr Guo has partnered with the cultural institution to promote Australian history and culture in that country.
Mr Guo is a household name in China and has more than 68-million followers on the social media site Weibo.
Mr Guo came to Canberra today to sign a letter of agreement under which he will promote the National Museum's programs in China. While in Canberra, Mr Guo visited the National Museum's conservation laboratory to witness some of the barks being prepared for the tour.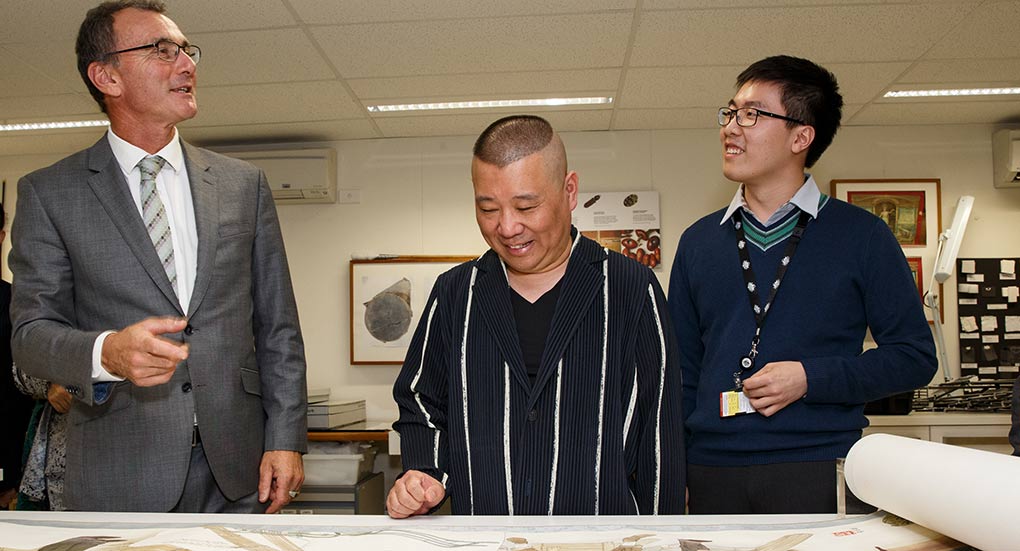 Guo Degang (centre) examines the Harvest of Endurance scroll with National Museum director Mat Trinca (left) and Museum host Ben Xie.
National Museum director Dr Mathew Trinca said he was delighted to have Mr Guo on board as a cultural ambassador: 'The National Museum is committed to taking the Australian story to the world and we're delighted to partner with Mr Guo to help us reach Chinese audiences,' said Dr Trinca.
Mr Guo said, 'Australia is a bounteous country, rich in history and culture'.
'In recent years during my visits to Australia for business and personal interest, I have seen opportunities for greater cultural exchange between our two countries. I am honoured to be appointed as a Cultural Ambassador for the National Museum of Australia, and to make my contribution during the Old Masters exhibition tour of China. I hope more Chinese people will understand the culture and history of Australia, and that the friendships between our countries blossom,' said Mr Guo.
The Old Masters exhibition featuring over 150 artworks and objects opens at the National Museum of China in Beijing in July 2018, ahead of a 20-month tour. It will later open in cities including Shanghai, Chengdu and Shenzhen before going to Taiwan.
The exhibition represents the most significant collection of Aboriginal barks to go to China in such a comprehensive tour. With over 2000 works of art on bark, the National Museum holds the world's largest and richest collection of bark paintings.
The exhibition will feature master painters including Yirawala and Narritjin Maymuru, Mawalan Marika and David Malangi, who put Aboriginal bark painting firmly on the map.
The exhibition works were painted between 1948 and 1988 — some of the paintings featured in the Old Masters exhibition at the National Museum in late 2013.
Return to

Top