National Museum's Apollo 17 specimen on Professor Brian Cox's Stargazing program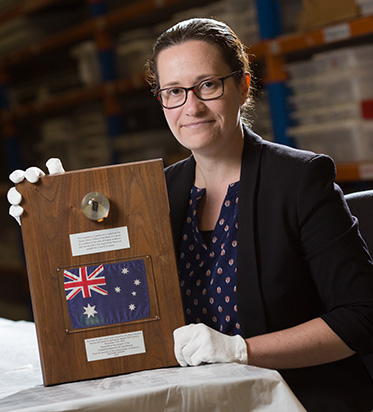 A fragment of a rock brought back from the 1972 'Apollo 17' moon mission will be on display at the National Museum of Australia from Monday 10 April 2017, after appearing on celebrity scientist, Professor Brian Cox's three-part Stargazing Live program.
The Stargazing program is being broadcast live from Siding Spring Observatory near Coonabarabran, New South Wales, on 4–6 April.
The program is being presented by Professor Cox and television personality Julia Zemiro, alongside scientists and guests who will tackle astronomy's most intriguing questions.
The Apollo 17 mission was the final trip of the American Apollo space program. Astronauts Eugene Cernan and Harrison Schmitt collected more than 100 kilograms of lunar samples including 'sample 70017', a composite rock considered to be billions of years old.
'Sample 70017', which weighed around three kilograms, became known as the 'goodwill rock' after American President Richard Nixon ordered the distribution of its fragments to 135 foreign heads of state, with a message of world peace in 1973. Small flags carried on Apollo 17 were also distributed.
National Museum director Dr Mathew Trinca said the Museum has loaned its piece of the 'goodwill rock' for the Stargazing program so the public can share this important story.
'We are thrilled that this iconic item is being seen by thousands of Australians on national television. Visitors to the Museum will also have the chance to view a part of our nation's role in space exploration,' Dr Trinca said.
The gift of the 'goodwill rock' recognised Australia's contribution to the Apollo program, which included its three ACT based National Aeronautics and Space Administration (NASA) tracking stations, which maintained communications with spacecraft.
In 1980 the rock sample, mounted on a plaque with the small Australian flag that travelled to the moon and back, was transferred to the National Museum from the Department of Science and Environment.
National Museum curator Jennifer Wilson said the rock was collected from the Taurus-Littrow landing site on the moon and was a composite of fragments blasted out of lunar craters by meteor impacts created over billions of years.
The astronauts hoped it would 'be a symbol of what our feelings are, what the feelings of the Apollo program are, and a symbol of mankind: that we can live in peace and harmony in the future.'
The goodwill moon rock is on display in the Main Hall of the National Museum from 10 April 2017.
Please contact Diana Streak, (02) 6208 5091, 0422 536 064 or media@nma.gov.au
Return to

Top