Leading artists unite for a cross-cultural celebration of food plants
Immerse yourself in a vast Arnhem Land floodplain and lose yourself in a forest of bark paintings, in an ambitious and beautiful cross-cultural collaboration between renowned landscape artist John Wolseley and the great Yolŋu artist, Mulkun Wirrpanda.
Midawarr | Harvest: The Art of Mulkun Wirrpanda and John Wolseley was launched today at the National Museum of Australia in Canberra and is the culmination of an extraordinary friendship between two of Australia's most distinguished senior artists, celebrating their shared obsession with traditional Yolŋu plant use.
The exhibition features a specially commissioned vast panoramic scroll painting of a floodplain (2.1 x 10 m) by Wolseley and 60 paintings and memorial poles by Mulkun showcasing intricately detailed Yolŋu plants.
In 2009, Mulkun adopted Wolseley as her wäwa (brother) and in the following years they harvested, painted and illustrated over 40 species of edible plants. The resulting exhibition is best described as a kind of three-dimensional rendering of north-east Arnhem Land flora.
Mulkun is passionate about passing on the important knowledge of these plants to a younger generation to counteract their dependence on junk food. Wolseley's immersive landscape portrays a distant floodplain and features the same plants and trees which Mulkun has painted.
National Museum director Dr Mathew Trinca said, 'We are delighted to share this extraordinary partnership and we are grateful to Wayne and Vicki McGeoch — collectors of Indigenous art — who generously donated Mulkun's Midawarr series of over 120 bark paintings and larrakitj (decorated hollow logs) to the Museum, via the Australian Government's Cultural Gifts Program.'
'This gift is central to the Midawarr exhibition and its beautiful companion book,' Dr Trinca said.
Lead curator Andy Greenslade said, 'I wanted to transform our gallery so visitors can journey through Mulkun's country, into the forest of her bark paintings and along the watercolour floodplain of John's painting, and feel as though they have visited Yolŋu country.'
Mulkun Wirrpanda said, 'Once I started painting food plants without reference to their sacred identity, I had to find a new way to paint. I could not use the miny'tji (sacred design) or steal the sacred identity of the plants which belonged to clans other than my own. So I had to find a marwat (crosshatched background) which was just wakinŋu (ordinary) but not just infill. So I had to let the plants tell me what their secular identity or character was.'
John Wolseley said 'I have tried to find a way in which a painter from another culture could make a work about a site of great power and sacred importance and do so with reticence and reverence. Over the years I have drawn the distant floodplain of Garanarri through the trees and hanging vines on the edge of the rainforest. I have painted the land at one remove, as seen through a veil.'
Midawarr | Harvest: The Art of Mulkun Wirrpanda and John Wolseley is on until 18 February 2018.
Media contact Tracy Sutherland, 02 6208 5338 | 0438 620 710 or media@nma.gov.au
---
This exhibition is supported by the National Collecting Institutions Touring and Outreach Program, an Australian Government program aiming to improve access to the national collections for all Australians.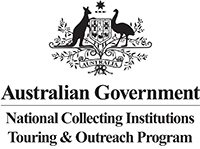 Return to

Top