Statement by National Museum of Australia director, Dr Mathew Trinca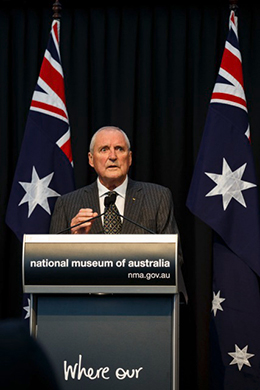 The Council and Staff of the National Museum of Australia have been greatly saddened by the passing of Mr Michael Ball AO.
Michael Ball was a staunch friend of the National Museum of Australia and a passionate advocate for Australian history.
He was the inspiration for the National Museum's headline Defining Moments in Australian History project — for which he was co-patron together with the Hon Michael Kirby AC CMG. His continued support and belief in the Defining Moments project has been instrumental in its broad public success.
Following an acclaimed international career in advertising, Michael dedicated his energies to the community, with leadership positions at organisations such as the National Capital Authority and the Bradman Foundation. As Chairman of the National Capital Authority responsible for the Management of the National Capital Plan, he worked closely with a number of national cultural institutions and oversaw significant public spaces in the nation's capital.
In the Australia Day Honours list of 2016, Michael Ball's contribution to the national community was acknowledged when he was made an Officer of the Order of Australia (AO).
I was lucky enough to benefit from his enduring interest and support in the work of the Museum, and his encouragement to involve Australians in productive discussions about our past. I will miss his enormous enthusiasm and creative energy, and his great belief in the strength and values of Australian society.
The thoughts of all of us here at the National Museum of Australia are with his wife Daria and family at this time.
Return to

Top