Australian athlete in historic American civil rights podium protest
The National Museum of Australia in Canberra has acquired the historic 1968 Olympic singlet worn by Australian silver medallist Peter Norman, who was best known for his part in that event's historic civil rights podium protest.
Renowned for being 'the white guy' on the podium next to gold and bronze medallists, Tommie Smith and John Carlos, Norman stood next to his American running-mates, as they raised their fists in a famous protest against racial discrimination in the United States.
Norman was a Melbourne schoolteacher and Salvation Army officer and had strong views on equality and human rights and was a knowing and willing participant in the controversial 1968 podium protest.
The National Museum's acquisition of the singlet Norman wore in the race reflects the Australian's place at a key event in the American civil rights movement and his subsequent recognition in the US as a supporter of racial equality.
National Museum director Dr Mathew Trinca said he was delighted to have acquired such an important item for all Australians to see.
'Peter Norman's actions alongside Tommie Smith and John Carlos at the 1968 Olympics resonated globally and it is fitting that an item reflecting this historic moment should be housed at the National Museum, where all Australians can see it,' said Dr Trinca.
National Museum senior curator Joanne Bach said Norman deserved national recognition.
'Although largely forgotten in his own country, Norman has long been recognised in the US for his support of Smith and Carlos – when he died in 2006, the USA Track and Field Federation declared the day of his funeral, 9 October, Peter Norman Day,' said Ms Bach.
In 1968 when Smith and Carlos told Norman of their planned protest, the Australian responded, 'I'll stand with you' and wore one of the American's Olympic Project for Human Rights badges as a show of support.
In a later interview, Norman explained, 'I believe that every man is born equal and should be treated that way.'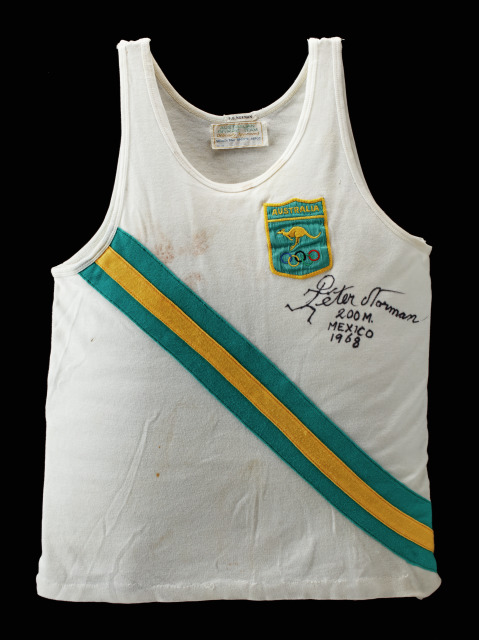 Norman's white running singlet features a green and gold sash and a green and gold badge featuring 'Australia', a kangaroo and the Olympic rings.
The singlet has been signed in black ink, 'Peter Norman / 200m / Mexico / 1968'.
The bottom of the singlet has been trimmed.
Included in the auction lot is a note of authenticity signed by Norman which explains that he trimmed the singlet 'to make sure that it tucked firmly into my shorts'.
Immediately following the medal ceremony, Smith and Carlos were sent home and banned from competing in future Olympic Games.
Peter Norman's unexpected success at the 1968 Olympics was overshadowed by Smith and Carlos's protest. Norman, however, saw it differently, saying: 'It has been said that sharing my silver medal with that incident on the victory dais detracted from my performance. On the contrary, I have to confess, I was rather proud to be part of it.'
For more information please contact Tracy Sutherland, (02) 6208 5338 / 0438 620 710 or media@nma.gov.au
Return to

Top