Bookings
To book an event check the Calendar for details
or phone (02) 6208 5021.
If you are deaf, hearing or
speech impaired you can call
the Museum through the
National Relay Service:
TTY 1800 555 677
Speak and Listen 1800 555 727
or Internet relay and request
1800 026 132
The Museum Cafe
Our beautiful new lakefront cafe is now open!
The Museum Cafe is the perfect place for visitors to enjoy a variety of options, from a quick coffee to a substantial meal. Offering waterfront dining – indoors or out on the deck – you can find a delicious selection of food complemented with spectacular views over Lake Burley Griffin.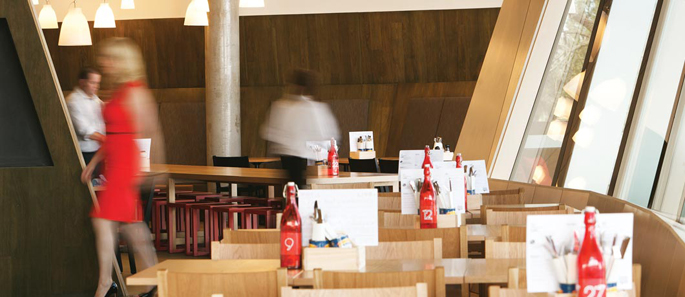 The new cafe includes an informal space to relax in comfort, catch up with friends, sip tea or coffee over the paper or browse the internet with our free Wi-Fi.
Enjoy the Museum Cafe on your next visit to the National Museum.
Open 9am – 4.45pm daily (closed Christmas day)
General enquiries: (02) 6208 5179

View the Museum Cafe weekday menu (PDF 191kb)

View the Museum Cafe weekend and public holidays menu (PDF 279kb)
The Museum Shop
At the Museum Shop you'll find unusual homewares, arts and crafts, gourmet treats and more – unique, surprising and at prices to suit every budget. The Museum Shop – where everything we sell has a story to tell.
The Museum has an ATM (automated teller machine) for the convenience of visitors.
Open 10am – 5pm weekdays, 9am – 5pm weekends/public holidays.
Online shop shop.nma.gov.au
Enquiries: Tel +61 2 6208 5222
Email themuseumshop@nma.gov.au
EFTPOS and all credit cards accepted. Packing, postage and overseas shipping can be arranged.
Postal address: GPO Box 1901, CANBERRA ACT 2601, AUSTRALIA