Midawarr | Harvest: The Art of Mulkun Wirrpanda and John Wolseley
Until 18 February 2018 | Studio Gallery | Free entry, donations welcome
Explore the plants of north-east Arnhem Land through stunning artworks by Yolŋu elder Mulkuṉ Wirrpanda and landscape painter John Wolseley.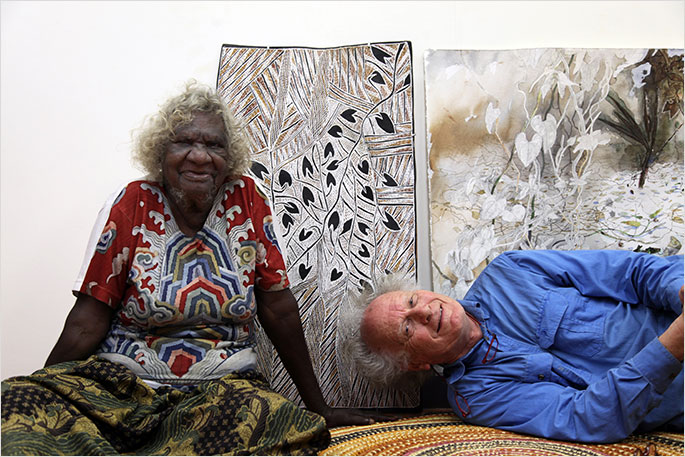 This National Museum of Australia exhibition also features immersive multimedia experiences created by the Yolŋu community to give visitors insights into the special relationship between these two artists, and ancient Yolŋu knowledge of sustainable living.
Midawarr means 'harvest' in the Yolŋu matha (language). It is the season when rich plant life on Yolŋu country is ready to be collected and prepared.
---
This exhibition is supported by the National Collecting Institutions Touring and Outreach Program, an Australian Government program aiming to improve access to the national collections for all Australians.
Banner image: Distant glimpses ... 2017 (details, John Wolseley, National Museum of Australia. Dawirr, 2014 (detail), Mulkun Wirrpanda; donated through the Australian Government's Cultural Gifts Program by Wayne and Vicki McGeoch.