Caution: This website includes images and names of deceased people that may cause distress to Aboriginal and Torres Strait Islander peoples.
---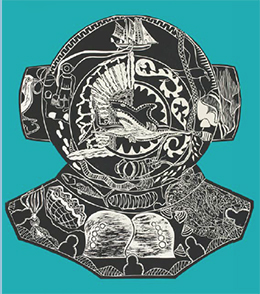 Lag | Meta | Aus: Home in the Torres Strait
From 20 June 2014. Torres Strait Islander gallery. Free.
Lag | Meta | Aus reveals the history and vitality of Australia's most northerly region, the Torres Strait. The words lag, meta and aus translate as home in the region's three Indigenous languages.
For thousands of years, Torres Strait Islanders have lived and prospered in their homeland. Even though 80 per cent of Islanders now live on mainland Australia, they still associate the Torres Strait with home.
This exhibition features artworks, objects and stories that reflect the Strait's history and culture from the mythological past to the present.