The Council of the National Museum of Australia is responsible for the overall performance of the organisation, including setting the strategic direction and establishing goals for management. The Council works with executive management in developing, executing, monitoring and adjusting the appropriate strategies, and its non-executive members are appointed by the Governor-General in accordance with Subsection 13(2) of the Museum Act.
The Act provides for a Council consisting of a Chair, the Director of the Museum and between seven and 10 other members. All members are appointed by the Governor-General and, apart from the Director, are part-time appointees for terms of up to three years, although terms of appointment can be extended. The Director is appointed by the Governor-General in accordance with Section 23 of the Museum Act, and can hold office for a period not exceeding seven years.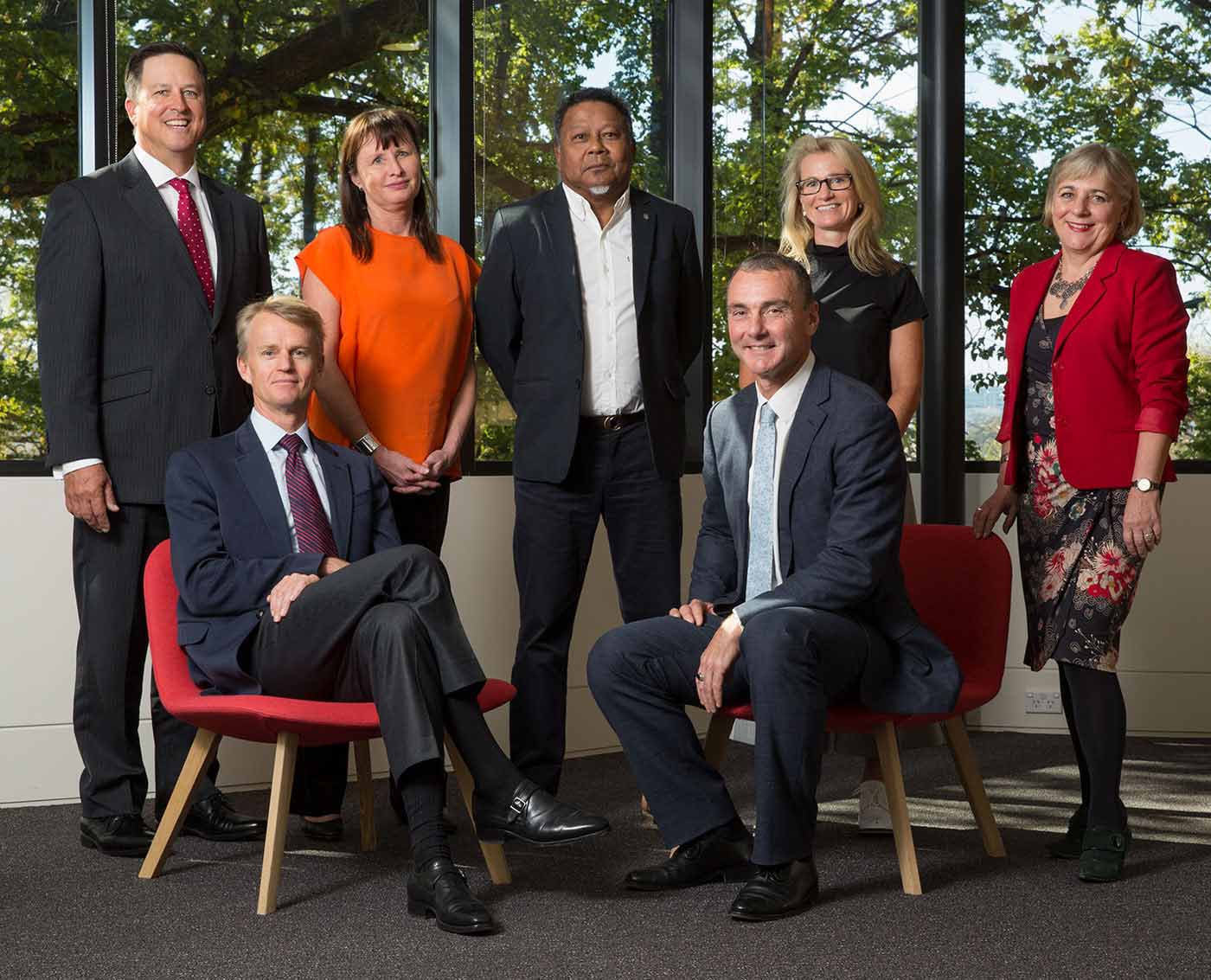 Council of the National Museum of Australia, including members outgoing in June 2016 (left to right): Ben Maguire, David Jones, Professor Catharine Lumby, Peter Yu, Dr Mathew Trinca, Dr Janet Albrechtsen and Professor Raelene Frances. Absent are Alexander Hartman and new appointees Michael Traill AM and Maureen Plavsic
The current membership of the Council provides a mix of skills and experience in the areas of history, law, education, the arts, media, Indigenous issues, marketing, social media, business, and financial and strategic management.
The Commonwealth Remuneration Tribunal determines remuneration for non-executive members. During 2015–16 the Council comprised the following non-executive members:
Mr David Jones (Chair) is Executive Chairman of VGI Partners, a global listed equities absolute return fund. He spent 17 years in private equity (1994–2011), as Managing Director at CHAMP Private Equity, Executive Director and Country Head of UBS Capital and a division director at Macquarie Direct Investment. Mr Jones achieved first class honours in mechanical engineering from the University of Melbourne and an MBA from Harvard Business School. He is Chairman of Kudos Energy and Derwent Executive, and a non-executive director of EMR Capital, Global Sources Limited, EC English and Cape York Partnership.
Dr Janet Albrechtsen is an opinion columnist with The Australian, and has written for the Wall Street Journal, Australian Financial Review, Age, Sydney Morning Herald and Canada's National Post and Vancouver Sun. She is a member of the board of the Institute of Public Affairs. She is also an ambassador and mentor with the Australian Indigenous Education Fund, and formerly a member of the ABC and SBS boards appointments panel, the Australian Broadcasting Corporation Board and the Foreign Affairs Council. Before turning to commentary, she worked as a solicitor in commercial law at Freehill, Hollingdale and Page and taught at the University of Sydney Law School.
Mr Alexander Hartman is an entrepreneur, co-founder and Executive Vice-President of Matilda Media Pty Ltd, and co-founder of RightsTrade and Newzulu Limited. He is involved in public health services for young people and has served as a member of the Australian Industry Research and Development Board, Director of the Australian Business Foundation Limited, Advisory Board member of Headspace and ambassador of the Sony Foundation. Mr Hartman received the Commonwealth Minister for Youth Affairs Career Achievement Award in 2001 as part of the Young Australian of the Year Awards and the 2002 New South Wales Pearcey Award.
Professor Catharine Lumby is Professor of Media at Macquarie University, where her research spans media services, gender studies and media content regulation. Since 2004 she has worked in a pro-bono role advising the National Rugby League on cultural change and education programs for players. Before entering academia in 2000 she was a journalist and opinion writer and has worked for the Sydney Morning Herald, the Australian Broadcasting Corporation and the Bulletin.
New appointments
Mr Ben Maguire is Director of Maguire Management, and Deputy Co-Chair of Regional Development Australia, Southern Inland. For eight years, he was the chief executive officer of the Australian Stockman's Hall of Fame and Outback Heritage Centre in Longreach, Queensland. He has been a member of the Slim Dusty Museum Advisory Board, and is a former executive manager of AGL Energy Limited. Mr Maguire was appointed to the Council on 20 August 2015.
Ms Maureen Plavsic has 30 years of experience in media, advertising and brand marketing, including as chief executive officer, executive director and head of sales and corporate marketing at Seven Network Limited. Ms Plavsic is a board member of Bestest Inc., and was previously a director of 1-Page, Pacific Brands and Macquarie Radio Network, a board member of Opera Australia, and a trustee of the National Gallery of Victoria. Ms Plavsic was appointed to the Council on 5 May 2016.
Mr Michael Traill AM was the founding chief executive officer of Social Ventures Australia (SVA) from 2002 to 2014, and co-founder and executive director of Macquarie Group's private equity arm, Macquarie Direct Investment. Mr Traill has expertise in philanthropy investment and development and is chair of a number of organisations, including Goodstart Early Learning and the SVA Social Impact Fund. He holds a BA (Hons) from the University of Melbourne and an MBA from Harvard University. Mr Traill was appointed to the Council on 5 May 2016.
Outgoing members
Mr Nicholas Davie is the founder of a number of data analytics and marketing companies, including Centrifuge42 and Brand Communities. He is the former chief executive officer of the marketing and advertising company Publicis Mojo. Mr Davie is currently a member of the Board of Trustees of the Sport and Tourism Youth Foundation, and is also one of the founders and the co-chair of the children's charity, the Bestest Foundation. Mr Davie completed his second term of appointment to the Council on 24 October 2015.
Professor Rae Frances is Dean of Arts and Professor of History at Monash University. She has an extensive record of teaching, research and publication in Australian social history and is the recipient of numerous national awards and prizes for her teaching and publications. She is the chair of the Advisory Board of the Australian Intercultural Society and a Fellow of the Academy of Social Sciences in Australia. Professor Frances completed her second term of appointment to the Council on 29 May 2016.
Mr Peter Yu is a Yawuru man from Broome, Western Australia. He is Chair of North Australian Indigenous Land and Sea Management Alliance Ltd, Deputy Chair of Broome Future Ltd, Deputy Chair of AFL Aboriginal Advisory Committee and a director of the Yawuru PBC (Prescribed Body Corporate). Mr Yu completed his second term of appointment to the Council on 29 May 2016.
The Museum Council held four meetings during 2015–16. A senior executive staff officer from the Department of Communications and the Arts attended three meetings as an observer.
The Museum provides Council members with information on changes to corporate governance responsibilities as it becomes available, including Australian National Audit Office documents and guidelines.
The Council has policy and procedures for the disclosure and resolution of any matter for its consideration that may result in a conflict of interest. Members are required to make the nature of that interest known at the commencement of a Council meeting, and details of such disclosures are recorded in the minutes of the meeting.
The Council has established an Audit, Finance and Risk Committee to assist in the execution of its responsibilities, and an Indigenous Reference Group to advise on sensitivities and protocols relating to Aboriginal and Torres Strait Islander exhibitions and other relevant matters. Details of Council and committee meetings are listed in Appendix 1: Council and committees of the National Museum of Australia.
Museum Council member and Indigenous Reference Group chair, Peter Yu, speaking during the Investigating Encounters panel discussion, 1 December 2015
Return to

Top