We are no longer updating this page and it is not optimised for mobile devices.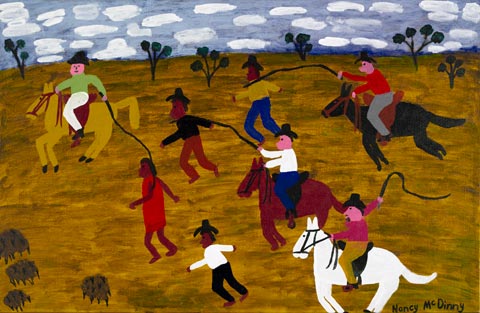 The National Museum of Australia seeks to build and care for a broad-based collection that provides a material record of Australian history. The National Historical Collection is the Museum's core collection, and consists of the most historically and culturally significant objects acquired by the Museum. There are more than 200,000 items in this collection. The Museum's other collections include the Archive Collection, comprising documents, photographs, and sound and vision recordings associated with material in the National Historical Collection; the Education Collection, comprising materials that support Museum programs and activities; and the Museum Collection, which supports the exhibition program.
As has been the case each year since its opening in 2001, the Museum met or exceeded Program 1.1 measures this year.
Performance summary, measured against PBS
Performance indicators
Achievements
QUALITY
100% of National Historical Collection acquisitions are consistent with acquisitions policy

ACTUAL: 100%
75% of the National Historical Collection stored in accordance with appropriate museum standards
ACTUAL: 81%
QUANTITY
1000 conservation treatments undertaken to maintain appropriate condition of items
ACTUAL: 1469
7500 National Historical Collection items accessible via the Museum's website
ACTUAL: 15,877

Return to

Top