We are no longer updating this page and it is not optimised for mobile devices.
Curatorial outreach
All permanent galleries have a strong focus on place and community. Curators travel extensively to visit historic sites, research objects and stories, make presentations and consult with communities. Successful outreach is not just achieved by travel, but also through a variety of communication strategies, including regular phone and email contact and visits from communities. Curators remain in constant and close contact with stakeholders in Museum programs, and work hard to maintain long-established relationships.
Curators working on the forthcoming Landmarks: People and Places across Australia gallery visited many communities, including Hobart in Tasmania; Adelaide, Kangaroo Island, and Robe in South Australia; Bendigo and Sunshine in Victoria; Grenfell, Forbes and Port Macquarie in New South Wales; Perth and Rottnest Island in Western Australia; Brisbane in Queensland and the Australian Capital Territory.
During these visits, curators created relationships with community groups, local museums and other organisations to develop knowledge and appropriate conservation and display options for collections to be displayed in Landmarks. This work strengthens the representation of these communities at the Museum and contributes to local knowledge and preservation of cultural heritage.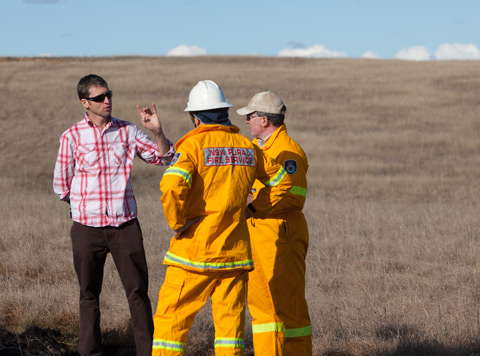 This year, Museum curators worked in particular with communities of central west New South Wales to develop an understanding of archaeological collections relating to the lives of nineteenth-century bushrangers and their families, and with the Yirandali community of Queensland to explore histories and memories of their collections that are held by the Museum and the State Library of Queensland.
In 2009–10 curators from the Eternity and Old New Land galleries travelled near and far as part of their outreach activities. They gave presentations in various localities relating to the cultural heritage of the Australian Alps, participated in a multi-disciplinary symposium about the culture of food, and gave a presentation about the Eternity Gallery at the American Association of Museums annual conference in Los Angeles.
Outreach is an integral component of activities undertaken by the Aboriginal and Torres Strait Islander Program (ATSIP). ATSIP remains committed to the delivery of projects relevant to Aboriginal and Torres Strait Islander cultures and histories that are based on thorough consultation, both for research and approval purposes. Many of the outreach projects incorporate elements of community advice and training.
Highlights of major outreach events participated in by ATSIP staff over the 2009–10 year included:
curatorial staff travelling to Thursday Island, Darwin, Kakadu, Perth, Brisbane, Cairns, Lockhart River, Tasmania, Adelaide, Sydney, Papunya, Kintore, Alice Springs, Appin, Melbourne, London and Beijing as part of community consultations about repatriation, installation of travelling exhibitions and forthcoming exhibitions
providing advice and assistance to the organisation Link Up, which supports members of the Stolen Generations in their search for families
providing advice and assistance on collection management and exhibition development to community members responsible for management of the Lake Mungo National Park in New South Wales
working with members of the Tiwi Island community on a local exhibition of the Museum's collections of Tiwi Islander children's art
consulting with communities and individuals over issues and content associated with ongoing object changeovers, module redevelopments and collection acquisitions
presenting tours to visitors from Japan; the United States; Britain; Indonesia; Russia; France; Germany; Papua New Guinea; the Department of the Environment, Water, Heritage and the Arts; and to Department of Foreign Affairs and Trade staff preparing for overseas postings.
In addition, two issues of Goree: Aboriginal and Torres Strait Islander News were published. This newsletter, which presents the activities and events relating to the Museum's Aboriginal and Torres Strait Islander Program, is delivered to over 5000 communities, schools, organisations and individuals across Australia. The newsletter is also available online. Contributions are provided by staff and invited authors.
Centre for Historical Research outreach
During 2009–10 members of the Centre for Historical Research have been involved in outreach work with colleagues in other museums, schools and universities and in community bodies. Staff delivered talks to groups ranging from primary school classes to international scholarly bodies.
Highlights included:
extensive travel to consult and work with Indigenous communities in the Northern Territory, outback Queensland, rural Victoria and New South Wales. Centre members also travelled to England, Germany and Hawai'i to conduct research on collections
several members delivering lectures in universities in Australia and overseas, and receiving awards in recognition of the high quality of their research
a one-day symposium on biography jointly organised by Dr Nick Brown and Dr Paul Pickering of The Australian National University and held at the Museum on 10 September 2009
a major symposium, Barks, Birds & Billabongs, organised by Margo Neale and held at the Museum in November 2009
a conference on Baz Luhrman's film Australia held at the Museum and convened by centre associates Dr Maria Nugent and Dr Shino Konishi (formerly of the centre)
the Collections Symposium 2010: Caring for Collections, jointly organised by the centre and by senior curator Dr Guy Hansen and held at the Museum in May 2010.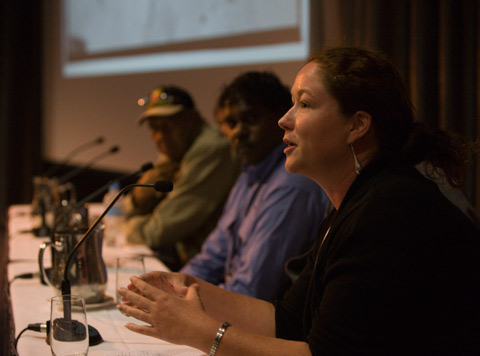 Extending our national reach
Sharing our resources and expertise
For the third year, the National Museum of Australia was a valued partner in 'Working spaces 3 for museum volunteers: Helping to put museum theory into practice', a weekend of workshops organised by the Lachlan Chapter of Museums Australia at Galong, New South Wales, in October 2009. Many Museum staff gave presentations at these workshops.
The Museum also provided support for a one-day workshop, 'Post accreditation: Where we're at', at Canowindra, New South Wales, in May 2010. The workshop drew staff and volunteers from a range of regional museums across New South Wales, including Canowindra, Cootamundra and Forbes.
ICOM Australia Museum Partnerships Program
The National Museum of Australia is a long-term institutional member and key sponsor of the International Council of Museums Australian Committee Incorporated (ICOM Australia). In addition to providing financial support for the joint ICOM Australia/Museums Australia secretariat, the Museum has also been a major sponsor of the ICOM Australia Museum Partnerships Program. This program focuses on formally partnering governance and heritage projects in the Asia–Pacific with Australian not-for-profit and incorporated cultural organisations.
Community Heritage Grants Program
The Museum continued to support the Community Heritage Grants Program with a grant of $40,000. This program aims to preserve and provide access to nationally significant Australian cultural heritage material held by community groups across the country by providing small grants for preservation projects and collection management training. The program is administered by the National Library of Australia with funding partners the Department of the Environment, Water, Heritage and the Arts; the National Archives of Australia; the National Film and Sound Archive; and the National Museum of Australia.
The total number of website visitors continued to rise, increasing from 2,533,138 in 2008–09 to 3,291,874 in 2009–10. Of these, some 413,322 used the collection database compared with 253,138 in 2008–09.
The number of podcasts on the Museum's website increased by 108 programs to a total of 223. The Museum also forged ahead in Government 2.0 (use of social media by government). Museum initiatives in 2009–10 included Twitter feed and presence on YouTube channel, hosting three blogs and continued online interaction through its Facebook page. The Museum increased its Flickr collection to 1511 images, including the addition of sets of images from curators in the field relating to the new Landmarks gallery and the forthcoming exhibition on the experience of Irish people in Australia.
Feature exhibition websites were developed for the Landmarks gallery, Behind the Lines: The Year's Best Cartoons 2009 and the upcoming Forgotten Australians exhibition. The website for From Little Things Big Things Grow included the production of 24 online audiovisual reflections on experiences of discrimination. 'Bottles from the basin', a web feature supporting Water: H2O=Life, attracted more than 160 participants who sent water samples from across the Murray–Darling basin.
The Museum won a number of online and multimedia awards in 2009–10. The audio-on-demand program, developed by Icelab Pty Ltd, won Best of the Web (Best Podcast Site) from Museums and the Web and the 2010 Gold MUSE Award (podcasts) from the American Association of Museums. The Australian Journeys interactive 'European voyages', developed by Roar Film, won an Australian Teachers of Media (ATOM) Best Multimedia award and the Grand Prix Multimedi'ART Interactive from the International Council of Museums. The online version of the annual report won a gold award from the Institute of Public Administration Australia (ACT Division).
Return to

Top