We are no longer updating this page and it is not optimised for mobile devices.
Museum development
In 2003 the Council of the National Museum of Australia initiated a review, known as the Carroll Review, of the Museum's exhibitions and programs. In one of its resulting recommendations, the review panel advised the Museum to reconsider the selection of themes and narratives for the existing Horizons and Nation galleries. In 2004 the Museum produced the Collections and Gallery Development Plan 2004–08 to address the review's findings.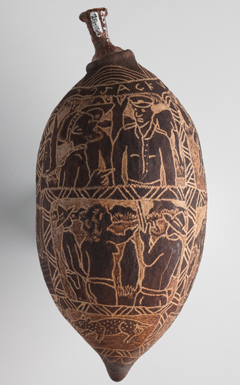 The plan proposed that the Horizons gallery be redeveloped as the Australian Journeys gallery, to represent voyages of discovery, exploration and settlement of the Australian continent. It also proposed redeveloping the Nation gallery as the Landmarks: People and Places across Australia gallery (formerly Creating a Country) to provide a general history of Australia's economic, social and political conditions. Included in the plan was the redevelopment of the Circa multimedia experience to more strongly focus on providing an introduction to the Museum. Both Circa and Australian Journeys have since been opened and are proving popular with visitors.
The Museum has continued work on developing and delivering the Landmarks gallery over the course of the 2009–10 financial year.
Landmarks: People and Places across Australia
The Landmarks gallery is scheduled to open in mid-2011. Landmarks presents a broad history of Australia from the first encounters between European colonists and Indigenous peoples through to the present day. It explores 10 key themes in Australia's past, through a focus on interactions between people, ideas, environments and technologies in particular places. Landmarks will explore how people have responded to the challenges of living in Australia and the distinctive social, political and economic practices they have developed. The gallery's exhibits will trace how people have responded to the continent's environments and the ingenuity and determination that Australians have displayed in making their lives here.
During 2009–10, content development for Landmarks was completed and the gallery was designed and documented, enabling fabrication of all elements to commence in July 2010. Museum staff completed substantial work conserving and preparing the Museum's collections for display, negotiating and transporting loans to the Museum and working with external contractors to design mounts and supports for the objects appearing in the gallery. Work also continued on content development for digital and mechanical interactives, exhibition text and archival image sourcing.
To make way for Landmarks, the Nation gallery was closed at the beginning of February 2010 and collections and exhibition furniture were de-installed.
Return to

Top