We are no longer updating this page and it is not optimised for mobile devices.
The Museum enhances the public's awareness and understanding of Australian history and culture (one of its PBS outcomes) through a broad range of public and schools programs for visitors to the Museum.
These programs explore subjects related to permanent and temporary exhibitions; the Museum's themes, collections and research; and historic and contemporary issues. In 2008–09 the Museum attracted 29,649 participants to its public programs and had its most successful year yet for school visits, with approximately 86,457 students attending from approximately 2000 schools.
The Museum develops these programs to ensure they are accessible to a wide range of audiences and represent the diversity of the Australian community.
For families and children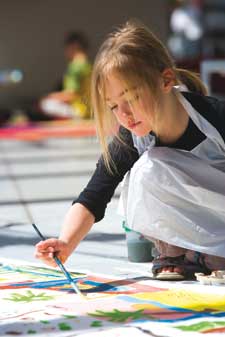 In line with the Public Programs interpretation strategy, a new suite of programs for families and children was launched in the September 2008 school holidays. Programs included a free discovery drop-in space, in-gallery facilitated workshops, and a family trail throughout the permanent galleries. Mini festivals were also held during school holidays, reflecting the themes of temporary exhibitions Utopia: The Genius of Emily Kame Kngwarreye and Darwin, and the new Australian Journeys gallery. Workshops facilitated by local artists were fully subscribed during all school holidays.
School holiday programs were also linked to regular events such as NAIDOC Week, celebrating Aboriginal and Torres Strait Islander culture through storytelling, dance workshops and the fourth annual didjeridu competition. Recognising that children and families are core audiences, the Museum also supported important community events such as Children's Week.
Australia Day attendance, 2005–09
| Year | Event | Attendance |
| --- | --- | --- |
| 2005 | A Day in the Extremes | 4105 |
| 2006 | Captivating and Curious Carnival Day | 3822 |
| 2007 | Between the Flags Family Festival | 5207 |
| 2008 | Celebrating Indigenous Arts and Culture Family Festival | 3230 |
| 2009 | Monkey Monday | 1856 |
For adults and young people
The Museum presented forums and panel discussions interpreting the Museum's collections, highlighting significant aspects of Australian social history and relating to temporary and permanent exhibitions. These were:
events related to the exhibition Utopia: The Genius of Emily Kame Kngwarreye: the Emily Symposium (August 2008), a public conversation with collector Janet Holmes à Court (August 2008), Emily in Japan (September 2008) and a public conversation with art critics and commentators (September 2008)
programs interpreting the exhibition Behind the Lines: In the Trenches, a panel of journalists reviewing events of the past year (December 2008) and a public conversation with cartoonist Geoff Pryor (December 2008)
the Darwin symposium (February 2009), relating to the exhibition Darwin
programs interpreting the Recoil exhibition, including a major four-day event comprising a conference, workshops, a weaving demonstration and seminars
opportunities for scholars from the Museum's Centre for Historical Research to present their research: seven public presentations during the year, on subjects such as biography and conflict history, and presentations at the annual Collections Symposium in March 2009.
Adult workshops and demonstrations were also used to interpret collection objects through hands-on activities. These included spray-painting, embroidery, photography, leatherwork, historic vehicle conservation, cartooning and fiction writing.
Performance was another key form of interpretation used throughout the year for adults and young people. In November 2008 eminent cellist David Pereira gave a recital on a cello made by AE Smith, from the Museum's collection; in February 2009 the Song Company, with didjeridu player William Barton, presented Kalkadunga Man; and in May 2009 a reconciliation concert titled Together, in association with the Canberra International Music Festival, featured a new work by composer Elena Kats-Chernin, specially commissioned by the Museum. During the festival the Grainger Quartet also played a program on the Museum's quartet of stringed instruments made by AE Smith.
The Museum continued to deliver programs for people with a range of disabilities, and carers of those with disabilities, by providing opportunities to experience the exhibitions and participate in workshops specifically designed for their needs (see Appendix 10).
For visiting school students
During 2008–09 the rooms used for presenting programs to visiting school students at the Museum were extensively refurbished, acquiring a more realistic and engaging museum ambience with the addition of object display cases and window blinds featuring screen-printed images of Museum objects. These rooms now better augment the teaching and learning activities students undertake in these spaces before visiting the Museum's galleries.
All programs offered to visiting schools were reviewed and updated in 2008–09, continuing the process of evaluation and refinement. Overall 99 per cent of schools were satisfied with the programs provided by the Museum. In post-activity evaluations of the programs, teachers commented that they appreciated and enjoyed the 'hands on' nature of the programs, describing them as 'engaging, child-centred and positive'.
Two new programs for students were developed in the reporting period. The first, 'Meet the people', is an interpretive presentation that introduces students to some fascinating people who have made significant contributions to Australia as a nation. The second, 'Early contact', facilitates students' exploration of aspects of two vastly different cultures: European settlers and Indigenous Australians. The program helps students gain a better understanding of the characteristics of both cultures and how they impacted on each other.
Throughout March 2009 over 100 secondary school students visited the Museum to celebrate women in Australian history as part of international Women's History Month. Students participated in special education programs exploring how women have helped to shape and create Australian society.
During 2008–09 the Museum focused on enhancing visitation by the national schools community through, for example, its partnership with the National Capital Educational Tourism Project and its involvement in the Parliament and Civics Education Rebate (PACER) scheme.
Return to

Top