We are no longer updating this page and it is not optimised for mobile devices.
The National Historical Collection was originally made up of objects transferred to the Museum by the Australian Government following the Museum's establishment in 1980. Until then, most of these objects had been held by the former Australian Institute of Anatomy, the former Institute of Aboriginal Studies and the University of Sydney, as well as some government departments and agencies. Since 1980 the Museum has acquired objects through donations and purchase. The Museum's Collections Development Plan guides its acquisition practice, as measured by the PBS performance indicators. Further developing the collections in line with this plan was an identified business priority for 2007–08.
This year was extremely productive for the collections development program, implemented by curatorial teams. The Museum spent a total of $2.762 million on acquisitions for the National Historical Collection, including $1.064 million from a special acquisitions fund provided by the Australian Government, and secured many compelling artefacts for the collection. Some of the important objects that the Museum acquired through purchase or gift this year included: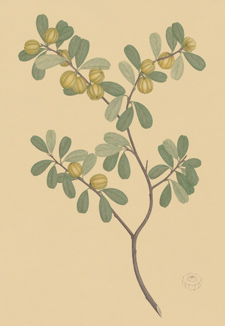 a headdress and two bark paintings by Dick Roughsey (Goobalathaldin) (1924–85), a renowned Lardil artist and author from Mornington Island, Queensland
Evonne Goolagong Cawley's 1971 Federation Cup trophy, a junior tennis trophy awarded to her by the Victor A Edwards Tennis School, and a tennis dress and jacket designed by Ted Tinling that was worn by Goolagong Cawley in competitions in 1972
a collection of 36 rare books, pamphlets and papers on Australian Aboriginal history and heritage, including a copy of South Australia Illustrated by George French Angas, published in 1847
Banks' Florilegium, Set no. 5/100, comprising 743 botanical line engravings, after the watercolours drawn from nature by Sydney Parkinson, recording the plants collected by Sir Joseph Banks and Dr Daniel Carl Solander when they accompanied Captain James Cook on his first voyage across the Pacific between 1768 and 1771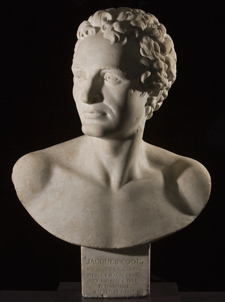 a collection of 44 central Australian Aboriginal artefacts, collected by the late Professor TGH (Ted) Strehlow during 40 years of research in central Australia. The collection includes ornaments made from various marsupial tails, nose bones decorated with the feathers of red-tailed black cockatoos, weapons and wooden implements
an eighteenth-century French neo-classical bust of Captain James Cook attributed to the circle of Augustin Pajou
a colonial cedar and brass-bound campaign writing box belonging to Colonel William Light, which commemorates the successful passage of HMS Rapid from London to South Australia in 1836 and was presented to Light, the commander of the vessel
the 1934 Melbourne Cup, won by Peter Pan, one of only five horses to win the Melbourne Cup twice (in 1932 and 1934) and who, like Phar Lap, was an equine sporting hero during the Great Depression.
The Museum's Council formally approves the inclusion of objects into the National Historical Collection. This year, Council approved 113 significant collections during the year, the details of which are set out in Appendix 3.
Curatorial teams working on two new exhibition galleries, Australian Journeys and Creating a Country ( as part of the ongoing implementation of the Review of Exhibitions and Public Programs (2003), see Gallery development ), focused on material related to European voyaging and migration to Australia during the eighteenth and nineteenth centuries.
Other targeted collecting projects included gathering material relating to the pressing environmental issue of water, the history of the Snowy Mountains Hydro-Electric Scheme, netball, rugby league, religion, and musical instruments. Objects from these collections will be displayed in the permanent galleries or in forthcoming temporary exhibitions.
Cost of acquisitions, 2001–08
| | |
| --- | --- |
| Financial year | Cost of acquisitions |
| 2001–02 | $190,000 |
| 2002–03 | $381,000 |
| 2003–04 | $566,000 |
| 2004–05 | $1,930,000 |
| 2005–06 | $2,002,000 |
| 2006–07 | $2,292,000 |
| 2007–08 | $2,762,000 |
Return to

Top