We are no longer updating this page and it is not optimised for mobile devices.
The Museum places great importance on disseminating its research and scholarship and enabling the public to engage with rich information about collections, exhibitions and programs. Each year a diverse range of audience-focused communication products is produced to extend and deepen visitor experience, provide virtual access for those who cannot visit the Museum, and give insight into research, collections and topics not covered by our exhibitions. These products help the Museum realise its PBS outcome of encouraging 'awareness and understanding of Australia's history and culture'.
The products include National Museum of Australia Press publications, the electronic scholarly journal reCollections, the Museum's website, and audiovisual and multimedia productions. Producing and delivering these products is the key business priority of the Museum's Print and Digital Media section, which formed as a single business area this year to combine the strengths of the previously separate Publishing, Web Publishing, Multimedia and Copyright and Reproductions sections. By integrating these areas and continuously improving business processes, the Museum aims to be well equipped to meet the anticipated demand for published outputs in coming years and for content online and through new forms of digital media.
This year saw a significant body of print and digital publications and products delivered.
Publishing
The Museum has been publishing books regularly since it opened in 2001. In 2004, National Museum of Australia Press was formed to support the strategic priorities of sustaining research and scholarship, engaging national audiences and enhancing exhibitions, programs and services.
National Museum of Australia Press produces books for scholarly and special-interest readers as well as general adult readers, children and educators. It currently has 40 books in print and an active production program is scheduled for the next three years. The opening of the Centre for Historical Research is expected to further the Museum's commitment to conducting and publishing original research and to expand the number and depth of titles on the Press's list.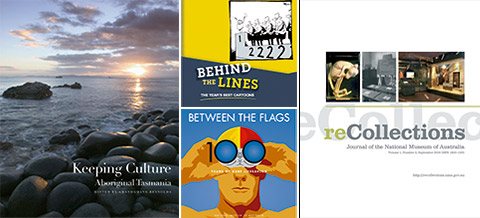 In 2006–07 National Museum of Australia Press published nine books and two issues of its electronic journal. This year's highlights included the following:
reCollections: Journal of the National Museum of Australia, the Museum's scholarly, peer-reviewed journal, was published twice this year and continues to strengthen in content and scope. Published both online (http://recollections.nma.gov. au) and in hard copy, the journal focuses on museum practice and the history and interpretation of objects in Australia and the Asia–Pacific region.
Keeping Culture: Aboriginal Tasmania was edited by curator Amanda Jane Reynolds and produced in collaboration with Indigenous communities in Tasmania. This publication was the culmination of a Museum collecting project that began in 2003 to collect the material culture of contemporary Tasmanian Aboriginal people. Nine Tasmanian Aboriginal writers shared their cultural traditions, stories, poems and songs in the book, and provided their own perspectives of the collection. In June, Keeping Culture was shortlisted in the Australian Book Industry Awards.
Four more titles were published in the children's series Making Tracks, inspired by objects from the National Historical Collection. These books joined four released during 2005–06, to complete the first collection. Making Tracks was written and illustrated by well-known Australian children's authors and illustrators. The titles are complemented by educational support material and interactives on the Museum's website. One title from the series, Across the Dark Sea by Wendy Orr, was shortlisted for the NSW Premier's Literary Awards this year.
Two exhibition catalogues were released to complement Museum exhibitions. Between the Flags: 100 Years of Surf Lifesaving celebrates a national institution and colourful part of Australian life. Behind the Lines: The Year's Best Cartoons supported the always popular and long-running exhibition of political cartoons.
Website — www.nma.gov.au
This year the Museum's website had its highest number of unique visits ever, increasing from 467,000 last year to more than 797,000. This result is almost twice the target specified in the Museum's PBS performance measures for Output group 1.2: National exhibitions, programs and services.
This substantial increase in website visits was largely due to a wealth of new content that was developed by in-house authors and produced by the Web Publishing unit. Four new online exhibitions supported and extended access to physical exhibitions: Between the Flags: 100 Years of Surf Lifesaving, Miss Australia: A Nation's Quest, Behind the Lines: The Year's Best Cartoons and the 'Collector Cam' display.
Supporting the Museum's strategic priority of sustaining research and scholarship, two new websites were developed to offer access to in-depth content about particular subject areas:
Cook's Pacific Encounters: Cook–Forster Collection features 300 artefacts in that collection, and provides large images and specialist information about Pacific artefacts. The website extends the collaborative partnership with the Georg- August University of Göttingen, begun with the Cook's Pacific Encounters exhibition, and highlights the Museum's interest in the Pacific region.
A second website, Collaborating for Indigenous Rights: 1967 Referendum, commemorates the 40th anniversary of the 1967 Referendum. The first product of an Australian Research Council linkage grant, the website is an educational resource that enables students to explore this significant moment in Australian social history.
The Museum also published an online feature on the extensive research undertaken to authenticate one of its most significant collection acquisitions for the year, the Leichhardt nameplate ( see Developing the collection ). Access to the Museum's collection database, an important tool for researchers, was improved, with 11,585 records available online in 2006–07.
In keeping with another strategic priority — to engage national audiences — two community online exhibitions were developed following a partnership with regional areas. These were Hooked ... on the Goulburn (stories of people who fish on the Goulburn River) and Farmers' Stories (interviews with farmers in the Murray–Darling basin).
The Museum Shop came online in September 2006, enabling website visitors to purchase National Museum of Australia Press publications.
The Museum also commenced a program of periodic review, completing a web architecture review in September 2006 and a user evaluation in June 2007. Both reviews revealed room for improvement in the amount of content and the technical infrastructure of the Museum's website. The Museum is using the reviews to help inform how best to deliver content to our many audiences, especially with the increasing public uptake of new forms of digital media.
Audiovisual and multimedia products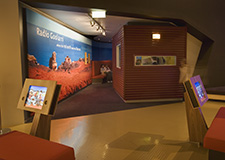 Through its Multimedia unit, the Museum continued to commission quality audiovisual and multimedia projects to enrich the visitor experience of its temporary, travelling and permanent exhibitions. Major projects for this year were:
six audiovisual displays for the Miss Australia exhibition
five multimedia pieces for the Between the Flags exhibition, including a series of interviews with lifesavers from across Australia and an interactive which encouraged visitors to hop on a surf ski and attempt a surf rescue for themselves
three multimedia modules developed for the 'Goolarri: The sounds of Broome' exhibit, including an interactive which allows visitors to take part in a simulated live recording session at the 'Goolarri' radio studio.
The Museum also developed a range of multimedia products for its website including an interactive featuring the 50-metre-long Harvest of Endurance scroll, documenting two centuries of Chinese contact with, and immigration to, Australia. This interactive won a highly commended acknowledgement at the Australian Interactive Multimedia Industry Association awards in 2007.
A number of interactives were tailored specifically for younger audiences: three more Making Tracks interactives were developed, each featuring an object from the Museum's collection, and three interactives were developed to support the Australian History Mysteries education program.
Copyright and production services
The Museum's exhibitions, publications and media products are highly illustrated with images, film, video and audio materials. In acquiring and producing these materials, the Museum diligently adheres to copyright and moral rights laws and cultural permissions practices. The Copyright and Production Services unit supplies images and media within the Museum and to external parties, and manages all associated rights and licensing processes. Since the Museum opened in 2001, the unit has processed an average of 3000 requests for images and copyright clearances per year. This year saw a similar number of requests processed, resulting in the supply of more than 5000 images to internal and external stakeholders. The number of requests from external publishers, academics and other cultural agencies for the use of Museum owned images has also grown steadily each year since opening, reflecting a growing interest in the Museum's collections. This year saw a sizeable increase in external requests (approximately 25 per cent) over the previous year.
The Museum is an industry partner in the ARC Linkage project 'Cultural collections, creators and copyright: Museums, galleries, libraries and archives and Australia's digital heritage' with the Centre for Media and Communications Law at the University of Melbourne ( see Appendix 7 ). Throughout 2006–07, the Museum also continued to participate in an intellectual property education and networking group, Copyright in Cultural Institutions, comprising national cultural institutions in Canberra.
Photography
The Photographic unit produces high-quality images to support the Museum's documentation, exhibitions and communication activities. This year the team completed more than 260 photographic assignments, producing approximately 4200 images of collection objects, conservation and other Museum activities, and corporate and public events.
Images are an important component of collection documentation and are included in object records in the Opal collection information database. Museum photographers' work also featured in exhibitions, publications, the website, education kits, marketing activities and media information.
Some significant projects this year were:
photography of approximately 1600 paperbased objects and photographs from the Springfield Merino Stud and Faithfull Family collections
photography in remote areas of Australia for Plenty Stories, a new series of educational books highlighting Indigenous culture and lifestyle to be published by Rigby ( see Reaching a national school audience )
photography of historic albums, journals and diaries (Milne collection and Richard Thomas diaries) to provide content that supports an exhibition about anthropologist Herbert Basedow, planned for 2008
photography for new marketing brochures to promote education programs to schools throughout the country.
Information technology
Information technology (IT) systems and activities underpin all business processes and exhibitions in the Museum. Progress was made in upgrading information technology infrastructure and implementing the electronic employee self-service component of the human resources information system.
A focus on planning and equipment changeover emerged as the main objectives for the year and, to that end, a new IT Strategic Plan was completed which sets strategic goals and actions.
The Museum's key IT strategic goals are to:
provide a stable environment
offer and manage current relevant applications, services and peripherals
continuously improve the management of the Museum's technology services
deliver an efficient, robust, secure and scalable environment
strengthen holistic and integrated IT project planning and delivery
provide technology capability and services that enhance the effectiveness and efficiency of museum staff
provide technology capability and services that engage with, support the needs of, and provide access for museum visitors and clients
manage our information in an efficient, effective, disciplined and strategically coordinated manner and make it readily available to those who need to use it.
A review of the Museum's server, storage and communication network infrastructure was completed in August 2006. It provided a high-level infrastructure design, recommendations aimed at upgrading to newer technologies to better support future strategic initiatives, and guidance on implementation priorities and dependencies. A number of the review recommendations were implemented during 2006–07, including:
procurement and implementation of a new scalable data backup solution which has enabled the expansion of disk storage capacity
selection, procurement and implementation of storage area network infrastructure that will significantly increase the Museum's data storage capacity
implementation of the first of several virtual server environments, which has improved performance of several business systems and enabled the decommissioning of several ageing servers
design of a new IT communication network, with further detailed requirements under development for incorporation into a tender exercise to select and implement replacement network infrastructure during
2007–08
evaluation, selection and procurement of IT management and monitoring tools to greatly assist in the proactive monitoring and support of the IT environment.
Several other IT-based projects progressed or were completed during the year:
Project Quartz, the Museum's human resources system, went 'live' in July 2006. It delivers employee self-service, automated high-volume transactions (such as leave processing for non-rostered staff) and brings staff Personal Performance Plans under the Workplace Conversations Framework online. Significant work was commenced to automate the pay processes for rostered staff with completion now expected during 2007–08. Other enhancements throughout the year included the development and implementation of the Recruitment functionality in Quartz, providing additional forms online, piloting a new flex form through Quartz for non-rostered staff and developing a comprehensive maintenance and testing plan to ensure the system remains current and accurate in the future. Ongoing work will continue into 2007–08 including rolling out online flex recording to all non-rostered staff.
The Museum's email server and software was upgraded, providing a more intuitive system that was supported by staff training during its rollout.
Opal, the Museum's collection information management system, was migrated to new servers resulting in significantly improved performance for users of the system and a robust support model.
The Museum Shop retail system was replaced with new software which is a module of the existing finance system. This has improved system integration, inventory control and reporting.
Stage one of the Museum's new booking and function management system was implemented, providing improved functionality, better performance and greater reliability. Development of self-service functionality for staff to book rooms and an online event registration module for the public will be designed and developed during 2007–08.
Server and software upgrades were completed to the infrastructure supporting the Museum's website providing improved performance and greater productivity and stability.
Considerable recruitment activity also occurred in the Information Technology and Services section this year and was affected by the high-demand IT employment market. The section experienced an almost 100 per cent turnover of staff and the recruitment of a new management team. The new team will continue to augment and upgrade the Museum's information technology infrastructure during 2007–08 and implement the IT Strategic Plan.
Records management
Work commenced on the electronic scanning of files pertaining to the National Historical Collection to enable preservation of paper files and photographic material and allow easier access to them. This has been well-received by staff and has improved productivity.
Records Management continues to progress the Designing and Implementing Recordkeeping Systems (DIRKS) methodology project. The documentation for Step B, the Analysis of Business Activity, has been updated following a review by the National Archives of Australia. The Centre for Historical Research business activity has been incorporated into Step B documentation as a new function. Step C, the Identification of Recordkeeping Requirements, is expected to commence in 2007–08.
A pilot group of staff across the Museum began to use the Museum's recordkeeping software, TRIM, to electronically move files, and to store documents and emails. This is an initial step in the longer-term plan to progress electronic recordkeeping.
Return to

Top