We are no longer updating this page and it is not optimised for mobile devices.
Consulting and contracting services
The Museum is committed to achieving the best value for money in its procurement practices, including contracted services for internal audit, information technology hardware and support, media, transactional banking, cleaning, catering, security and exhibition design. Purchasing practices and procedures are consistent with the Commonwealth Procurement Guidelines and are also in accordance with the National Museum of Australia Act 1980 and best practice principles. The Museum's Procurement Guidelines are reviewed annually to ensure consistency with Commonwealth policy.
The total number of consultancy services provided to the Museum in the period 2006–07 was 39, and the total expenditure on consultancy contracts during the year was $1,069,318. Major services involved program evaluation, market research, information and communication technologies, and financial services.
Facilities management
During 2006–07, the Museum undertook an independent audit of the Facilities Management contract. The audit consisted of a review of the contractors' compliance with the terms of the contract, and included a partial condition audit of fixed plant and equipment to determine if the plant was being maintained to the required standard.
The audit has shown a significant improvement in the provision of key deliverables, including reporting, compared with previous audit reports. The associated condition audit has shown that the contractor is delivering and maintaining the fixed plant and equipment to the required condition standard.
Major facilities management projects commenced or completed during the year included:
completion of the upgrade of heating, ventilation and airconditioning fixed plant and equipment for the 9–13 Vicars Street repository, including the provision of a new main mechanical switchboard and building management system
upgrade of emergency lighting and exit signage at 9–13 Vicars Street and 90 Vicars Street repositories
a continuing program of energy management assessments, including the revision of general lighting configurations and lighting parameters to reduce power consumption while still delivering appropriate lighting levels for exhibition areas
a review of all exhibition lighting, including track layout reconfiguration and revision to drawings
ongoing works within the Museum building to validate and document the operating relationships between the fire system and the building management system and fire/Building Code of Australia (BCA) requirements
completion of a program to install surge protection equipment to limit operational risks due to electrical surges and brown outs, particularly to the large amount of audiovisual equipment
revision to the Acton roof safety harness system and the provision of roof safety harness systems to 9–13 and 90 Vicars Street repositories.
During the year the Museum also released a tender for a telecommunications supplier. It is anticipated that the tender process will be finalised and a contract awarded early in 2007–08.
Asset management
Financial management of assets is monitored through the Council's Audit and Finance committee.
During 2006–07 the Museum undertook ongoing training and implemented changes to the Asset Management System to streamline and strengthen some of the procedures within the system. This has included changes to the reporting to provide monthly accruals for tracking of commitments and work in progress.
The Museum also commenced adding the refurbished Annexe building to its Asset Management System during 2006–07. It is anticipated that the remaining data for this building, as well as the 9–13 Vicars Street heating, ventilation and airconditioning upgrade, will be added to the system in 2007–08.
Emergency response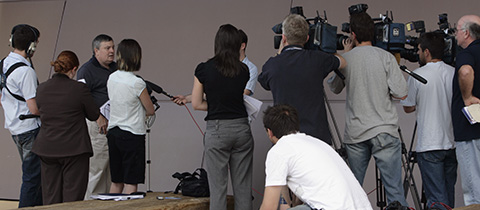 The Museum weathers the storm
On 29 December 2006 an intense storm swept over Acton Peninsula, depositing a large amount of hail on the Museum's roof, blocking gutters and causing rainwater to flood through the ceiling above the Administration corridor. The ceiling collapsed from the weight of the water, causing flooding of the corridor and partially into the Hall, adjacent administrative areas and the Friends Lounge.
Staff immediately evacuated the building and the Museum's business continuity plan was activated. Security staff ensured the site was secured. Staff from Conservation, Registration and Information Technology and Services arrived to check for collection and equipment damage, while Museum executives and Public Affairs staff managed the intense media interest.
Facilities staff worked with key contractors to assess the extent of damage. A structural engineer advised there was no structural damage to the building, which allowed the area to be cleaned up and temporary works carried out to enable resumption of normal business. The Museum was closed for only one day as a result of the incident.
No injuries were incurred, and no collection objects were affected. Some paintings on loan from Paul Blahuta, as part of the surf lifesaving exhibition, were damaged and Conservation staff salvaged and arranged for repair of the paintings.
This was the first of three major hailstorms to hit Canberra. Coupled with the building boom in Canberra, this resulted in a shortage of tradesmen and as a result the Museum's insurer had difficulty sourcing contractors to undertake the work. A Sydney construction company was engaged in early June 2007 and the repair work commenced shortly afterwards.
Storage and accommodation planning
Collection accommodation
In keeping with its functions under the National Museum of Australia Act 1980 to develop and maintain a national collection of historical material, an ongoing strategic priority for the Museum is to develop and plan for collection storage needs. This year a business priority was to implement the first stage of a storage and accommodation plan. With the assistance of external consultants, work continued this year to scope current and future options to accommodate the collections. Options include refurbishing existing leased premises and building and owning a purpose-built storage facility.
In January 2007 the Museum engaged consultants Thinc Projects to add additional levels of planning to the option for a purpose-built facility. Work has progressed on the development of:
a detailed functional design brief for a purpose-built facility
options for environmentally passive design
environmental modelling studies.
The focus of the consultancy incorporated sound environmental design principles and key activity spaces which facilitate the safe and accessible accommodation of the collections. To improve efficiencies in space, short-term improvements to the existing leaseholds have been made through the refurbishment of office space, the procurement of fit-forpurpose storage systems and better use of the volume of space to maximise the storage arrangements. An additional lease, attached to a currently leased property, was also secured to supplement expected growth of the collections.
Staff accommodation
The Museum has identified a need to review the occupancy and availability of staff office accommodation. Minor works projects completed that have or will improve working conditions are:
refurbishment of office spaces within the storage facilities
a new main reception at Acton
a more accessible exhibitions store
additional space for special library collections
accommodation for the newly formed Centre for Historical Research.
Security
During 2006–07 the Museum completed a tender process for the provision of security guarding and patrolling services. Wilson Security was the successful tenderer and commenced work in early 2007.
The Museum also undertook a major security risk review of the temporary exhibition gallery in conjunction with a major travelling exhibition. The review recommended a number of changes regarding access to this gallery and the associated loading dock and these were implemented during 2007.
Other activities during the year included:
the development of a revised security management plan
security awareness training at staff inductions
development of maintenance agreements for the security management system and secure key cabinets.
The Museum worked with the Australian Federal Police Intelligence Unit to provide specialised security for a number of important visits during the year, including an Asia–Pacific Economic Cooperation (APEC) forum dinner in January 2007. The Museum also continued to provide a venue to assist the Australian Federal Police and Attorney-General's Protective Security Coordination Centre with specialised training courses.
People management
The Museum places high value on the performance and capability of its people. It is committed to attracting, developing and retaining high-quality staff from a wide diversity of cultural backgrounds commensurate with a museum of national and international standing. This is reflected in the Strategic Plan, with the key priority to enhance staffing and workplace development.
Workplace Agreement
The National Museum of Australia Workplace Agreement 2005–2008 delivers ongoing productivity gains to support 12 per cent salary increases over the full three-year period and maintains the Museum's position in an increasingly competitive labour market. Productivity initiatives in the agreement have continued during the year, including:
implementation of improvements to the Workplace Conversations individual performance management framework, including team conversations to further develop the links to the Museum's Strategic Plan and better support team planning and performance
improvements to corporate training delivery through a biannual training prospectus to allow managers and staff to better plan training commitments
automation of performance management reporting
staff consultation arrangements focusing on productivity improvement
employee commitment to improving productivity from information technology initiatives such as the new human resource management information system (including employee self-service functionality), new Library and Records Management systems and development of a new Information Technology Strategic Plan ( see Information technology)
employee commitment to other productivity improvements such as improved management of retail including website access to the Museum Shop
review of the front-of-house strategy and rostering arrangements to better focus visitor services on the needs of audiences.
During the year work was done to align the Museum's workplace relations arrangements with WorkChoices, subsequent amendments to the Workplace Relations Act 1996 and consequential changes to workplace relations arrangements for the Australian Public Service.
As a 'pre-reform agreement' under the WorkChoices amendments to the Workplace Relations Act 1996, the Museum's current Workplace Agreement will continue to operate under transitional arrangements set out in the WorkChoices legislation until it is terminated. In line with government policy, Australian Workplace Agreements continued to be available to Museum employees.
Staffing and recruitment
Museum staff are employed under the Public Service Act 1999 and employment conditions are established under legislation applying to the Australian Public Service and, in particular, the Museum's Workplace Agreement.
At 30 June 2007, the Museum employed 292 staff consisting of 237 ongoing and 55 non-ongoing employees, which represent a full-time equivalent number of 249.38. A full breakdown is shown in Table 1. Tables 2 and 3 provide additional breakdown, by division and employment category as at 30 June 2007, and by level, respectively.
Table 1 Staffing by employment status

Status

Male

Female

Total

Ongoing full-time Principal Executive Officer (PEO)
0
Non-ongoing full-time PEO
1
0
1
Ongoing full-time Senior Executive Service (SES)
1
2
3
Ongoing full-time non-SES
67
94
161
Ongoing part-time SES
0
Ongoing part-time non-SES
12
61
73
Non-ongoing full-time SES
0
Non-ongoing full-time non-SES
3
20
23
Non-ongoing part-time SES
0
Non-ongoing part-time non-SES
6
25
31
Total
90
202
292
31%
69%
Table 2 Staffing by division
Division
Ongoing
Non-ongoing
Total
Directorate
24
6
30
Operations
45
6
51
Collections and Content
66
25
91
Audience and Programs
102
18
120
Total
237
55
292
81%
19%
Table 3 Staffing by APS level
APS level
Male
Female
Total
PEO
1
0
1
SESB2
0
0
0
SESB1
1
2
3
Executive Level (EL) 2
12
12
24
EL1
14
17
31
APS6
17
40
57
APS5
12
26
38
APS4
10
31
41
APS3
8
23
31
APS2
14
49
63
APS1
0
0
0
Cadet
1
2
3
Total
90
202
292
31%
69%
Individual performance management
The Museum's staff performance management framework, Workplace Conversations, is a key productivity initiative in the National Museum of Australia Workplace Agreement 2005–2008.
Workplace Conversations uses a 'guided conversation' approach and continues to be well-received by managers and staff. Each year, the Museum undertakes an evaluation of the framework and associated processes (conducted this year in April–May 2007). Results indicate a healthy and useful framework, well-received by managers and staff of the Museum with little refinement required for the 2007–08 cycle.
The Workplace Conversations framework continues to use Museum-specific work level standards to clarify job roles and expectations, and Museum-specific capability profiles to identify and reinforce work behaviours that support the Museum's objectives.
The Workplace Conversations framework requires staff to have regular performance discussions with their manager. The formal guided discussions cover the scope and deliverables of the position, the support required to deliver them, and a documented agreement on relevant learning and development opportunities. Clear links are made between a staff member's work and the overall strategic priorities of the Museum as well as the specific capabilities the person will concentrate on in the conduct of their position.
As a result of the 2005–06 evaluation, mid-cycle team conversations were introduced to encourage discussions on team performance.
These complement the regular individual focus characteristic of Workplace Conversations. Where undertaken, this initiative has worked very well in supporting teams to consider and celebrate their successes and plan for the future.
Improvements were also made in the administration of training courses provided for Workplace Conversations with the development and issuing of a new Workplace Conversations Training Prospectus for the first half of 2007. Managers and staff were asked to use it to actively integrate Performance Essentials and other corporate training into their work plans, instead of responding to ad hoc requests seeking nominations to training workshops. The prospectus approach was very successful and will continue in 2007–08.
Workplace Conversations training was provided across the Museum — introducing new staff to the performance management framework and helping existing staff enhance their communication, negotiation, conciliation, work-planning, leadership and management capabilities.
Interaction Consulting Group continued to provide performance management training, evaluation and support services to Museum staff.
Development of the Museum's people
Through Workplace Conversations, Museum staff are encouraged to identify individual learning and development needs, and to further their skills through external development activities relevant to their field. As in previous years, a number of staff presented papers at conferences and seminars, undertook research and attended technical and professional workshops. Professional activities and research and scholarly outputs are listed in Appendix 8.
In addition, two staff members took part in the 2006 Cultural Management Development Program (CMDP), with a further two enrolled in the 2007 CMDP. One staff member attended the Advanced Workplace Skills Program (AWSP) during 2006–07. Both the CMDP and AWSP are collaborative development programs, run in conjunction with other cultural institutions in Canberra. CMDP is aimed at enhancing the management skills of staff at the APS6 to EL2 levels. AWSP is designed to assist APS3 to APS5 level staff improve their understanding of key workplace skills, including management and supervision.
In recognition of the Museum's unique role in telling the stories of Indigenous Australia and maintaining a significant collection representing Aboriginal and Torres Strait Islander cultures, in June 2007 the Museum introduced a new program to enhance staff cultural engagement with Aboriginal and Torres Strait Islander culture and society. The program explores the relationships between Indigenous Australians and the Museum in all aspects of its business. It looks at practical aspects such as how staff acknowledge, celebrate and engage with cultural differences in general, and Indigenous Australians in particular, and the benefits of having an Indigenous Australian perspective in the workplace. The program will help staff to better understand part of the Museum's business and will be fully rolled out to all staff in 2007–08.
The National Museum of Australia Workplace Agreement 2005–2008 also enabled staff to access Museum-sponsored study leave, with special provisions for staff to learn languages other than English.
Other staff training focused on core behaviours, skills and knowledge required by people across the Museum and included:
awareness sessions on the Australian Public Service Code of Conduct and Values, and on preventing harassment and bullying in the Museum
sessions for the Museum's new equity and diversity contacts to support them in their role of providing information to staff about harassment and bullying and refresher sessions for existing equity and diversity contacts
seminars on OH&S for all staff via induction presentations, as well as focused OH&S presentations for visitor host teams
manual handling training for PS Enterprise volunteers
refresher courses for first aid officers, wardens and section health and safety representatives
regular and comprehensive orientation programs for all new Museum employees.
Significant development work was also undertaken, in a collaborative procurement activity between the Museum, the National Gallery of Australia and the National Library of Australia, to develop an online induction package for staff of the respective agencies, due to go live in early 2007–08.
Consultative arrangements and employee relations
During the year the Museum continued to implement collaborative staff consultation arrangements in accordance with the National Museum of Australia Workplace Agreement 2005–2008. In addition to direct staff consultation at the work group level, the Museum continued consultation through the Museum Consultative Forum (MCF) and Workplace Development Committee (WDC) to facilitate consultation on broad issues for staff across the Museum. The MCF is designed to enable staff to have input into high-level strategic issues while the WDC focuses on operational issues across the Museum. The MCF met regularly during the year. In line with agreed arrangements and in the absence of substantive discussion items, WDC met face-to-face less regularly and instead received updates on several standing items throughout the year.
Workplace diversity
The Museum values the skills and knowledge of all staff, and the contributions they bring through their different backgrounds, experiences and perspectives. By promoting an inclusive environment, the Museum demonstrates its commitment to workplace diversity and equity.
The Museum's Workplace Diversity Plan 2005–08 seeks to create an environment that is supportive of people's differences by building diverse knowledge and capabilities within the Museum, having business processes that support diversity, and developing diverse ways to work. In implementing the plan, the Museum continued to encourage a staffing profile reflecting Australia's cultural diversity. This was done through measures such as recruitment strategies, promoting APS values relating to diversity, establishing an Indigenous Employment Implementation Group (a subgroup of the Museum Consultative Forum chaired by the Museum's Director), maintaining and increasing a network of equity and diversity contacts and continuing to raise awareness on ways to prevent bullying and harassment in the workplace.
The Museum continued to successfully implement the government's Charter of Public Service in a Culturally Diverse Society. In its 2005 report to Parliament, the Department of Immigration and Multicultural Affairs again acknowledged that the Museum had achieved 100 per cent of key performance indicators relevant to its roles as a purchaser and a provider of services (with 71 per cent being met well).
The Museum acknowledges the decrease in the number of Indigenous people employed across the Australian Public Service and took particular measures during the year to help address this. In late 2006–07, the Museum employed three people under its new Indigenous Cadet Program. The program will support the cadets to complete their post-secondary education and gain valuable on-the-job work experience, along with gaining ongoing employment upon successful completion of the program.
The Museum also sought to attract suitable graduates through the Indigenous Graduate Program coordinated by the Australian Public Service Commission on behalf of over 20 APS agencies. Among fierce competition for limited applications, the Museum was not successful in securing a graduate for 2007.
As at 30 June 2007, the Museum staff who identified themselves as target groups are shown in the table below:
Museum staff who report as belonging to target groups

Aboriginal and Torres Strait Islander peoples

9

People with disabilities

6

People of culturally and linguistically diverse backgrounds

35

Females

202
Better service delivery
The Museum continued to strengthen its human resource management and workplace relations operations during the year. Past improvements to human resource processes, including those previously noted by the Museum's auditors, continued to be implemented.
A key business priority for this year, under the strategic priority of strengthening business processes (Strategic Plan 2004–07), was to implement the electronic employee self-service component of the human resources information system (HRIS). This comprised the second phase of the ongoing implementation of a new HRIS system, known internally as Quartz.
Building on the success of the first phase which focused on payroll-related functions, the second phase incorporated self-service functionality and improved administration and reporting functionality. It will assist in realising significant efficiencies across the Museum and is a key productivity gain identified in the Museum's Workplace Agreement. A comprehensive testing and maintenance plan was developed to ensure currency of the HRIS operations.
During the year, the Museum also contracted a new Employee Assistance Provider to provide confidential support to Museum staff.
Post-separation employment
There were no applications for post-separation employment during the year.
Educational and developmental placements
The Museum continued to be a sought-after venue for secondary and tertiary students seeking work experience, with five students undertaking work-experience placements during the year across different areas of the Museum.
The Museum hosts interns from the Museums and Collections postgraduate program, which is managed jointly with The Australian National University. Placements are also organised for students specialising in various disciplines from the Canberra Institute of Technology and the University of Canberra.
A job well done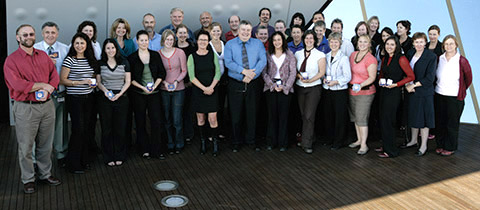 Museum staff awarded Australia Day medals

Towards the end of 2006, Museum staff were asked to nominate individuals or teams they believed were deserving of an Australia Day Achievement Medallion, based on set criteria. The response was overwhelming, with many nominations received, comprising both individual and team nominations. The basis for the nominations varied from the completion of a major project through to exceptional performance, and the demonstration of exemplary client service. Following consideration by the Executive Management group, the Director, Craddock Morton, announced the following people were awarded an Australia Day Achievement Medallion for 2007:

Trish Albert
Denis Shephard
Esther Mauger
Trevor Fowler
Prue Castles
Mary Tallarida
Julie Ogden
Kelee Hodge
Georgia Conduit
Cinnamon van Reyk
Maria Ramsden
Gabrielle Hyslop
Ian Cramer
Clint Wright
Helen Sartori
Rhonda King
Maciej Dunski
Judith Andrewartha
Philippa Simpson
Kylie MacDonald
Daina Harvey
Graeme Clifton
George Taylor
Isa Menzies
Melissa Holloway
Carol Cooper
Lisa Wilmot
David Parker
David Kaus
Cheryl Crilly
Amanda Zervos
Sarah Robertson
Trish Kirkland
Sharon Foster
Mario Bugeja
George Serras
Stephanie
Magri-Bull
Michelle Hetherington
Ian Coates
Nicki Smith
Rebecca Nason
Jane Hopkins
Rebecca Coronel
David Thurrowgood
Michael Pickering
Anne Kelly
Ann Dewes
Nanette Windeyer
Meredith Sack
Christopher Layt
The recipients were presented with their medals at an all-staff meeting on Wednesday 18 April 2007.
Return to

Top