We are no longer updating this page and it is not optimised for mobile devices.
The National Museum of Australia guides the delivery of its outputs through its corporate governance framework. This comprises the Museum's enabling legislation and other legislative instruments, managerial and organisational structures, corporate policies and strategies, and resource management practices.
Legislation
The key legislative instrument defining the broad functions and activities of the Museum is the National Museum of Australia Act 1980. This Act established the Museum as a Commonwealth statutory authority and, along with the National Museum of Australia Regulations, defines its role, functions and powers. The functions and powers of the Museum are in Appendix 2.
The Commonwealth Authorities and Companies Act 1997 provides a single set of core reporting, auditing and accountability requirements for directors of Commonwealth authorities. It deals with other matters such as banking and investment and the conduct of officers. It also states that directors are responsible for the preparation and content of the report of operations in accordance with the Commonwealth Authorities and Companies (Report of Operations) Orders 2005.
The Public Service Act 1999 covers the powers of the Director of the National Museum of Australia in relation to the management of human resources.
Governance Model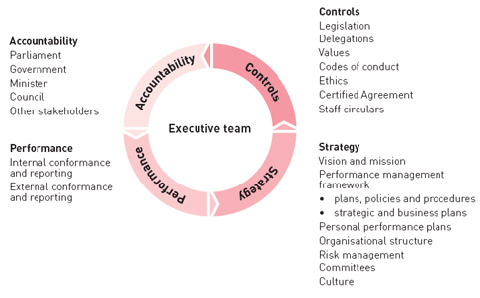 Council and committees
The Council of the National Museum of Australia is responsible for the overall performance of the organisation, including setting the strategic direction and establishing goals for management. The Council works with senior management in developing, executing, monitoring and adjusting the appropriate strategies.
The National Museum of Australia Act 1980 provides for a Council consisting of a Chairman, the Director and not less than seven or more than 10 members. All members are appointed by the Governor-General and, apart from the Director, are part-time and appointed for terms of up to three years, although terms of appointment can be extended. The Director is appointed for a period not exceeding seven years.
The current membership of the Council provides a mix of skills and experience in the areas of history, politics, education, business, financial and strategic management, journalism, museum management, and government policy and administration. The Commonwealth Remuneration Tribunal determines remuneration for non-executive members.
During 2005–06, the terms of two non-executive members lapsed, with one of these being reappointed for three years.
At 30 June 2006, the Council comprised the following members:
The Hon. Tony Staley (Chairman)
Dr John Hirst (Deputy Chairman)
Mr David Barnett OBE
Mr Benjamin Chow
Dr Tim Duncan
Dr John Fleming
Ms Marian Gibney
Ms Sally Anne Hasluck
Mr Christopher Pearson
Mr Craddock Morton (executive member).
The Council usually meets every two to three months, and five meetings were held during 2005–06. A senior officer from the Department of Communications, Information Technology and the Arts attends Council meetings as an observer.
The Museum provides Council members with information on government changes to corporate governance responsibilities as it becomes available, including Australian National Audit Office documents and guidelines.
The Council has policy and procedures for the disclosure and resolution of any matter for its consideration that may result in a conflict of interest. Members are required to make the nature of that interest known at the commencement of a Council meeting and details of such disclosures are recorded in the minutes of the meeting.
The Council has three committees established to assist in the execution of its responsibilities. These are:
Audit and Finance Committee
Collections Committee
Sponsorship and Development Committee.
Details of Council Committees are in Appendix 1.
Executive Management group
The Executive Management group, comprising the Director and three General Managers, provides strategic and operational leadership to the Museum.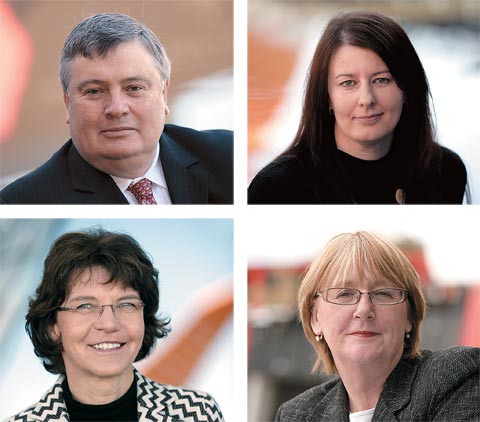 National Museum of Australia organisation chart as at
30 June 2006
Director
Craddock Morton

Audience and Programs Division General Manager
Louise Douglas

Collections and Content Division General Manager
Freda Hanley

Operations Division General Manager
Suzy Watson

Directorate

Education Manager
David Arnold

Registration Manager
Carol Cooper

Facilities and Risk Management Manager
John Ryan

Executive Officer
Trevor Fowler

Audience Development/ Evaluation and Visitor Research Managers
Rachael Coghlan and Susan Tonkin

Conservation Manager
Eric Archer

Employee Relations and People Development Director
Lisa Wilmot

Finance and Retail Chief Finance Officer
Jeff Smart

Marketing and Sponsorship
Manager
Trish Kirkland

Collections and Gallery Development Senior Curator
Matthew Trinca

Information Services Manager
Barbara Burton

Strategic Development and Policy Manager
Roger Garland

Multimedia Development Manager
Jeremy Lucas

Australian Society and Culture Senior Curator
Matthew Higgins

Exhibitions Manager
Stephanie Magri-Bull

Public Affairs Director
Leanda Kitchen (A/g)

Print Publishing Manager
Julie Ogden

Aboriginal and Torres Strait Islander Program Senior Curator
Michael Pickering

Museum Enhancement Program Project Manager
Peter Jauncey

Indigenous Matters Principal Advisor
Margo Neale

Public Programs and Events Manager
Gabrielle Hyslop

Research and Development Director
Dr Mike Smith

Venue and Bookings Coordinator
Melinda Kibukamusoke

Legal Services Manager
Belinda Carman

Visitor Services and Volunteers Manager
Tina Brandt

Collection Information and Digitisation/OPAL Director
Karen Leary

Workplace Design and Storage Project Manager
Greer Gehrt

Web Publishing Manager
Tikka Wilson

Friends Executive Officer
Judy Kean
Accountability chain as at 30 June 2006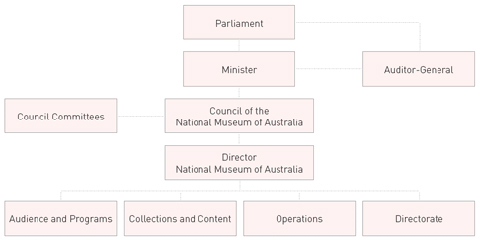 Performance Management Framework
The Museum's organisational Performance Management Framework continues to provide the structure for delivering outputs and outcomes through planning, policy and procedural work. Performance is guided by the Museum's Strategic Plan and its vision and mission statements and is tracked through a set of quantitative measures and project management practices.
Strategic Plan
This has been the second year of implementation for the Museum's Strategic Plan 2004–2007. The key priorities and a summary of progress against the Strategic Plan's business priorities for 2005–06 are provided in Part 1, Executive Summary.
Business planning
Business planning and performance reporting are central to the Museum's delivery of outcomes and outputs for its stakeholders. Museum divisions and their business units implement annual business plans linked to the Museum's strategic priorities. Business planning identifies key risks for the delivery of the Museum's priorities and includes risk mitigation.
Project management
During the year the Museum Project Management Methodology was further deployed. In support of the methodology further development of the project management software system was undertaken. The methodology, software and project support will continue to evolve throughout 2006–07.
Performance Management Framework overview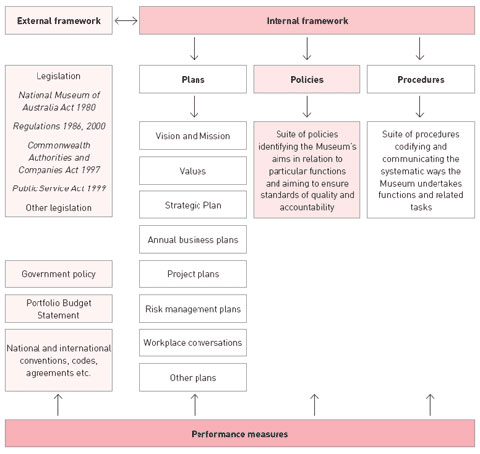 Policies and plans
The Museum completed a two-year review of its suite of policies. Eleven high-level policies and plans were reviewed, developed or updated and approved by Council. These policies are publicly available on the Museum's website. The following Council policies were approved during the year:
Aboriginal and Torres Strait Islander Secret/Sacred and Private Material
Asset Management
Collections — Deaccessioning and Disposal
Collections — Outward Loan of Historical Material
Collections — Return of Cultural Objects
Collections Development Plan
Cost Recovery and Charging for Goods and Services
Education and Learning
Investment
Procurement
Public Programs.
In the coming year new policy development will occur and the standardisation of procedures will be progressed.
Return to

Top