We are no longer updating this page and it is not optimised for mobile devices.
The Friends developed its membership base and profile during the year, providing programs to meet the needs and interests of its members, enhancing the quality of its membership services and strengthening the partnership with the Museum.
In December 2004, Friends membership comprised 3000 people. Approximately 25 per cent of members live outside a 150-kilometre radius of Canberra. Seventy per cent of members are families, 20 per cent individuals and 10 per cent organisations.
More than 2000 members attended Friends programs and events during the year, highlights of which included:
a winter gardening series
wine tasting at Kamberra winery
the Women's Voices series
the Indigenous Autobiography serie
the Architecture series - featuring modern European Architecture
the Balinese exhibition and movie, The Healing of Bali
the Eternal Strings concert featuring instruments created by AE Smith
a Jon Lewis photographic exhibition, Bougainville Portraits: Facing the Place
a Sri Lankan exhibition about the aftermath of the tsunami
the Olympic Odyssey series featuring Australian Olympians.
The Friends magazine continued to be well received by members. Winner of a Museums Australia Publication Design Award in 2003, the magazine was also short-listed in 2004.
The magazine is distributed widely to parliamentarians, libraries and museums around Australia and Australia's diplomatic missions overseas.
With the endorsement of Friends by the Australian Taxation Office as a Deductible Gift Recipient, the Friends Foundation started its activities this year. Initial foundation activities include the gifting of a motorised wheelchair to the Museum.
Carolyn Forster, President of the Friends, continued as a member of the board of the Australian Federation of Friends of Museums (AFFM) in 2005 and the Friends hosted the Annual General Meeting of the AFFM in November 2004. The AFFM provides valuable links with other organisations in Australia and internationally, focusing on advocacy of cultural institutions.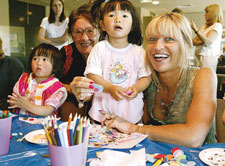 The Friends acknowledge the following organisations for their invaluable support:
continuing sponsorship by Rosemount Wines and the Hyatt Hotel
continuing sponsorship by Pete's Toys, providing children's toys in the Friends Lounge
sponsorship by The Lab and Epson to mount the exhibition Bougainville Portraits: Facing the Place in the Friends Lounge and Museum corridor
continuing pro bono work by Friends auditors KPMG
new partnerships and benefits for Friends members provided by Doma Hotels, Rodney's Nursery, Hopscotch films, Canberra Theatre, Berkelouw Books and Forrest Inn.
The Museum continued to provide financial support to assist with membership programs and services.
Return to

Top