We are no longer updating this page and it is not optimised for mobile devices.
The Museum provides a wide range of interactive, student-centred and curriculum-based programs for preschool, primary and secondary schools throughout Australia. These programs enable students to investigate Australia's history, cultures and environment.
During 2004-2005, the Museum added to and refined its suite of core activities for visiting school groups and expanded the focus on outreach for schools unable to visit the Museum in Canberra, enabling it to meet its strategic goal of engaging national audiences. Highlights of the year included the production of a second Australian History Mysteries curriculum resource for secondary schools including a DVD, an inquiry learning booklet and a website. The highly successful Talkback Classroom project continued with an increasing emphasis on international forums, and as in previous years, educational material on the Museum's website was increased to include further classroom resources and interactive activities. In addition, the Museum contributed to the nationally devised Croc Festivals program in seven regional centres around the country.
Special programs offered during the year to school groups visiting the Museum included:
a new interactive video program entitled Storykeeper designed for large groups which introduces students to the Museum
a program based on the science of forensic archaeology, held during both National Science Week in August 2004 and National Archaeology Week in May 2005
the annual schools cartooning competition, held in conjunction with the Museum's temporary exhibition on political cartooning, Behind the Lines. The competition attracted entries from many primary and secondary schools students which were displayed as part of the exhibition. The winning entries were placed on the Museum's website
a hands-on program to complement the Museum's major temporary exhibition Extremes: Survival in the Great Deserts of the Southern Hemisphere.
Evaluation indicates programs are well received by both students and teachers. A new evaluation database is now used to monitor and report on the effectiveness of schools programs.
Attendance at on-site programs
Approximately 82,700 students from 1754 schools visited the Museum in the reporting period. The number of bookings for schools programs for 2005 at the end of June was higher than for the corresponding period in 2004.
Two-thirds of student visitors were from Year 5 or 6 and nearly 60 per cent came from New South Wales. The following charts reflect the number of schools and students booked to visit the Museum - they do not include those who came as unbooked visitors.
Schools per state July 2004-June 2005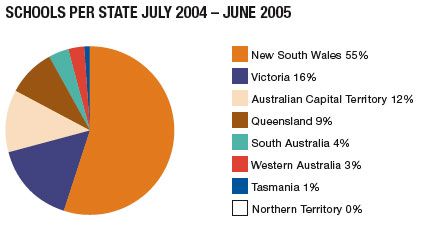 Primary vs secondary figures July 2004-June 2005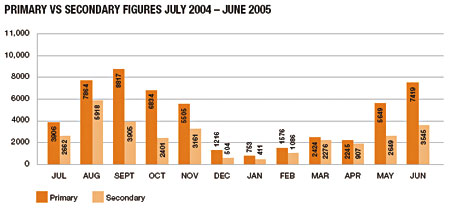 Paid vs unpaid July 2004-June 2005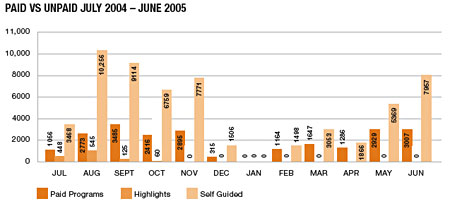 Number of students comparison 2003-2004/2004-2005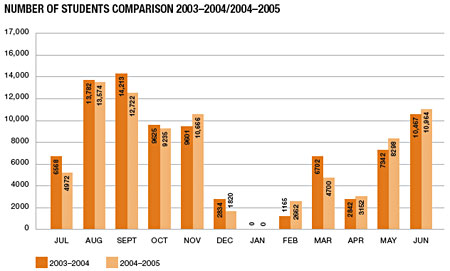 The Museum marketed its schools programs to schools and bus and tour companies through a range of initiatives. These included a new schools programs brochure mailed to all schools in Australia and a number of paid and free advertisements in major school excursion planners published by commercial operators. In addition, programs were advertised in the marketing materials produced by the National Capital Educational Tourism Project (NCETP).
Collaborative projects
The Museum continued to run its very successful pre-service history fellowship programs in conjunction with the Australian War Memorial, NCETP and several other Australian Capital Territory cultural institutions. The number of universities involved in the project increased to four to include Monash University (Melbourne), the University of Tasmania, Griffith University (Queensland) and Newcastle University (New South Wales) - a total of 40 students. Evaluation indicates these prospective teachers find visiting and experiencing the National Museum of Australia and Australian Capital Territory educational sites rewarding and enriching. In January 2005, the first primary teacher history fellowship program was initiated in association with the History Teachers' Association of Victoria and Australian Capital Territory cultural institutions.
The Museum again sponsored the Australian History Teachers' Association's National History Challenge which enables students to create Museum displays on a specified history topic. In this way the Museum continues to support the teaching and learning of history in schools.
In May 2005, two important national education forums (in association with the Department of Education, Science and Training and the Australian Curriculum Studies Association) were held at the Museum: the National Values in Education forum and the National Civics and Citizenship forum. On both occasions the Museum ran workshops and gave presentations to the nationally selected delegates.
As part of its commitment to providing Indigenous education, both locally and nationally, the Museum took part in Reconciliation Day held in June 2005.
Professional development for teachers
Professional development workshops for teachers, held at the Museum and at conferences around Australia, attracted more than 1000 participants. A special series of in-school student and teacher professional development workshops were held in association with the Croc Festivals.
Evaluation indicates that the Museum's efforts to provide teaching strategies and resources to support a variety of curriculum areas have a positive impact on the quality of teaching in Australian classrooms.
Reaching a national schools audience
Major outreach activities for schools and teachers this year included:
Australian History Mysteries 2 schools publication project
The creation of this DVD, print and website curriculum resource represents another major milestone in the creation of curriculum materials for Australian schools. The five case studies cover topics in twentieth-century Australian history, closely allied to areas of the History curricula around the country. Each one focuses on Museum collections and also includes historical sources from a wide range of Australian Capital Territory and regional cultural institutions. Preparations are underway for a series of youth challenges to be held in each state and territory in August 2005.
Croc Festivals program
Croc Festivals is a federally funded initiative to promote health and education to regional and remote students in Australia, with a particular emphasis on Indigenous student welfare. The Schools and Public Programs sections attended each of the seven venues, providing sessions for visiting primary and secondary students based on both hip-hop music and the different kinds of work people do in a museum. In the hip-hop sessions students created their own songs using words that symbolised what life was like in their community. These songs were recorded and filmed. In the working in a museum sessions, students were introduced to the many and varied work roles people undertake in a museum and had fun role-playing one aspect of the work of a conservator.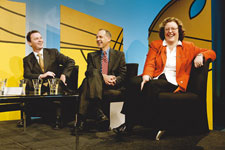 Talkback Classroom
More than 1000 students from the Australian Capital Territory, regional New South Wales and Victoria participated as audiences in Talkback Classroom with student panellists selected from all states and territories. Eleven Talkback Classroom forums held during the financial year enabled senior secondary students to interview the following major decision-makers from politics, the media and the wider community:
| | |
| --- | --- |
| Senator Kerry Nettle | Senator for New South Wales, Australian Greens |
| The Hon. Christopher Pyne*, MP | Parliamentary Secretary to the Minister for Health and Ageing, Member for Sturt |
| Senator Jacinta Collins* | Senator for Victoria, Australian Labor Party |
| Senator Bob Brown* | Leader of the Australian Greens |
| Major General Michael Jeffery | Governor-General |
| Tom Schieffer | US Ambassador to Australia |
| Dr Christopher Newell | Associate Professor in Medical Ethics, University of Tasmania |
| Kevin Rudd, MP | Shadow Minister for Foreign Affairs |
| Xavier Becerra | US Congressman, California |
| The Hon. Helen Clark | Prime Minister of New Zealand |
| The Hon. Kevin Andrews, MP | Minister for Workplace Relations |
| Andrew Denton | ABC TV presenter for Enough Rope |
| The Hon. Diana Bryant | Chief Justice of the Family Court of Australia |
* Appeared together on the 'first time voters' forum
Selected forums were broadcast on ABC Radio National's Life Matters program and three were also broadcast on the SBS youth television program, School Torque. Highlights included international Talkback Classrooms run in partnership with the Smithsonian Institution in Washington DC and with Te Papa, the National Museum of New Zealand.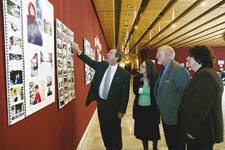 Snapshots of remote communities
The Museum continued Snapshots, a successful outreach program for remote school communities, which enables students to document their community through photographs subsequently exhibited in the local community, at a state-based institution and on the Museum's website. State-based partners included the Queen Victoria Museum and Art Gallery in Launceston and the Museums and Art Galleries of the Northern Territory.
Studies of Society and Environment magazine
As in 2003-2004, the Museum prepared three inquiry-learning units of work based on permanent and temporary exhibitions for Studies of Society and Environment, a classroom curriculum magazine (distributed free of charge to all Australian secondary schools three times a year) which explores current and historical events and issues.
Online educational materials for schools
Additional classroom resources were made available on a wide range of issues and topics related to the Museum's themes. Several new interactives are now available, including an interactive based on the Frontier conflict exhibit in the First Australians gallery.
Return to

Top