We are no longer updating this page and it is not optimised for mobile devices.
Financial outcome for 2003-2004
The Museum's financial statements disclose an operating surplus for 2003-2004 of $764,754, compared to a $32,173,480 surplus in 2002-2003. The prior year surplus included $28.233 million in revenue from Government for funding of the Capital Use Charge, a scheme which ceased in 2002-2003.
The Museum's appropriation for 2003-2004 was $40.320 million, which was provided by the government to continue the development of the Museum's operations following opening of the new Acton facility in 2001. The Museum also received a capital appropriation of $0.050 million in 2003-2004 which related to the implementation of the Budget Estimates Framework Review outcomes.
The table below indicates the estimates approved by the Minister for the Museum and the outcome in terms of actual expenditures for 2003-2004.
Budget
2003-2004
$'000
Actual
2003-2004
$'000
Employee expenses
14,162
14,306
Administrative and other operating expenses
18,900
22,911
Depreciation and amortisation expenses
10,288
7,837
Less revenue from independent sources
-3,100
-5,499
Net resources used
40,250
39,555
Statement of financial performance
Appropriation revenues from government decreased by $27.245 million from $67.565 million in 2002-2003 to $40.320 million in 2003-2004. The reduction in appropriation resulted from the cessation of the government's Capital Use Charge framework.
Revenues from non-Government sources increased substantially (by 22 per cent) to $5.499 million (2002-2003: $4.516 million). This included a 13 per cent increase in gross revenues from the sale of goods and services, and a 138 per cent increase in investment income.
Total expenses were 12.9 per cent higher than the prior year, moving from $39.908 million in 2002-2003 to $45.054 million in 2003-2004.
Statement of financial position
The Statement of Financial Position discloses an increase in the Museum's net assets of $0.815 million, from $269.706 million in 2002-2003 to $270.521 million in 2003-2004.
Cash at bank as at 30 June 2004 totalled $3.270 million (2002-2003: $2.726 million) and investments totalled $26.734 million (2002-2003: $22.920 million). The investments primarily comprise reserves for depreciation and employee provisions.
An increase in non-financial assets from $0.809 million in 2002-2003 to $1.811 million in 2003-2004 relates to the financial impact of the refurbishment of the leased Annexe building on Acton Peninsula. The Museum contributed to the refurbishment on behalf of the lessor, the National Capital Authority, with those contributions representing prepaid lease costs in 2003-2004.
Statement of cash flows
Net cash received from operating activities decreased from the prior year by 81 per cent. This was primarily due to the cessation of the Capital Use Charge framework by the Australian Government. If this impact is precluded, net cash from operating activities decreased 11 per cent on the prior year.
Cash received for operating activities, precluding the impact of Capital Use Charge funding changes, increased by five per cent. Cash received from the sale of goods and services, investment income and other non-government sources all increased in 2003-2004.
Cash used for operating activities increased by 22 per cent from the prior year primarily due to increased cash payments for suppliers, including exhibition costs.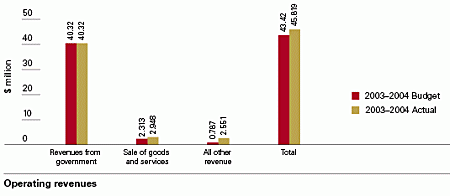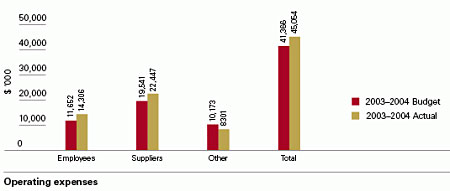 Return to

Top