We are no longer updating this page and it is not optimised for mobile devices.
The National Museum's visitation pattern is broadly similar to the other national cultural institutions in Canberra. Visitation to the permanent and temporary exhibitions was affected by the January 2003 bushfires in and around Canberra, traditionally the busiest period of the year, and the decrease in general tourism due to world events. Nevertheless, total visitation across all areas of Museum activity remained high, and reached 825,049 by 30 June 2003.
Visitation numbers comprise visits to the permanent exhibition galleries, major temporary and travelling exhibitions, public programs and events, as well as after hours functions held at the National Museum. School visitation is included within the permanent and temporary exhibition numbers.
LOCATION
NO. OF VISITORS 2001-2002

NO. OF VISITORS
2002-2003

Permanent exhibitions
643,543
486,080
Temporary exhibitions
116,192
47,524
Travelling exhibitions
82,508
192,599
Public Programs
26,290
36,539
Events
34,869
62,307
TOTAL
903,402
825,049
The permanent exhibitions figure of 486,080 includes 81,110 school children who visited the Museum on booked tours. The figure does not include visitors to the permanent exhibitions as part of Friends functions.
Travelling exhibitions figure of 192,599 includes:
| | |
| --- | --- |
| Bringing the House Down (Melbourne, Albury) | 8205 |
| I am Woman, Hear Me Draw (Perth, Melbourne) | 18,360 |
| Stories from Australia (China) | 40,385 |
| To Mars and Beyond (Melbourne) | 51,014 |
| Rare Trades (Melbourne) | 60,628 |
| Cartoons 2002 (Perth) | 14,007 |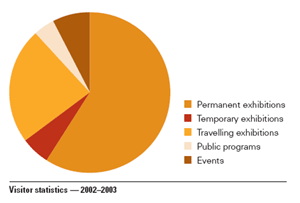 Visitors figures 2002-2003




Visitor feedback
Visitor feedback is actively sought by the Museum as an essential element of its commitment to diversity of programs and quality of service and facilities. Comment is sought through exit interviews, commissioned market research, written feedback forms and informal comment to visitor services staff.
One of the main survey tools in 2002-2003 was a questionnaire completed by interviews with 2500 visitors. Standard questions designed to elicit visitor demographics, satisfaction levels, learning outcomes and tourist preferences were supplemented at different times by questions relating to marketing initiatives and the perceptions of temporary exhibitions. Key features were:
95 per cent of visitors recorded a satisfied or very satisfied visit (90 per cent was reported in 2001-2002)


age groups most strongly represented were 36-40 and 41-45


44 per cent visited as a family group (42 per cent in 2001-2002)


32 per cent of visitors were from Canberra, 57 per cent from other areas of Australia, in particular Sydney and regional New South Wales, and 11 per cent from overseas (similar to figures in 2001-2002)


the average length of a visit was just under two hours although 14 per cent of visitors stayed for three hours or more.
Visitors continued to make positive comments about the Museum's architecture (21 per cent of surveyed visitors), the high quality of exhibition presentation (18 per cent) and the amount of information provided (14 per cent). Importantly, 83 per cent of visitors confirmed they had learned something new about Australian history during their visit.
Surveys also highlighted the following two areas where visitors were disappointed:
guidance, signage and the Museum map (response by 19 per cent of surveyed visitors compared to 18 per cent last year)
confusing layout or visitor flow (8 per cent of surveyed visitors compared to 11 per cent last year) coupled with some exhibits being too dark (7 per cent compared to 10 per cent last year) and high noise levels within the galleries (7 per cent).
Families identified limited car parking during school holidays as an issue in 2001-2002 (10 per cent of surveyed visitors). However, only one per cent of surveyed visitors identified this as an issue in 2002-2003.
Family groups are a key audience for the Museum. For this reason the Museum has embarked on a study of the family experience of museums, including their expectations and preferences. This study is being undertaken in partnership with the Australian Museum, Sydney. A joint publication reflecting outcomes of this research study is expected to be completed by October 2003 and will assist in the continued development of family-friendly programming and facilities at the Museum.
Preliminary findings of this study point to the importance of museums as a place to build family relationships, and provide an opportunity to be together, learn and explore. The study is also showing that family visitors are also interested in safe, supervisable exhibition spaces and look for access to physical activity such as climbing, running or the use of interactive modules.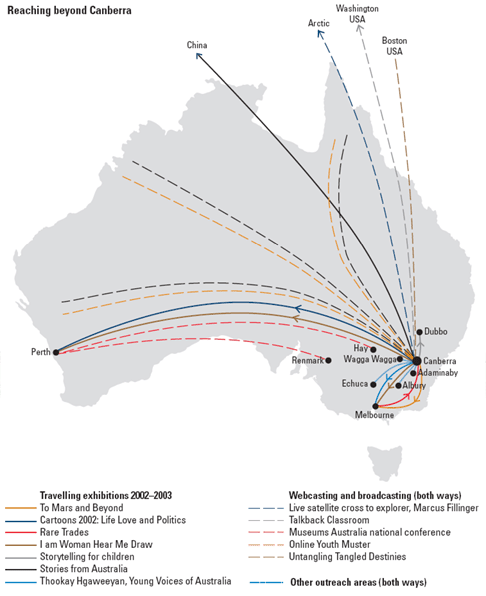 Return to

Top