We are no longer updating this page and it is not optimised for mobile devices.
Program description
In agreeing to the Museum's construction, the Government wanted, in addition to permanent exhibitions, 'an active schedule of changing exhibitions'. The Museum's temporary exhibition program enables it to fulfil the Government's objective and to complement its permanent exhibitions in fully exploring the many stories and issues inherent in the Museum's main themes of land, nation and people. The program also enables the Museum to engage, educate and inspire visitors with new subjects and provide further opportunities for corporate support.
Achievements
The Museum's temporary exhibition gallery was the venue for major exhibitions in 2002-2003:
1. To Mars and Beyond: Search for the Origins of Life
To Mars and Beyond: Search for the Origins of Life, which opened in December 2001 and closed in October 2002, was the third major exhibition produced in conjunction with Art Exhibitions Australia for display in the Museum's temporary exhibition gallery. This exhibition explored scientific questions relating to the origin of life on earth and whether or not life exists elsewhere in space, with a particular focus on Australia's role in the exploration of outer space. Features on display included objects from the Russian Lavochkin Association and NASA space programs, a showcase 3-D trip to Mars, a piece of Mars rock to touch, holograms from France, satellite feeds from space, a 2.7 billion years old stromatolite, and a profile of Australian astronaut Andy Thomas.
A total of 86,202 visitors viewed the exhibition in Canberra before it opened at the Melbourne Museum in December 2002. The exhibition was visited by 51,014 visitors during its 21-week season in Melbourne.
2. Hickory Dickory Dock: The Changing Face of Play School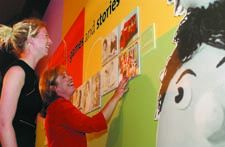 Highly successful with both children and adults, this exhibition about Australia's longest-running children's television program, opened in July 2002 and ran until April 2003. It featured some of the iconic props used on the set of Play School including the rocket and flower clocks acquired for the National Historical Collection.
The exhibition was complemented by a series of live Play School shows playing to full houses and will be adapted next year so that it can tour to regional centres.
3. Rare Trades: Making Things by Hand in the Digital Age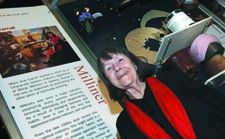 Rare Trades: Making Things by Hand in the Digital Age, co-curated by the Museum and Mark Thomson, the author of Blokes and Sheds, celebrates 24 very different tradespeople from around Australia. Some came to their trade through traditional apprenticeships such as Jean Carroll, a milliner who began her apprenticeship in Sydney in 1937 at the age of 14. Others came later, such as Mike Petersen, a bladesmith, who came to his trade after reading the book, The Art of the Japanese Samurai Sword.
But what makes Rare Trades stand out are its eye-popping interactive demos and hands-on workshops.
Sunday Telegraph, June 2003
The exhibition examines the common threads that join these diverse trades and people, and addresses the key issues surrounding skilled manual trades at the beginning of the 21st century. The changing nature of work in Australia, the impact of technology on trade as well as the personal identity associated with trade skills are also explored.
The exhibition opened at Scienceworks in Melbourne in February 2003 with attendance of 60,628 exceeding expectations. It subsequently opened in Canberra in June 2003 and will close in October 2003 before travelling to Ipswich in Queensland.
4. Cartoons 2002: Life, Love and Politics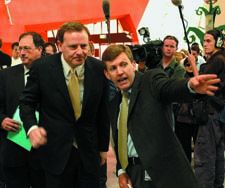 This year's exhibition of political cartoons, Cartoons 2002, was presented for the first time at the Museum rather than Old Parliament House, providing the opportunity to expand the exhibition and to bring the best of Australian cartooning to an even larger audience. After opening in Canberra, the exhibition travelled to the Western Australian Constitutional Centre in Perth.
Cartoons 2002 brought together the best works entered in the Museum's 2002 Political Humour Competition which, like the exhibition, is in its sixth year. A record number of entries was received this year from 67 artists, and on display were 102 entries from Australia's major cartoonists and illustrators. These included Bill Leak, Jenny Coopes, Alan Moir, Peter Nicholson, Geoff Pryor, Cathy Wilcox, Ron Tandberg, Mark Knight, Bruce Petty, Dean Alston, John Spooner, Michael Fitzjames and Brett Lethbridge.
Most of the entries in the competition were generously donated to the Museum and these cartoons will help to build a visual archive of Australian political history, recording major events and personalities.
The Sydney Festival and Museum of Sydney's travelling exhibition, Leunig Animated, was included in Cartoons 2002. This provided a behind-the-scenes look at the process of translating and animating Michael Leunig's beautiful and often poignant line drawings into three-dimensional life through stop motion animation. The animation project was a creative collaboration between Michael Leunig, New Town Films and Freerange Animation.
---
Related link
Return to

Top