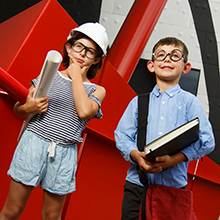 Find your photos and videos
Thanks for participating in activities at the National Museum of Australia. We hope you enjoyed your experience. Find your photo or video on our website or Flickr page.
Marvellous Motifs – the wonders of Islamic art and culture
Toddler program
Australia Day family festival 2018
Summer school holiday drop-in activities
Block Party Construction Zone: LEGO® fun
Freewheeling family fun day
NAIDOC Week – traditional weaving workshop
Discovery Space: Wheelie fun!
The Nature Collector
History of You
Medieval Space
Play School
Great Big Adventure festival photos
Great Big Adventure festival toy photos
Museum Designer
Continuing Culture
---
See our calendar for more fun activities for families and children