The National Museum of Australia is devoted to telling stories about Australia and Australians. Even the building has its own story to tell.
Introduction to the Museum video
Notices
Bus stop relocation
Please note that construction of the new bus stop is now complete. It is located on Lennox Crossing, halfway along the side of the car park, about 200 metres from the Museum entrance.
Opening hours
The National Museum of Australia is open 9am to 5pm daily, closed Christmas Day.
The Museum Shop is open weekdays 10am to 5pm and weekends/public holidays 9am to 5pm.
The Museum Cafe is open 9am to 4.45pm daily, closed Christmas Day.
Getting here
The National Museum of Australia is located on Acton Peninsula on Lake Burley Griffin in Canberra, just a short drive south-west of the city centre. Access is via Lawson Crescent, Acton.
Parking
Pay parking applies at the Museum 8.30am to 5pm, Monday to Friday (excluding public holidays).
The cost of parking is $2.50 per hour for short-stay spaces (those closest to the Museum); $12.00 per day for long-stay spaces.
It does not apply to motorbikes or accessibility parking spaces.
The National Capital Authority introduced pay parking at the Museum and some other national cultural institutions in Canberra to prioritise spaces for visitors.
Tickets bought in the Museum car park are transferrable across pay car parks in the Parliamentary Triangle, which includes Questacon, the National Library, Old Parliament House and the National Archives.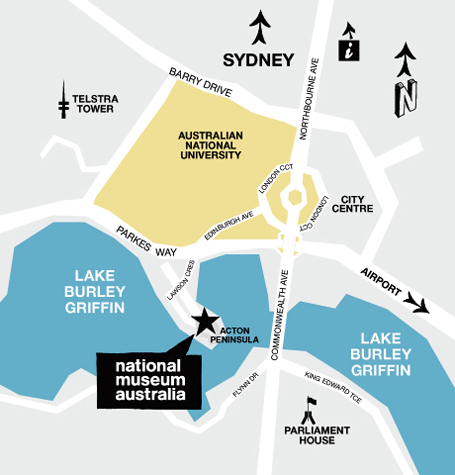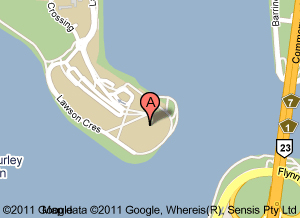 National Museum of Australia
Lawson Crescent
Acton Peninsula
Canberra ACT 2601
Freecall 1800 026 132
Tel +61 2 6208 5000
Fax +61 2 6208 5148
information@nma.gov.au
Local bus services
Action bus number 7 operates to the National Museum on weekdays and number 934 on the weekends. For route and timetable information and fares visit the Action website.

The Explorer Bus offers a tour bus service to tourist attractions around Canberra. For route and timetable information and fares visit the Canberra Day Tours website.
Please note that the bus stop has been relocated.
Cycling
Walking
Enjoy a walk to the National Museum from the city on the bicycle/walking paths along the northern shore of Lake Burley Griffin.
A map of walking paths can be found on the ACT Planning and Land Authority website.
Admission
General admission to the National Museum of Australia and our permanent galleries is free.
Some temporary exhibitions and some special programs have a charge.
For further information on admission charges to special programs and exhibitions, or to make a booking, please contact the bookings office.
Tel: +61 2 6208 5021
Email: bookings@nma.gov.au
Conditions of entry
To help us protect our displays and exhibitions from damage, we ask visitors to observe the following conditions of entry to the National Museum:
Items where any one side is larger than 30cm such as bags, backpacks, umbrellas, baby backpack carriers, tripods and monopods are not permitted in the exhibition areas. Free storage is available in the Main Hall cloakroom.
Food and drink are not permitted in exhibition areas.
The National Museum building is smoke-free. A Visitor Services Host can direct you to the closest designated smoking area if required.
Photography is permitted in permanent galleries for private purposes only, using hand-held equipment. Photographing or filming objects on loan and temporary exhibitions is not allowed. Labels state whether an object is from the National Museum of Australia's collection or elsewhere.
Guide, hearing and other assistance dogs that are trained, registered and visibly identifiable are welcome at the Museum. Please view the Assistance Animal Access Guidelines and Procedures for further information.
Keeping safe when visiting
Your responsibilities
The Museum as a public facility reminds you that you are responsible for the direct supervision of children in your care. We encourage families (especially those with young children) to stay together at all times. The Museum is best experienced as a family and there are some topics (such as the Stolen Generations) that you may want to interpret or explain to your child. There are also some areas of the Museum, including Kspace and Circa where, for safety reasons, children may not be permitted without adult supervision.
Before you visit:
Tell your children that the Museum is a big place and that they need to stay with you at all times.
Make a plan in case you are separated – ensure you and your child can describe each other accurately (name, clothing or distinguishing features).
When you arrive:
Point out the Visitor Services staff to your children and encourage them to seek their assistance if required. Visitor Services staff are trained to reunite children who are lost/found in a swift, discreet and professional manner.
If you have a child/children who tend to wander off, write your mobile telephone number on the child or give it to them on a piece of paper. Visitor Services staff can then call you if required.
For families with older children:
Make a plan – where to meet and what time
Encourage older children to stay together at all times.
Make sure they have your mobile telephone number.
General tips for safety:
Walk (don't run) – the Museum's visitors include a range of age groups and abilities; walking will ensure the safety of both your children and other visitors.
Signs – you'll see a range of safety signs posted at the Museum; please follow their advice
Staff requests – our Visitor Services staff may make requests or give you directions from time to time; please follow their requests.
Cloakroom services
We provide a cloakroom service to store your bags and items during your visit (see our Conditions of entry above). The following are on loan free of charge from the cloakroom:
Small bags to carry essential items.
Strollers suitable for babies and young children up to 17kg.
Reservations: Tel +61 2 6208 5110
Wheelchairs and motorised scooters. Although not absolutely necessary, we suggest booking 24 hours in advance.
Reservations: Tel +61 2 6208 5110
When borrowing any of these items, you will need to provide identification and contact information. Numbers are limited.
Parenting facilities
The National Museum offers a number of facilities for visitors with young children:
A comfortable and fully equipped parenting room is available for visitors with small children. Facilities include private and comfortable seating, changing and washing facilities and a microwave.
The parenting room includes a comfortable place for breastfeeding. However, breastfeeding is welcome in all areas of the Museum.
Baby-changing facilities are also available in disabled toilets located throughout the National Museum.
We have strollers for babies and young children that can be used at the National Museum during your visit. Strollers are available at the cloakroom.
The National Museum has lifts throughout the building for easy accessibility within the galleries.
Access programs and services
The Museum offers a range of services to allow our diverse audience access to the National Museum's exhibitions and services:
Disabled parking facilities are available close to the Museum's main entrance.
Free hire of wheelchairs and motorised scooters. You will need to provide contact information and identification when borrowing these items. Numbers are limited. Although not absolutely necessary, we suggest booking 24 hours in advance.
Reservations: Tel +61 2 6208 5110
All Museum areas are accessible by lift or ramp.
Each lift has an audible voice message indicating the direction the lift is heading and the gallery level.
Personalised hearing loops for all guided tours.
Hearing induction loops in our theatre spaces, the Information Desk and Cloakroom.
If you are deaf or hearing- or speech-impaired you can call the Museum through the National Relay Service:
- TTY 1800 555 677 or
- Speak and Listen call 1800 555 727 or
- internet relay and ask for 1800 026 132.
Large print or tactile National Museum map and guide to the Garden of Australian Dreams available for free loan.
Audio non-bank ATM available (fees apply).
Trained, registered and visibly identified Assistance Animals are welcome at the Museum. Please view the Assistance Animal Access Guidelines and Procedures for further information.
Discounts for concession card holders.
Discounts for carers.
Guided tours and talks are available in a range of languages.
The National Museum can tailor services to best suit your needs and we encourage you to contact us to discuss your requirements before your visit. For more information telephone 1800 026 132.
Food and shopping
Visitors can purchase food and drinks from the Museum Cafe.
At the Museum Shop you'll find unusual homewares, arts and crafts, gourmet treats and more, that are unique, surprising and at prices to suit every budget.
The Museum has an ATM (automated teller machine) for the convenience of visitors.
Find out more about food and shopping at the National Museum.
Group visits
The National Museum welcomes group visits. Gain a great introduction to the National Museum on a guided tour with one of our knowledgeable Visitor Services Hosts. Fees apply, and includes discounts at the Museum Cafe and the Museum Shop. Bookings are essential. We also offer group guided tours in languages such as Greek, Japanese, Mandarin, Laotian, Thai, Filipino, Hindi, Ourdo, Dari and Farsi, but costs apply and you need to book.
Group bookings:
Tel +61 2 6208 5021 (Monday to Friday)
Fax +61 2 6208 5148
Email: bookings@nma.gov.au

Coach parking

The Museum has nine parking bays (each marked 'Bus stop') in our coach parking area near the Museum's entrance (A).

If all bays are occupied, there is a dedicated set-down / pick-up zone next to the red fire-hydrant boosters. Overflow parking is available on Lawson Crescent (B). Please use the map below to help you get there.
Disability access
There are two coach bays (5 and 9) suitable for coaches fitted with mobility access ramps.
Mini-buses
There are free-of-charge spaces for mini-buses in the main car park close to the Museum's entrance.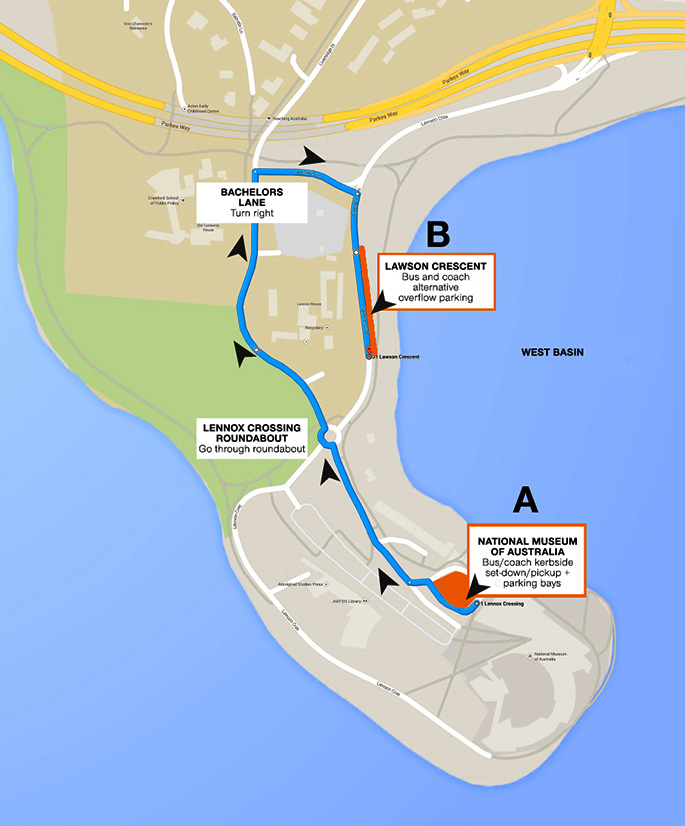 Visiting Canberra
All Australians are reflected in their nation's capital, Canberra. The city's national attractions care for and share the treasures of our nation, from Australia's proud sporting achievements and our unique political history, to Australian characters portrayed through sound and film, books and exhibitions. Canberra is full of fantastic experiences for visitors. Set within leafy surrounds, this modern city offers fun for the kids, a busy calendar of events and festivals, as well as stylish restaurants, bars and shops.
For more information about Canberra and the surrounding region including location details, facts and figures, how to get here and how to see the nation's capital go to — www.visitcanberra.com.au — or call the Canberra and Region Visitors Centre on + 61 2 6205 0044 (from outside Australia) or 1300 554 114 (Australia).
Client Service Charter
The National Museum of Australia welcomes and values your feedback to ensure that we continue to improve and provide quality services. Please see our Client Service Charter if you have any comments.
Related links