Take a guided tour with one of our hosts or try a self-guided tour or app. We welcome group bookings and offer tours in various languages.
Guided tours
Museum highlights tour | daily | 10–11am and 1–2pm
This guided tour provides an excellent introduction to the Museum, exploring highlights from each of the five permanent galleries.
Cost: $15 adult, $10 concession, $10 child, Friends full members free.
Meet at the Information Desk.
First Australians | daily | 3pm
Learn about Aboriginal and Torres Strait Islander peoples, their history, culture and connection to country.
Cost: $15 adult, $10 concession and child (5+), $40 family (2 adults, 4 children), Friends full members free.
Host talks
Enjoy a free ten-minute talk on highlights from the Museum's collection or the symbolism of the Garden of Australian Dreams. Topics and times at the Information Desk.
Apps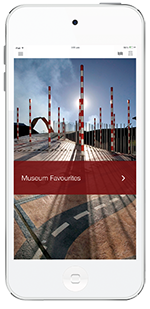 The Loop audio tour app
Take a self-guided tour with The Loop and delve into the Museum's rich and diverse stories of Australia's land, nation and people.
In English and Mandarin.
Download the free app from Google Play or the App Store using our free wi-fi or hire a device from our Information Desk.
Device hire: $5 adult, $4 child, $4 per device for pre-booked group purchases of four or more, Friends free. Ear buds: $2.75.
Kspace Augmented Reality Trail app
Our free Kspace Augmented Reality (AR) Trail app encourages kids to interact with characters from the Kspace games, anytime, anywhere.
Group tours
Group bookings
Tel +61 2 6208 5021 weekdays
Email: bookings@nma.gov.au
Guided tours are available in these languages:
Please allow at least three weeks to book a tour in language other than English.
Open Collections
Open Collections self-guided tour | 15 minutes on the hour | 10am to 4pm daily
Open Collections in our First Australians gallery gives visitors a special 'behind the scenes' look at more than 2000 Aboriginal and Torres Strait Islander objects in our collection. Free
Tourism rates and sales
We offer wholesale rates for guided tours, exhibitions and select merchandise at a discounted rate to tourism and tour operators.
Rates and sales inquiries
Tourism Marketing Coordinator
Tel +61 2 6208 5115
Email marketing@nma.gov.au
More on tourism rates and sales
How to book
Place wholesale ticket orders with:
Tourism Marketing Coordinator
Tel +61 2 6208 5115
Email marketing@nma.gov.au
For urgent collection, place orders by phone.
Ticket collection/delivery
Orders will be processed within 48 hours (except on weekends)
Tickets can be collected from the Information Desk in the Hall
Request dispatch by post (additional cost applies)
Payment methods
Set up an account with the Museum for invoicing
Pay by credit card
Returns and refunds
Exhibition wholesale ticket refunds are available for tickets returned to the Museum within five working days after the close of the exhibition.
For guided tour ticket refunds, contact the Tourism Marketing Coordinator.
Refunds are processed in 7–10 working days. Refunds for credit card payments will be made to the credit card.
Terms and conditions
Tickets are non-transferable
The Museum does not accept responsibility for lost or stolen tickets
Concession and student customers must present valid identification as proof of eligibility
A 'child' is a person 5–16 years of age (inclusive)
Free of charge policy
If the product is a guided tour or exhibition entry ticket, the Museum will allow the ratio of one escort or local guide per 15 pax, to accompany the guided tour free of charge (FOC). Escorts and local guides must follow the instructions of the Museum guide.

If the product is a package including a meal, the above FOC ratio applies for guided tours or exhibition entry tickets. Meals are not offered FOC, and can be purchased separately on arrival.