Special exhibitions
The 1967 referendum and the 1992 Mabo decision were significant events in the ongoing struggle to achieve equal rights for Aboriginal and Torres Strait Islander peoples. Explore these and other remarkable stories of resistance.
Until 30 January 2018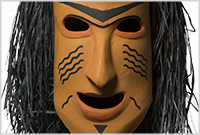 Evolution: Torres Strait Masks
Explore the longstanding importance of masks in Torres Strait culture and how they continue to influence contemporary art forms in this exhibition developed by the Gab Titui Cultural Centre on Thursday Island.
Until 23 July 2017
For cycling enthusiasts of all ages, this exhibition is a must see — 140 years of Australia's cycling history spinning into Canberra. The extraordinary bikes on show include Cadel Evans' Tour de France road bike and a BMX belonging to world champion Caroline Buchanan.
Until 9 July 2017
Always showing