Friday, 14 February 2014, 6pm–10pm

What's love got to do with it? Let's explore this crazy little thing called love. Be it pets, food, hobbies or other people, we can't help falling in love. So, how deep is your love?
Join us for an evening of music, games, objects, art and food as we delve into what it means to truly, madly, deeply love someone or something. We'll be there, with or without you.
Ticket information
Over 18s only
Buy tickets online through Eventbrite
$10 entry
$60 to register a team of 4 to play The Museum Game (includes entry)
Free entry for Friends of the National Museum
Why love?
We had such fun at Night at the Museum: Superstition that we wanted to do it all over again! So we pulled out the calendar, and our thinking caps, and saw that 14 February was also a Friday night – how serendipitous. We decided we wanted to talk about love for the night … but not St Valentine or any of his cheesy cards.
Instead, we want to explore what it means to love something, anything, and how inclusive and accepting love is. We want to tell stories through our objects of those incredible Australians that have come before us and truly loved something. We want to listen to your stories and let you leave them here at the Museum. We want to learn about love in the natural world, and the digital world. We want to play, dance, sing and paint about love.
We want to walk away with the feeling that we have embraced the many facets of a complex emotion.
Come join us.
Participate
Night at the Museum is all about engaging with the Museum, not just watching. To give you a brief glimpse; we can promise the galleries will be open, the music will be pumping, games will be played, art will be produced, the drinks will be flowing. There will be more to do, more to learn and more to see after-hours at the Museum than ever before.
Roam and play
With more areas open to roam and play in, explore the many zones of the museum and find the area you love most. Stay connected with us through Facebook and Twitter to learn more as we lock it in: #nightmuseum.
The Hall
The Hall will be alive, not only with the sound of music. Inside you will find more than ever, including (but not limited to): dancing, robots, art and craft, games, projections, and some quirky scientific demonstrations and talks.
The galleries
Stroll into the galleries and among our objects you will find: tours, spot talks, The Museum Game, karaoke, craft, and the much-loved silent disco.
The Amphitheatre
With the glorious summer weather upon us, we thought we'd embrace the great outdoors. Outside by the lake you will find all sorts of things to eat, drink, see, do and buy.
Eat
Love food? So do we! This time we'll have a range of providers offering demonstrations and food for sale inside and outside the Museum. We will be embracing a love of food with providers from a variety of cuisines.
Drink
With multiple bars around the Museum, you'll be sure to find a drink option at every turn.
The Museum Game – mini-tournament

Find your most creative friends and make a team (up to four players). Armed with an iPad, your team will play The Museum Game. It's about exploring the world through similarity, making connections between the objects on display. Be surprising; take a creative leap. Most importantly, be interesting to your competitors – that's how you win.
Conditions of registering
To keep our collection of iPads secure, a credit card imprint will be required prior to competing in the tournament. We will let you decide which player hands over the card on the night.
The game is fun; lots of people want to play. Please be aware that if none of your team arrive in time for registration at 6pm, you will forfeit the opportunity to play – and the entry fee. You can still enjoy the rest of the night's festivities.
What do you love?
Check out some of things in our Museum collection that we love.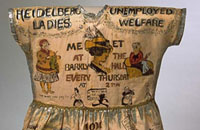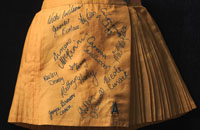 How to get here
Parking is limited at the Museum, so consider these alternatives when planning your evening:
walking (ANU and Civic are a stone's throw away)
riding your bike
catching a bus.
Public buses
Action buses are a convenient way to get to the Museum for this night. The number 7 bus comes straight to our door, and the number 3 will drop you off at University House – a short stroll down to the peninsula. These buses do not run late, so check their website when you are planning your trip.
If you must drive, car-pool with friends!
Conditions of entry
This is an 18+ event. Proof of age will be required at the door
Tickets are non-refundable, pass outs will be available
Food and drinks are not permitted in the galleries
Disclaimer
The National Museum of Australia takes no responsibility for any missed opportunities on the night. If you see the boy/girl of your dreams, it is your responsibility to go and speak to them.
After party
Pop over to Nishi for the love after party. The new Hotel Hotel Lounge is hosting heart-throb duo Toggle (live beats, guitar, looped vocals) and serving Raspberry Beret cocktails. There's couches, hideouts and a fireplace for a nice Valentine kick-on.