Friday 28 April 2017 | 6–9.30pm | 18+
Calling all veiled villains and caped crusaders for a night of super-sized adventures at the National Museum.
Channel your powers and assemble your squad for uneasy alliances and unexpected action!
Pre-sale tickets: $15, group bookings $12 (fees apply)
Friends full members free
David Attenborough VR Experience combo tickets available
Costume call
Release your inner alter ego and come disguised as your favourite superhero or scandalous villain. No rays, 'lasers', doomsday devices or weapons. Over 18s minions, sidekicks and hench people allowed!
Recharge low power levels
Drinks, cocktails and bar snacks available at our pop up bar all night. Full meals and bar service in the Museum Cafe until 9pm. Friends VIP zone for members only in the Friends Lounge from 7–9pm.
Program
Performances and workshops
Time
Activity
Location
6–9.30pm

Brother J: Chill with our resident DJ, mixing tunes and spinning the decks

Main Hall
6.15pm
7.15pm
8.15pm

Cartoon drawing workshops: Limited spaces with Azza McKazza. Registrations essential

Main Hall
6.40pm
7.50pm

Naked Girls Reading: Diary extracts from some of Australia's most notorious villains!

Eternity gallery
6.45–7pm
Stage stunt fighting workshop: Cross swords in a daring duel with fight choreographer Thompson
Main Hall
7.15pm
8.15pm

Acting workshop: Join Brendan Kelly to learn the in and outs of method acting

Lower Landmarks gallery
7.30–8pm

Richard Vegas mentalist & illusionist: Be mesmerised by Richard's mind-reading powers!

Main Hall
8.30–9pm

Subsdance performance and workshop: The battle to end all battles in our Heroes vs Villains dance-off

Main Hall
9pm

Cape swish competition: Do you think you have the best swish in the city? Show us what you've got to win a prize!

Main Hall
Activities and games
Time
Activity
Location
6–9pm

Dr Scar: Get your gashes and scars on with SFX makeup from our friends at Questacon

Main Hall
6–9.30pm

Photo booth: Create your own comic book strip

Main Hall
Green screen city fly by: Is it a bird? Is it a plane? No, it's you!
Main Hall

Superhero sumo wrestling: Batman vs Superman take two

Main Hall
Robo Rampage obstacle course: Bootcamp for good and bad
Main Hall

CIT forensic crime scene: Is DNA the hero or villain?

Main Hall

Superpower recharge zone: Get your superpower hit (with jelly)

Main Hall

Mask and shield making: Make your alter ego a reality

Main Hall

Guild Restaurant hero & villain board games

Cafe
Voice manipulation: insert your evil laughter here!
Circa ramp
Riddle me this, riddle me that: Can you solve them all?
Old New Land gallery
Hero or villain? You decide who's who!
Old New Land gallery
Sidekick games alley
Time
Activity
Location
6–9.30pm

Nerf gun ninjas: Test your aim

Main Hall

Silly string target range: ready, aim, fire!

Main Hall

Knock 'em down: Can you destroy the villains with one swift shot?

Main Hall
Talks
| Time | Activity | Location |
| --- | --- | --- |
| 6.50–7.10pm | Robyn Van Dyke, Australian War Memorial: Hear about the firsthand experiences of members of Australia's Z Special Unit who parachuted into the unknown | Visions Theatre |
| 7.45–8pm | Kathryn Stephenson, National Museum of Australia: Criminal profiling – victims and villains | Visions Theatre |
| 8.20–8.35pm | Dr Gretchen Stolte, Australian National University: Comic book heroes and villains – between the panels and thought bubbles | Visions Theatre |
Note: program subject to change
Getting here
We have free parking on site but suggest you car pool or walk from New Acton to avoid traffic queues.
Bring your cape and dress warmly because there may be a queue at the door! Our cloakroom will be open.
Getting away
Still soaring? Kick on at Lucky's Speakeasy at QT Canberra for the official after party from 9.30pm.
Uber
Uber have come to the rescue with free rides for new users.
Download the Uber app and create an account
Enter the promo code 'NMAnights' when prompted
Check the ETA, 'Request' the time you need a car, and enjoy the ride.
Note: Only available for new users; first ride only valued up to $20; valid for travel in Canberra only.
Stay connected
Use Snapchat on-site on the night and check out our very own Night at the Museum filter!


#NMAnights #OurNMA
See highlights from previous Nights at the Museum
Origins

Visitors explored their origins as they spun through time and around the globe at the National Museum on Friday 11 November 2016.
Play School

Grown-ups joined us for the biggest kids' party as we celebrated 50 years of Play School at the National Museum on Friday 17 June 2016. There were games to play, stories to tell and plenty of old friends as well.
Night at the Museum: Play School photos on our Facebook page
Passion
Romance, art, superheroes and sensational guest speakers guaranteed a balance of excitement and obsession at A Night at the Museum: Passion on Friday 13 May 2016. The passion popped as visitors flexed it with Fabio on the cover of a romance novel, tied themselves in knots for giant inflatable Twister and witnessed a seductive burlesque show.
Highlights
Chance

Visitors took a chance and experimented with the unknown at the National Museum on Friday, 17 September 2015. There were gladiator battles, virtual reality space trips, rock stars, crocs and stilt-walking paparazzi in safari suits.
Highlights
Check out VR Bits' 360 degree Chance video on YouTube
Please note this video may not load correctly if you are using Internet Explorer
Mystery
Things aren't always what they seem after dark at the National Museum, as visitors discovered when they took part in a night of mystery and the unexpected on Friday 31 July 2015. About 1200 visitors learned more about some of the mysterious stories and objects at the Museum and enjoyed art, DJs, bars and talks
Highlights
Joy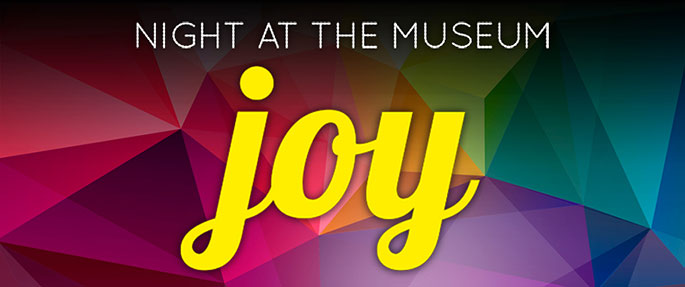 Visitors frocked-up and frolicked as we unleashed the joy and turned our Garden of Australian Dreams into a wonderland full of surprises on Friday, 27 March 2015. Fairy floss, giant bubbles, hula hoops, hot rods and roller derby had us jumping for joy.
Highlights
Joy photo album on the Events at the National Museum Facebook page
Joy album 2 on the Events at the National Museum Facebook page
Fear

Fear is one of the most powerful of human emotions. Faced with impending danger, your hair stands on end. Blood runs cold. Flesh creeps. It is one of the intense emotions explored in our Eternity gallery. We challenged visitors to push their panic buttons and join us for Night at the Museum: Fear on Friday 31 October 2014.
Highlights
Fear album 1 on the Museum's Facebook page
Fear album 2 on the Museum's Facebook page
Stories of fear in the Eternity gallery
Thrill
The Museum is full of stories of risk-takers and people who have tried and done new things, made unexpected connections and achieved extraordinary things. It all sounded like it was pointing towards something, well thrilling. We played with fire, rode bucking broncs, tried unicycling, sent in the crocs and mixed it with acrobats for Night at the Museum: Thrill on Friday 8 August 2014.
Highlights
Love

Friday 14 February 2014 was also a Friday night – how serendipitous. We didn't want St Valentine or any of his cheesy cards. Night at the Museum: Love was an exploration of what it meant to love something, anything, and how inclusive and accepting love is. We told stories of incredible Australians that have come before us and truly loved something. We sang and danced, heard your declarations of love, rocked out at the silent disco and had a great time just sharing the love.
Highlights
Love album on the Museum's Facebook page
Vegas Instant Weddings album on our Facebook page
Romantic getaways on our Facebook page
Superstition
Highlights
Friday 13 September 2013 seemed like a good day to open up after dark – we had nothing else on and thought it might be fun to explore the concept of superstition for our first Night at the Museum. It turns out there's lots of items in our collection linked to superstitious beliefs and practices. So we opened our doors and tested whether you were superstitious or a skeptic, smashed mirrors, opened umbrellas inside, walked under ladders and no bad luck came our way.