Friday 23 February 2018, 9am–5pm
Join leading professionals in a unique one-day forum to look at the impact and legacy of the major exhibition Songlines: Tracking the Seven Sisters.
This exhibition will serve as a case study to consider ways Australia's oldest stories can be shared, preserved and future-proofed.
Tickets: $45 adult, $35 conc and Friends full members
Bookings essential (fees apply)
Visions Theatre, National Museum of Australia
Ticket includes optional Songlines tour with Senior Curator Margo Neale at 2pm or 3.30pm on Thursday 22 February 2018
Program
Time

Session

Speakers

9am
Welcome to Country and introduction

Mathew Trinca, Director, National Museum of Australia on the significance of Songlines and the way the National Museum tells history.
Margo Neale, Senior Indigenous Curator, Songlines exhibition, Principal Indigenous Advisor to the National Museum, on the genesis of the Songlines exhibition, its development and its relationship to future-proofing songlines.

10–11am
Future-proofing:
Re-telling story case studies

Songlines tell the foundational story of Australia's First Peoples but how do they work on country over time? How do you overcome the challenges of transfer of knowledge across generations? How can adaptive storytelling, animation and other visual mediums keep the stories alive?

Kim Mahood, artist and author of Craft for a Dry Lake and Position Doubtful
Scott Cane, anthropologist, archaeologist and author of First Footprints
John Bradley, Deputy Director, Monash Indigenous Studies Centre and author of Singing Saltwater Country

11am
Break
11.20am–12.30pm

Future-proofing: Through technology

'Telling the oldest stories with the newest technology ...' Curtis Taylor

How do songlines work virtually through digital storytelling? Is it possible to digitise the Dreaming and what does that mean?

Curtis Taylor, Martu filmmaker involved in Collisions VR film (via Skype)
Lynette Wallworth, filmmaker and Emmy award-winning director of Collisions
Cornel Ozies, independent Sydney-based Kimberley filmmaker and director of the short film, 'Footprints'
Sarah Kenderdine, world leader in embodied museography and Dome media, from the École polytechnique fédérale de Lausanne (via video)

12.30pm

Lunch

1.30–2.30pm

Impact and legacy: Through literature

'Songlines are storytelling …' Lizzie Ellis

An exploration of the relationship between the ancient stories of many cultures and Indigenous storytelling and the potential for future-proofing songlines in these approaches. How do Indigenous modes of storytelling resonate with the forms and structures of non-Indigenous narrative styles. For example what role did Arrente songlines play in the work of Ted Strehlow and the surrealists? Are there resonances in the writings of Salman Rushdie who accompanied Bruce Chatwin, on his songlines journey in the desert in 1987 and what comparisons can be made with stream-of-consciousness narratives?

Jen Webb, Director, Creative and Cultural Research, University of Canberra
Lisa Fuller, Indigenous publisher, writer and David Unaipon Award winner, 2017
Paul Collis, Indigenous academic, author of Dancing Home and David Unaipon Award winner (via video)

2.30pm
Break
2.40–3.30pm
Future-proofing: Through art

How can art be used to preserve the legacy of Songlines, examining the changing relationships between how communities work with museums, rather than how museums work with communities. Future exhibitions, new frameworks for understanding songlines and Dreamings and art as history and other narrative forms will be explored.

Ian McLean, Hugh Ramsay Chair of Australian Art History, University of Melbourne
Una Rey, artist, independent curator, arts writer and academic
Matt Poll, Curator, Indigenous Heritage and Repatriation Project, Macleay Museum
Paola Balla, curator, artist and Moondani Balluk Indigenous Academic Unit researcher, Victoria University
Lisa Slade, Assistant Director, Artistic Programs, Art Gallery of South Australia

3.40–4.40pm
Q&A
A 'yarn-up' panel discussion with audience participation in conversation
4.40–5pm
Summary and conclusion
With Margo Neale Senior Curator, Songlines
Please note the program is subject to change
Speaker biographies
Paola Balla is a Wemba-Wemba and Gunditjmara woman, an artist, curator, speaker, educator and cultural producer – having developed Footscray Community Arts Centre's first Indigenous Arts and Cultural program, and as a Senior Curator in First Peoples exhibition, Melbourne Museum. Based at Moondani Balluk Indigenous Academic Centre, Victoria University as a lecturer and PhD candidate focused on Aboriginal women's art and practices of resistance, Paola is the inaugural Lisa Bellear Indigenous Research Scholar. In 2016 she co-curated Sovereignty at the Australian Centre for Contemporary Art (ACCA) with Director Max Delany. She is also a co-curator of Unfinished Business: Perspectives on art and feminism at ACCA until 25 March 2018.
---
Associate Professor John Bradley is based at the Monash Indigenous Centre at Monash University. He began research at Borroloola in 1980. John as acted as senior anthropologist on two historical land claims over Yanyuwa country, worked on issues associated with language and cultural management with Yanyuwa elders and the li-Anthawiriyarra Sea Ranger Unit. He has also sat on a number of national and international committees associated with the preservation of Indigenous knowledges and Indigenous understandings of climate change. John's research is directed towards issues associated with Indigenous ontologies, epistemologies and axiologies and ways that 'epistemological bridges' might be created with Western ways of knowing. John is working with colleagues at Monash University in using animation as a way to facilitate cross-generational learning in Indigenous communities where languages are critically endangered. He is the author of the prize-winning Singing Saltwater Country and winner of the 2014 Future Justice Prize. John's recently completed two-volume encyclopaedia of the Yanyuwa language represents 38 years of work.
---
Scott Cane is a consultant archaeologist and anthropologist who has lived and worked with Aboriginal people throughout Australia for the last 30 years. He has provided expert advice in native title claims that have resulted in the recognition of rights to over 400,000 square metres of land. Scott has written two books, Pila Nguru: The Spinifex People and First Footprints: The Epic Story of the First Australians.
---
Dr Paul Collis is a Barkindji man, born by the Darling River in Bourke, in far north west New South Wales. Paul is an emerging writer and poet, who teaches creative writing at the University of Canberra. Paul holds a PhD in cultural theory and creative writing. He also worked in Newcastle, teaching Aboriginal studies to Indigenous inmates in prison and juvenile detention centres. Dancing Home, his first novel, won the national 2016 David Unaipon Award for a previously unpublished Indigenous writer and was published by University of Queensland Press in 2017.
---
Lisa Fuller is a Wuilli Wuilli woman from Eidsvold, Queensland. She won the 2017 David Unaipon Award for an Unpublished Indigenous Writer and the 2018 Varuna Eleanor Dark Flagship Fellowship. Lisa has a Masters of Creative Writing, attended the 2014 Residential Editorial Program, and is the joint winner of the 2014 Anne Edgeworth Fellowship. She has previously published poetry and short fiction in Etchings Indigenous: Treaty), By Close of Business, VerityLa's Ochre Lines and Too Deadly: Our Voice, Our Way, Our Business. An editor and publisher by trade, Lisa is undertaking a PhD in creative writing at the University of Canberra, focused on oral and archival research in her community.
---
Kim Mahood is the author of the award-winning memoir Craft for a Dry Lake and the much-circulated essay 'Kartiya are like Toyotas'. Kim's latest book, Position Doubtful, explores the relationships between Aboriginal and settler Australians, and between people, art and country in the Tanami Desert. Kim has coordinated collaborative projects with Indigenous and non-Indigenous artists, custodians and scientists, and facilitated cultural and environmental mapping projects. She worked as a consultant, facilitator and writer for the Canning Stock Route art project, the Martu art project 'We Don't Need a Map', and the Seven Sisters Songlines project. Her art practice explores the interface between Aboriginal and western representations of landscape/country.
---
Professor Ian McLean is Hugh Ramsay Chair of Australian Art History at the University of Melbourne, and Senior Research Professor of Contemporary Art at the University of Wollongong. He has published extensively on Australian art and particularly Indigenous art. His books include Indigenous Archives: The Making and Unmaking of Aboriginal Art (with Darren Jorgensen), Rattling Spears: A History of Indigenous Australian Art; Double Desire: Transculturation and Indigenous Contemporary Art, How Aborigines Invented the Idea of Contemporary Art, White Aborigines: Identity Politics in Australian Art, and The Art of Gordon Bennett (with a chapter by Gordon Bennett).
---
Dr Margo Neale is lead curator of the exhibition Songlines: Tracking the Seven Sisters and Senior Indigenous Curator and Advisor to the Director at the National Museum of Australia. She was inaugural Director of the Gallery of First Australians at the Museum, after previously working in Arnhem Land and at the National Gallery of Australia, the Art Gallery of New South Wales – where she co-curated the Yiribana Gallery – and the Queensland Art Gallery where she established the Indigenous art department. Margo has curated major exhibitions of contemporary art and traditional artefact, including a retrospective exhibition on Emily Kame Kngwarreye that toured to Japan, and Rituals of Life at the Vatican on its Indigenous artefact collection. Her expertise is in pioneering new modes of representation of Indigenous visual culture across disciplines particularly art and history. Margo is a co-recipient of 13 Australian Research Council grants and is the author, co-author or editor of 12 books, most notably the Oxford Companion to Aboriginal Art and Culture. She has been appointed by successive governments to panels including Prime Minister Howard's History Summit, Prime Minister Rudd's 2020 Summit of Ideas (creative stream), and the Prime Minister's Australian History Prize judging panel. Margo is also an Adjunct Professor at the Australian National University.
---
Cornel Ozies is an Indigenous man from the Kimberley region of Western Australia who started his career as a video editor at his local TV station, Goolarri, in Broome. After seeing and editing other people's stories he felt he needed to tell his. In 2007, Cornel directed his first short film, Bollywood Dreaming, followed in 2008 by Jarlmadangah: Our Dream Our Reality, which won best documentary award at the Cherokee Film Festival in America. Cornel then worked as a cinematographer in his family-owned production house, Wawili Pitjas. Cornel completed his Graduate Diploma in Cinematography at the Australian Film Television Radio School and has worked as a freelancer on projects including Kriol Kitchen for NITV, Woollo for the ABC, and feature films, Thor: Ragnarok, The Sapphires and The Great Gatsby. He currently works in the video team at Sydney University.
---
Matt Poll has worked as the Assistant Curator of the Macleay Museum Indigenous Heritage Collections for the past eight years. He is also the University of Sydney Repatriation Project Officer. Matt's current masters by research project seeks to further develop methods of understanding the ways contemporary Aboriginal and Torres Strait Island artists have used Museum collections, historic records and archival materials in the reconstruction of cultural identities, exploring how visual artists in particular have developed auto-ethnographic methods of engaging with historical information outside of academic frameworks.
---
Dr Una Rey writes on a range of Australian contemporary art and artists and lectures in the School of Creative Industries at the University of Newcastle. In 2016 she curated Black White & Restive: Cross-cultural initiatives in Australian contemporary art at Newcastle Art Gallery and she won the 2017 Art Association of Australia and New Zealand Best Art Writing Award for her essay on women artist's collaborations in remote community art centres.
---
Dr Lisa Slade is Assistant Director, Artistic Programs at the Art Gallery of South Australia and has worked with artists from the Aṉangu Pitjantjatjara Yankunytjatjara Lands since arriving in Adelaide in 2011. Her recent curatorial projects include Sappers & Shrapnel: Contemporary art and the art of the trenches and the re-presentation of the Australian art collection at the Art Gallery of South Australia.
---
Dr Mathew Trinca is Director of the National Museum of Australia. Mat joined the Museum as a senior curator in 2003, after working at the Western Australian Museum in Perth. He has a PhD in history from the University of Sydney and is also a graduate of the University of Western Australia. Mat has co-edited two books, Country: Visions of Land and People in Western Australia and Under Suspicion: Citizenship and Internment in Australia during World War II.
---
Lynette Wallworth is an Emmy and AACTA award-winning Australian artist and director who was invited by Martumili Artists to create several immersive installations reflecting on connections to country. Her works have been exhibited at the Lincoln Centre and the American Museum of Natural History New York, the Sundance Film Festival, London Film Festival, the Australian Centre for Contemporary Art, ACMI Melbourne; the Adelaide Biennia, and Vienna Festival, among others. Lynette is a Cultural Leader at the World Economic Forum and regularly shows her work at WEF Davos. In 2017, Lynette was named one of 100 Leading Global Thinkers by Foreign Policy magazine. She has two works showing in Songlines: 'Always Walking Country' and 'Collisions', made in collaboration with Martu elder Nyarri Nyarri Morgan.
---
Distinguished Professor Jen Webb is Director of the Centre for Creative and Cultural Research. Her recent publications include Researching Creative Writing, Art and Human Rights: Contemporary Asian Contexts, and the Oxford University Press bibliography entry for Bourdieu. Jen's poetry includes Stolen Stories, Borrowed Lines, and Sentences from the Archive. She is Chief Investigator on the ARC Discovery projects 'Working the Field: Creative Graduates in Australia and China' (DP150101477), and 'So what do you do? Graduates in the Creative and Cultural Industries' (DP160101440).
---
You may also be interested in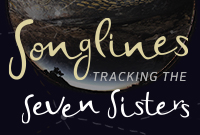 Songlines exhibition
Visit this groundbreaking show, in Canberra until 28 February 2018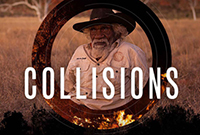 Collisions VR
See the Emmy award-winning film in our Circa theatre
Audio on demand
Hear past events and the exhibition audio tour in our Songlines series