All events and programs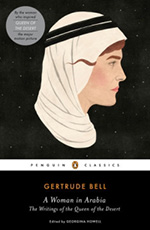 Time Traveller's Book Club – A Woman in Arabia
Tuesday 26 July 2016, 11:00am to 12:30pm
Museum Friends only
Join our history book club with a difference, led by archaeologist and Honorary Senior Research Fellow at the Museum, Dr Mike Smith.
The Time Traveller's Book Club will take a romp through history, meeting on the last Tuesday of each month, from 26 July.
The featured books are historical non-fiction and members are encouraged to come along, even if they haven't always read the book.
Mike has compiled an eclectic reading list for the first 12 months and members are also encouraged to make suggestions.
This month's book is:
A Woman in Arabia: The Writings of the Queen of the Desert, written by Gertrude Bell, edited by Georgina Howell, Penguin Classics, 2015.
Bell, an intrepid archaeologist, was an adventurer and a contemporary of 'Lawrence of Arabia'. She helped create modern Iraq and founded the National Museum of Iraq in 1926. She was a gifted writer, and this collection of her letters is an absorbing read.
Cost: Members only. Friends full membership free. Join Friends
Bookings essential on the Eventbrite website (booking fees apply), by emailing bookings@nma.gov.au or phoning (02) 6208 5021 (business hours)
Friends Lounge
Object Club – Springfield-Faithfull collection
Friday 29 July 2016, 10:00am to 12:00pm
Museum Friends only
Join us for the first Object Club presentation, as curator Cheryl Crilly takes us for a special look at two Victorian era dresses, on show at the Museum for the first time.
Object Club gives members the chance to explore different facets of an object or collection and its place in Australian history. It also allows Museum staff to appreciate the views of club members and gain understandings about their passion for objects.
The striking dresses from the first Object Club help us explore a rich story of migration, free settlement and the role of women's fashion during the 19th century.
They were owned by widow Ann Deane and her daughter Mary, who married Springfield founder William Pitt Faithfull. The extensive Springfield-Faithfull collection journeyed through several generations before it was donated to the Museum. It is one of our most popular collections.
More on the Springfield-Faithfull family collection
Cost: Museum Friends only. Full Friends Membership free.
Bookings essential through the Eventbrite website (booking fees apply), by email bookings@nma.gov.au or phone (02) 6208 5021 (business hours).
Friends Lounge