May 2016
<< Previous Month | Next Month >>
Night at the Museum: Passion
Friday 13 May 2016, 6:00pm to 9:30pm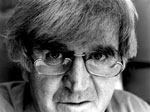 Remembering Fred Hollows
Friday 20 May 2016, 2:30pm to 4:15pm

Panel discussion and film screening
Join Gabi Hollows and a panel of special guests as we remember surgeon and humanitarian Fred Hollows and his work to improve health in Aboriginal and Torres Strait Islander communities. Marking the 40th anniversary of the National Trachoma and Eye Health Program.
Free (includes light refreshments)
Bookings essential, online through the Eventbrite website
Visions Theatre
Includes the first public screening of footage from the documentary They Used to Call It Sandy Blight, since it aired in 1978.
More on Remembering Fred Hollows
Presented in partnership with The Fred Hollows Foundation and the National Film and Sound Archive of Australia.