Bookings
To book an event check the Calendar for details
or phone (02) 6208 5021.
If you are deaf, hearing or
speech impaired you can call
the Museum through the
National Relay Service:
TTY 1800 555 677
Speak and Listen 1800 555 727
or Internet relay and request
1800 026 132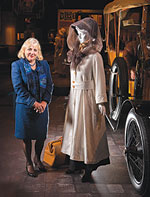 Glorious Days lecture series: Professor Rae Frances
Tuesday 24 September 2013, 12:30pm to 1:30pm
Inspired by our Glorious Days exhibition, this lecture series explores what was happening in Australia 100 years ago.
Women in White Australia
Throughout Australia, the women of 1913 were fighting to have their voices heard. Professor Rae Frances will tell their story and outline how women pursued their dreams of equality between the sexes.
Free
Bookings essential
Book online through Eventbrite
Visions Theatre