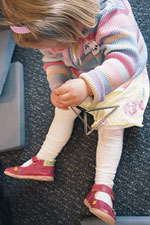 Music at the Museum: access program
Monday 21 October 2013, 10:30am to 11:30am
We continue our 'Music at the Museum' workshops for people with disabilities. Join music therapist Julie Wright and move your body to the beat!
For preschoolers (with or without a disability)
Free
Bookings essential by email bookings@nma.gov.au or phone (02) 6208 5021 (business hours). Group bookings of 10+ available on request.
Meet at the Information Desk.
If you are deaf, hearing or speech impaired you can call the Museum through the National Relay Service: TTY 1800 555 677; Speak and Listen 1800 555 727; Internet relay and please request 1800 026 132.