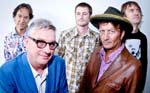 By the Water: Mental as Anything
Saturday 1 March 2014, 7:00pm to 9:00pm
Calling all music lovers looking for a night with a difference. Come along and live it up to the tunes of ARIA Hall of Fame inductees Mental as Anything. The Mentals earned a lasting reputation as an 80s pub rock sensation and continue to delight audiences today.
Adding a bit more 80s flavour to the night are pop sensations The Chantoozies. Originally formed as a good-time covers band for a one-off show, they went on to become one of Australia's favourite girl bands.
The concert will go ahead no matter what the weather!
Cost: $30 adult, $65 family, $10 child (16 and under), $25 concession (including Friends members)
Tickets available from ENLIGHTEN
Tickets are also available at the door from 6pm. Get in early before tickets sell out!
Gates open 6pm for a 7pm start
Outdoor amphitheatre
The National Museum of Australia is proud to support ENLIGHTEN 2014 (part of the Canberra Festival).
FAQs and more on By the Water: Mental as Anything