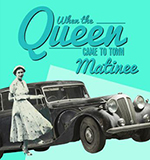 When The Queen Came To Town movie matinee
Thursday 12 June 2014, 2:00pm to 3:30pm
Join us for an exclusive preview of
When The Queen Came To Town
, a new feature film celebrating the 60th anniversary of the
1954 Royal tour of Australia.
The film will be followed by a Q&A with the film's director and producer.
Dress up in your royal finery and join us for this special fundraising event. All proceeds will go towards the Royal Daimler Project and help us reverse the rust on this historic car.
Cost: $25. Includes afternoon tea served in the Hall's Bay Window area.
Bookings essential. Book online through Eventbrite
Visions Theatre