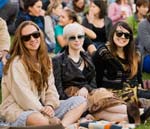 Enlighten 2014 film screening of OZ: A Rock N Roll Road Movie
Wednesday 26 February 2014, 8:00pm to 10:00pm
What were we thinking? Outdoor cinema
In collaboration with the National Film and Sound Archive and ENLIGHTEN, join us for a night of retro television and film from the 70s and 80s as we host a special screening of OZ: A Rock N Roll Road Movie.
Costs: $18 adult, $45 family, $10 child (16 and under), $15 concession (including Friends members)
Tickets available from ENLIGHTEN
Please note that due to wet weather the entry time and venue have changed for the screening of Oz: A Rock 'n' Roll Road Movie. The gates will now open at 7.30pm (not 6.30pm) for an 8pm start and the screening will be indoors in the Visions Theatre.
The National Museum of Australia is proud to support ENLIGHTEN 2014 (part of the Canberra Festival).