William McMahon
Prime Minister from 10 March 1971 to 5 December 1972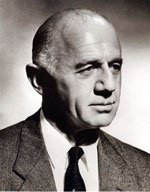 William McMahon was 63 when he became Prime Minister of Australia. He stayed in office for 21 months, during which time he announced the withdrawal of Australian troops from Vietnam. His Liberal-Country Party coalition government - in power non-stop for 23 years - was defeated in the 1972 general election.
Beginnings
William McMahon was born in Sydney, New South Wales, on 23 February 1908. He was the first of three children of WD McMahon, a solicitor, and Mary Ellen Walder. His mother died when he was four and his uncle, Samuel Walder, who was at one time Lord Mayor of Sydney, then raised him.
McMahon was educated at Abbotsholme and Sydney Grammar Schools, followed by the University of Sydney from which he graduated in economics and law. He practised as a solicitor with the legal firm Allen, Allen and Hemsley until he enlisted in the 2nd Australian Imperial Force (AIF) in 1939. He served in the Army throughout the Second World War, rising to the rank of major before his discharge in 1945.
He married Sonia Hopkins in 1965, and they had three children.
Entry to federal politics
William McMahon was elected to federal parliament as the Liberal candidate for the Sydney electorate of Lowe at the general election in December 1949. He held his seat through the next 13 general elections until his retirement from parliament on 4 January 1982.
McMahon was among the group of Liberals - the 'forty-niners' - who entered parliament in 1949 and became key figures in successive Liberal-Country Party coalition governments. He served in many portfolios under the governments of Robert Menzies, Harold Holt and John Gorton. He was Minister for the Navy and Minister for Air from July 1951 to July 1954; Minister for Social Services July 1954-February 1956; Minister for Primary Industry from January 1956 to December 1958, Minister for Labour and National Service December 1958-January 1966; Treasurer January 1966-November 1969; Minister for External Affairs November 1969-March 1971 (this portfolio was renamed Foreign Affairs on 6 November 1970).
McMahon was elected deputy leader of the parliamentary Liberal Party when Holt succeeded Menzies as Prime Minister and Liberal leader on 26 January 1966. McMahon would have been a strong contender for the Liberal leadership after the death of HE Holt on 19 December 1967. However, John McEwen, caretaker Prime Minister, announced that he and the Country Party (CP) would not serve in a government led by McMahon. McMahon and McEwen had been in conflict over economic issues. In particular, earlier in 1967, McMahon as Treasurer had been responsible for an effective revaluation of the Australian currency while McEwen, who opposed revaluation, was overseas.
McMahon withdrew from the leadership contest, and JG Gorton eventually won the party room vote for the position and was sworn in as Prime Minister on 10 January 1968.
McMahon later won the ballot for the deputy leadership against BM Snedden in November 1969. In the post-election reshuffle of portfolios on 11 November, McMahon reluctantly transferred from Treasury to External Affairs.
Continuing disagreement within the coalition over Gorton's leadership style and factionalism arising from his centralist position on the states' rights issue led McMahon to issue a second challenge to Gorton. This was successful and McMahon was commissioned as Prime Minister on 10 March 1971.
Prime Minister William McMahon
In June 1971, within months of McMahon becoming Prime Minister, Gough Whitlam led a Labor Party delegation to China promising, if elected, to establish diplomatic relations with China. His actions drew criticism from McMahon, whose government refused to recognise the Communist regime there.
Amidst continuing controversy and mounting protest over Australia's involvement in the Vietnamese War, McMahon visited the USA in October 1971 for meetings with US President RM Nixon. In Australia, media interest focused on the daring gown Mrs McMahon wore to the reception Nixon held in honour of his Australian visitors.
Throughout his time as Prime Minister many social changes occurred including the rising strength of the environmental movement; changes in living styles signalled by the opening of the first Pizza Huts and McDonald's hamburger bars to operate in Australia in 1971; dissatisfaction with women's minimal role in politics leading to the establishment of the Women's Electoral Lobby (WEL) in Melbourne on 12 May 1972; and establishment of the first Aboriginal Legal Service in Redfern, Sydney, in 1972.
On 18 August 1972, McMahon announced that Australia would begin withdrawing troops from Vietnam.
McMahon remained Prime Minister until 5 December 1972 when the Liberal-CP coalition was defeated by Labor at the general election. During the election campaign, the coalition had been unable to match the performance of Labor leader, EG Whitlam, who campaigned on the theme 'It's Time'; time for a change to Labor after 23 years of unbroken coalition rule.
Later political life
McMahon resigned the Liberal leadership on 5 December 1972, after conceding defeat to EG Whitlam. BM Snedden won the subsequent ballot for leadership on 20 December.
While in opposition McMahon served as a member of the Liberal opposition executive from December 1972 to June 1974. He remained a backbencher from 1975-1982 in Malcolm Fraser's government. He resigned from parliament on 4 January 1982 to retire. McMahon died on 31 March 1988 in Sydney, New South Wales.
Legislation
The Child Care Act 1972 empowered the government to make grants for the establishment and running of non-profit child care centres.