Alfred Deakin
Prime Minister three times from 24 September 1903 to 27 April 1904, 5 July 1905 to 13 November 1908 and 2 June 1909 to 29 April 1910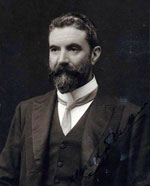 Alfred Deakin was Australia's second Prime Minister. He was one of the two Prime Ministers who held the position three times.
Deakin was a lawyer who liked dabbling in politics. In the late nineteenth century, Deakin spent 20 years in colonial politics. With Edmund Barton, he spent ten years before Federation trying to convince the separate colonies to become one nation.
Deakin had another string to his bow - journalism. He wrote anonymous newspaper articles about federal politics for many years - even while he was Prime Minister! His government introduced tariff protection and old age pensions.
Beginnings
Alfred Deakin was born on 3 August in 1856, in Collingwood (now part of Fitzroy), Victoria. He was the second of two children of William Deakin and Sarah Bill, who emigrated from England to Adelaide in 1849. William first worked as a clerk, before moving to Melbourne in 1851 during the Victorian gold rush. After prospecting for a time, William opened a coach and carting business with Sarah's brother, then worked as an accountant and manager of coach firms, including Cobb & Co.
Alfred was educated at the Melbourne Church of England Grammar School and the University of Melbourne, from which he graduated in law in 1877. He was admitted as a barrister in 1878, but, finding little work, became a journalist with The Age newspaper. He retained an interest in journalism for the rest of his life, and throughout his later career in federal parliament he wrote regularly (and anonymously) for the London newspaper, Morning Post, commenting on Australian politics.
Deakin was elected for the seat of West Bourke in the Victorian Legislative Assembly in February 1879, but after a press allegation that eligible voters had been excluded from voting he resigned his seat as a matter of principle as soon as he had delivered his maiden speech. He married Pattie Browne in 1882, and they had three children.
Deakin unsuccessfully contested West Bourke at the subsequent by-election, but won it again in July 1880. He held the seat until 1889, when he won Essendon, which he held until resigning in 1900 to enter federal politics. He held three portfolios while a member of Victorian parliament - Solicitor-General and Minister for Public Works from November 1883 to February 1886, and Chief Secretary from February 1886 to November 1890.
Deakin attended the colonial conference in London in 1877 with the Victorian delegation, and impressed the UK statesmen with his comments on difficulties faced by self-governing colonies in dealing with the Imperial government. He attended the first Federal Convention in Sydney on March 1891 as a delegate for Victoria and was a member of the constitution committee. When the draft Constitution Bill lapsed, Deakin refused further ministerial positions.
He attended the second Federal Convention (which began in March 1897) as the third-placed popularly elected delegate for Victoria. He participated actively in convention debates but performed his main role beyond the conference hall, talking round anti-federationist delegates to appreciate the need for federal government. The brilliant pro-Federation speeches Deakin made around Victoria in 1897 and 1898 did much to turn public opinion in favour of Federation. On 3-4 June 1898 a referendum was held in New South Wales, South Australia, Tasmania and Victoria to approve the draft Constitution. The Constitution was accepted by the required majority in South Australia, Tasmania and Victoria, but not New South Wales.
Deakin emerged as Edmund Barton's principal fellow advocate of Federation in 1899, during the campaign for a referendum on the Constitution Bill, which had been amended to try to gain New South Wales' support for Federation. During the period April to September 1899 the second Federation referendum was conducted in New South Wales, Queensland, South Australia, Tasmania and Victoria. Voters in each colony approved the amended Constitution Bill by the required majority.
Deakin joined Barton's delegation of six Australian politicians who went to London early in 1900 to negotiate amendments to the Constitution Bill with the UK government. Deakin and Barton, by now close friends, performed outstandingly in a series of conferences with the Secretary for Colonies, Joseph Chamberlain. From May to June 1900 the Commonwealth Constitution Bill passed through UK parliament and granted Royal Assent by Queen Victoria on 9 July 1900.

Entry to federal politics
Deakin won the seat of Ballarat, Victoria, at the first federal general election on 29 March 1901, and held it through the next three general elections.
Barton, the first Australian Prime Minister, chose Deakin as a member of his inaugural ministry, assigning him the Attorney-General's portfolio. Deakin retained this position throughout Barton's time in office.
As Attorney-General, Deakin was responsible for formulating legislation which guided the federal government up until the First World War. The federal government developed policy and legislation on a range of matters, including financial relations between Commonwealth and states, uniform immigration law under federal control, establishment of an Australian navy, and founding of the High Court of Australia.
Prime Minister Alfred Deakin
Deakin took over as Prime Minister, leading a Protectionist government, on 24 September 1903 when Barton quit politics to become a judge of the newly instituted High Court. Deakin retained government at the second general election on 16 December 1903 but had to rely on Labor support. He held power for another four months, until 27 April 1904, when his government was defeated in parliament over a Labor amendment to the Conciliation and Arbitration Bill. Deakin resigned the prime ministership, which then went to Labor's leader, John Christian Watson.
Deakin became Prime Minister for the second time on 5 July 1905 when George Houston Reid resigned. Deakin's minority government survived with Labor support. He retained power at the third general election on 12 December 1906, again with Labor support. Deakin's second Protectionist government fell on 13 November 1908 when Deakin resigned because he was not prepared to accept Labor's 'preference for unionists' amendment.
After losing office to Fisher's Labor Party, Deakin arranged a merger of his followers in May 1909 (some were still known as Protectionists, while others were calling themselves Deakinites) with his former political foes, the Free Traders (now led by Joseph Cook, who had succeeded GH Reid as leader of the group in November 1908). The new grouping was known as the Fusion.
On 2 June 1909 the Fusion defeated Fisher's Labor government in parliament. Deakin was commissioned to form his third government, and Cook became his deputy. Deakin's Fusion government was defeated at the general election on 13 April 1910.
Deakin's total period in office amounted to four years and ten months, the longest time served by any of the six Prime Ministers to 1915. Despite relatively short and discontinuous periods in office, his governments were responsible for much policy and legislation giving shape to the Commonwealth during its first decade. Among the achievements during Deakin's periods as Prime Minister were:
1904: the first national defence scheme.
1906: the assumption of responsibility for the territory of Papua; establishment of the Bureau of Census and Statistics; Australian Industries Protection Act (linking tariffs with wages, forcing companies to pay fair wages).
1907: a Bill for the transfer of control of the Northern Territory from South Australia to the Commonwealth (which became effective in 1911); establishment of the Bureau of Meteorology; Harvester judgement by Justice HB Higgins (who was appointed president of the Court of Conciliation and Arbitration in 1906) introduced the basic wage concept.
1908: the choice of Canberra as the site for the federal capital; Old Age Pension Bill (effective 1909); national tariff protection policy inaugurated giving 5 per cent margin of preference to UK manufactures; Deakin arranged for the 'Great White Fleet' of USA to visit Australia; the federal Quarantine Act replaced state Acts allowing for a uniform national quarantine system.
1909: the former Prime Minister GH Reid was appointed as the first Australian High Commissioner to London.
1910: the destroyers Parramatta and Yarra, the first ships of the Australian navy, were launched.
Later political life
Deakin's government was defeated at the fourth federal general election on 13 April 1910, which gave the Labor Party a clear majority - the first time that any group or party had gained an absolute majority in federal parliament. Andrew Fisher took office as Prime Minister (for the second time) on 29 April 1910.
In opposition again, Deakin began unifying the main elements among anti-Labor groups into a more formal arrangement than the Fusion. The result was the formation of the Liberal Party and the emergence of the two-party system during the period 1910-1912.
Deakin himself belonged to a Victorian body called the Commonwealth Liberal Party, formed April-May 1909. Other non-Labor parliamentarians used other names, including Protectionist and Free Trader, to describe their affiliations. By 20 January 1913, when Deakin resigned as opposition leader, most members of the opposition were calling themselves Liberals. Joseph Cook (Deakin's replacement as opposition leader) and supporters fought the fifth federal general election on 31 May 1913 as the Liberal Party.
Beyond politics
In ill health, Deakin resigned as opposition leader on 20 January 1913. He retired from politics when the fourth parliament expired on May 1913.
After suffering increasing ill-health and progressive memory loss during his retirement, Deakin died from a stroke in South Yarra, Victoria, on 7 October 1919. He was buried in the St Kilda cemetery after a state funeral.
Legislation
Deakin's first government saw no legislation passed. His second government was much more successful. Legislation introduced into parliament and passed included:
The Census and Statistics Act 1905 to set up a federal bureau.
The Papua Act 1905 established an administration for Australian-controlled British New Guinea.
The Representation Act 1905 provided for the alteration of electoral boundaries.
The Copyright Act 1905 established a national code.
Important amendments were also made to the Customs Tariff Act, Immigration Restriction Act and the Judiciary Act.
Legislation passed by the third parliament (1906-1910) under the third Deakin government included the Quarantine Act 1908 and the Invalid and Old Age Pensioner Act 1908, giving pension rights to people over 65.