Cheryl Crilly, Curator
By cherylcrilly
21 May 2014
Giving a behind-the-scenes tour of the collection is one of the things I love most about being a curator at...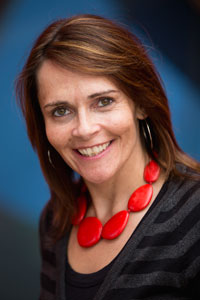 I joined the curatorial team at the National Museum of Australia in 2003 and since then have worked on a range of collections and exhibitions relating to Australian society and culture.
I am interested in migration and transnational history and the journeys of people and objects. I also have a strong interest in women's and costume history, particularly the way clothing shapes and has shaped our experiences.
I am currently undertaking a Research Fellowship in the Museum's Research Centre, focusing on the Springfield – Faithfull family costume collection and the lives of the five generations of women who wore this clothing.
Major projects that I have worked on at the National Museum include the:
Eternity gallery
Horizons gallery
Springfield collection
Australian Journeys gallery
Horses in Australia project.
Contact
Email cheryl.crilly@nma.gov.au
Tel +61 2 6208 5326
Exhibitions
Websites
Australian Dress Register, Powerhouse Museum. A collaborative online project about dress with Australian provenance pre-1975. Role: contributor of costume from the National Museum's collections.
Publications
Landmarks: a history of Australia in 33 places, National Museum of Australia Press, 2013 (contributor).
Collection Stories, National Museum of Australia Press, 2012. (contributor).
'The Wolseley 1500: the little car that could', Friends magazine, vol. 22, no. 2, June 2011.

'From fine wool to high fashion: the story of Miss Faithfull's dress', Friends magazine, vol. 21, no. 1, March 2010, (PDF 322kb).

'Springfield settles in', Friends magazine, vol. 17, no. 3 September 2006, (PDF 600kb).
---
Horses in Australia is part of the National Museum's People and the Environment program. Discover more stories about people's relationships with Australia's natural and built environments on our People and the Environment website.