Warning: This website includes images and names of deceased people that may cause sadness or distress to Aboriginal and Torres Strait Islander peoples.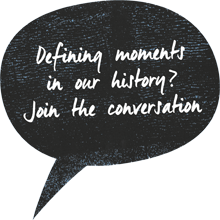 Suggest a moment
Compiling the initial list of 100 Defining Moments in Australian History was a challenging process. Inevitably, everyone's list is different.
What do you think is Australia's most significant defining moment?
Your comments and suggestions will be published on this website. We are also compiling a list of the most popular moments. Your contribution may also be published in other Museum print or online publications, and in our social media channels.
Help us shape the list. Use the form below or tweet your suggestion using #nmamoments