Warning: This website includes images and names of deceased people that may cause sadness or distress to Aboriginal and Torres Strait Islander peoples.
Australia's first Chinese restaurant, 1854
Australia's first documented Chinese restaurant opened at Bakery Hill, Ballarat on the Victorian goldfields in 1854. Owned by John Alloo (Chin Thum Lok), the restaurant didn't actually serve Chinese-style food. Instead, it offered European fare like plum pudding and roast beef.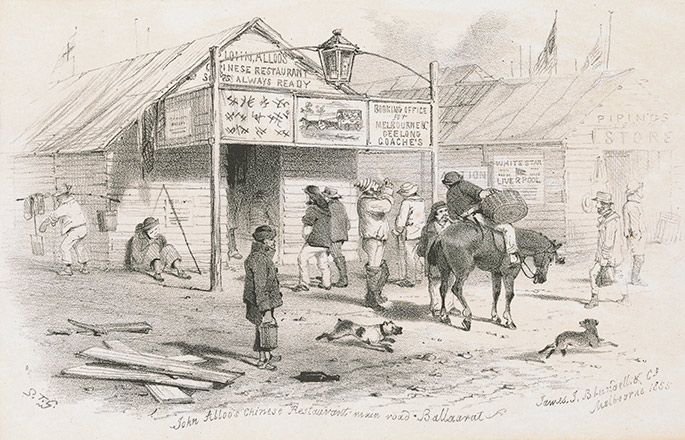 The restaurant was very popular with miners in the area and even featured in a sketch by artist ST Gill. A replica of his restaurant stands at Sovereign Hill outdoor museum in Ballarat.
Alloo, who arrived in Australia in the 1840s, became a prominent figure in the Ballarat area and was appointed as the interpreter for the first Chinese Protector, William Henry Foster.
Alloo married a Scottish woman named Margaret Peacock and moved with her to New Zealand in the 1860s, but not before his popular Chinese restaurant inspired the creation of many others and the start of an evolving Aussie tradition.
488142
488142
488198
488215
488234
488250
488270
488286
488312
488328
Next >
1923: First jar of Vegemite
Early 1900s: The Lamington created
1951: First vintage of Penfolds Grange
1791: Establishment of the whaling industry in Sydney
1901: White Australia policy enshrined in law
1984: Introduction of Medicare