Warning: This website includes images and names of deceased people that may cause sadness or distress to Aboriginal and Torres Strait Islander peoples.
First commercially produced meat pies, 1891
The Sargent family opened their first bakery in 1883. Six years later, the family struck it lucky and won a share of a Tattersall's lottery, using the money to open a larger shop in the Sydney suburb of Paddington where they began selling small meat pies for a penny.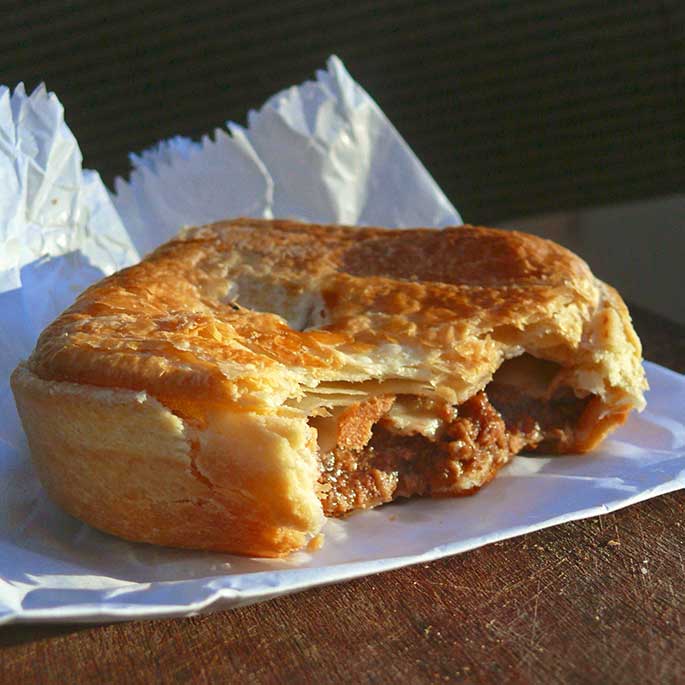 The Sargents expanded their business, buying a number of smaller bakeries, before forming the private company Sargents Ltd in 1906.
The company rapidly expanded, with Sargents opening tearooms, establishing a manufacturing depot and winning many lucrative catering contracts, including for the opening of (Old) Parliament House in Canberra in 1927. The company over-catered this event on such a grand scale that more than 10,000 pies were buried at the Queanbeyan tip when they weren't eaten.
Sargents tearooms began to close in the early 1960s but the company continued to produce its famous pies. In the 80s, they moved to a bigger factory in NSW and started selling frozen produce exclusively. Today, Sargents is still a privately owned Australian business and is one of the country's largest pie manufacturers.
1854: Australia's first Chinese restaurant opens
1927: First packet of Aeroplane Jelly
1980: The Australian Women's Weekly Children's Birthday Cake Book published
1629: Dutch vessel Batavia wrecks off western Australia resulting in mass murder and the marooning of two men on the mainland
1973: Patrick White wins Nobel Prize
1974: Cyclone Tracy hits Darwin