Warning: This website includes images and names of deceased people that may cause sadness or distress to Aboriginal and Torres Strait Islander peoples.
Arnott's Tim Tams, 1964
Invented by the firm's director of food technology, Ian Norris, and named by Ross Arnott after the horse that won the 1958 Kentucky Derby, Tim Tams were first released in February 1964. The 'original' Tim Tam consists of two chocolate biscuits with a chocolate cream centre covered in more chocolate.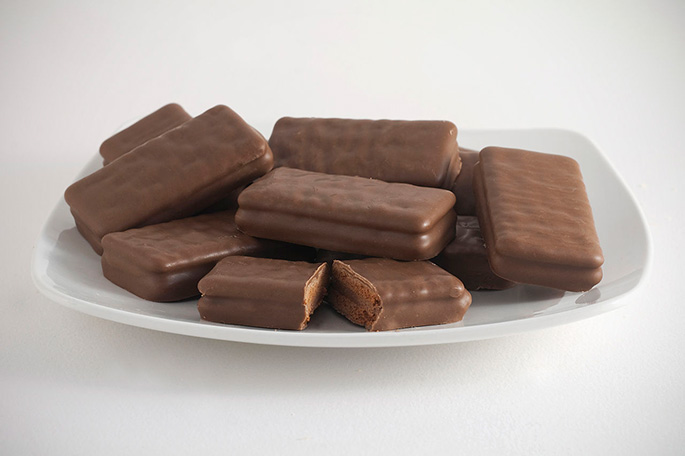 Since their introduction, a number of different varieties of Tim Tams have hit the shelves in Australia and overseas. Recently introduced flavours include Coconut Cream, Salted Caramel and Red Velvet. A cheese-flavoured Tim Tam is exclusively sold in Indonesia.
More Tim Tams are consumed across the world per capita than any other chocolate biscuit and, despite Arnott's purchase by American company Campbell's Soup Company, retain their iconic status in Australia.
At the factory in Huntingwood, NSW, more than 3000 Tim Tams are produced every minute, with more than 45 million packets of all varieties sold in Australia every year.
1924: First Cherry Ripe produced
Early 1900s: Lamington created
1951: First vintage of Penfolds Grange
1789: Smallpox breaks out in Sydney
1804: Convict uprising put down by New South Wales Corps
1935: Cane toads introduced into Australia to control pest beetles in Queensland's sugar cane crops