Warning: This website includes images and names of deceased people that may cause sadness or distress to Aboriginal and Torres Strait Islander peoples.
Aeroplane Jelly, 1927
Aeroplane Jelly founder and tram driver Bert Appleroth first made jelly crystals in his bathtub, distributing them to customers living along his tram route. In 1927, Appleroth and business partner Albert Lenertz used their business The Traders Ltd to launch the Aeroplane Jelly brand.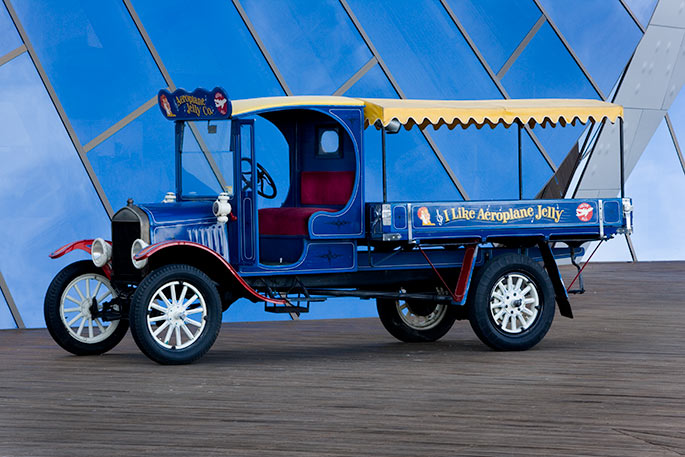 In 1930, Lenertz wrote the famous Aeroplane Jelly jingle. The most famous version of the song was recorded in 1938 by five-year-old Joy King who beat more than 200 other children for the opportunity in a competition. The runner-up was Tommy Dawes, whose picture featured on the jelly packaging as the whistling boy until the 1970s. It's thought that, in the 1940s, the jingle was played on radio more than 100 times a day.
In the 1940s, the now iconic company mascot, Bertie the Aeroplane (named after Appleroth), debuted in Australian cinema advertising and also appeared on the jelly's packaging.
Aeroplane Jelly grew to become Australia's largest family-owned food manufacturer, operated by the Appleroths (and others) until it was sold to Baltimore-based McCormick Foods in 1995. Today, Aeroplane sells more than 20 million packets of jelly to Australian households a year.
1891: First commercially produced meat pies
1923: First jar of Vegemite
1879: Australia's first national park created – (now Royal) National Park, Sydney
1956: Introduction of polio vaccine ends epidemic in Australia
2002: Bali bombing kills 88 Australians