Warning: This website includes images and names of deceased people that may cause sadness or distress to Aboriginal and Torres Strait Islander peoples.
Australian Rules Football
Australia's homegrown game – battles with cricket
The development of a set of guidelines for Australian Rules Football was brought about by members of the Melbourne Cricket Club in May 1859. Thomas Wills, one of the game's founders, imagined the sport as a way to keep cricketers in shape over the winter.
However, the new sport became incredibly popular in its own right and by the 1870s games were attracting up to 3000 spectators to the open parklands around Melbourne. The footballers wanted to use the city's cricket grounds as they saw an advantage in playing on a standard-sized field with stands for spectators.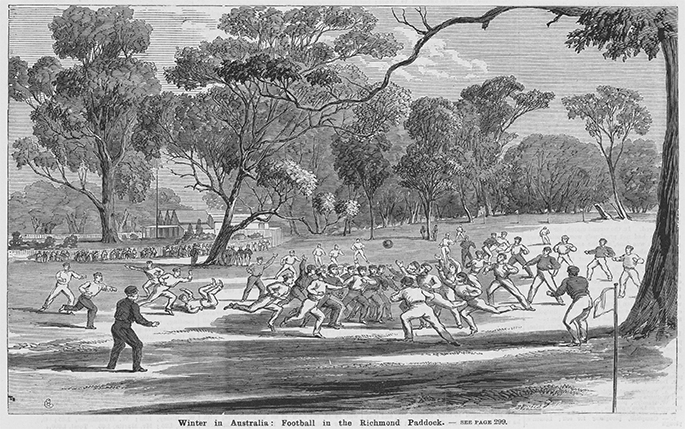 But the cricket clubs viewed the game as too rough for their ovals, claiming football would destroy the turf. It was only when some of the football teams built their own pitches and began charging for entry that the cricket clubs saw that there was money to be made and consented to let their stadiums be used.
In 1879 the Melbourne Cricket Ground became a regular venue for football.